News

Magical Girl Site Anime Casts Kaede Hondo, Eriko Matsui, Yumi Hara, M.A.O, Lynn

posted on by April
Series premieres April 6
---
The official Twitter account for the television anime of Kentarō Satō's Magical Girl Site (Mahō Shōjo Site) manga announced five additional cast members on Sunday. The cast, from left to right in the image below, includes:

Kaede Hondo as Mikari Izumigamine, who possesses the ability of flight.
Eriko Matsui as Kiyoharu Suirenji, who possesses telepathic and spiritual powers.
Yumi Hara as Kosame Amagai, who possesses a wand that has healing abilities.
M.A.O. as Sayuki Ringa, the daughter of the Ringa group and holder of a wand in the form of a katana.
Lynn as Asahi Takiguchi, a high school girl who possesses super human strength.
The anime will premiere MBS on April 6 at 26:55 (effectively April 7 at 2:55 a.m.), and will air on the on the Animeism block of MBS, TBS, and BS-TBS. The series will also air on SBS, ATV, and AT-X, and it will also stream only on Amazon Prime Video inside and outside of Japan. The anime will have 12 episodes.

The show's previously revealed cast includes:
Yuko Ōno as Aya Asagiri, the main character who always wishes she were dead.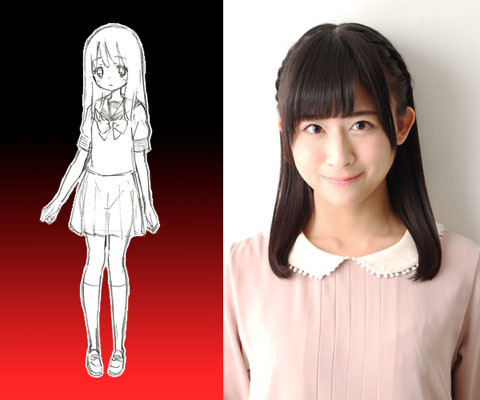 Himika Akaneya as Tsuyuno Yatsumura, Aya's classmate who possesses a wand that can stop time.


Aina Suzuki as Rina Shioi, a former information broker who pursues the mystery of the Magical Girl Site.


Yū Serizawa as Nijimi Anazawa, the center of the nationally popular "Inuasobi" idol group.


Haruka Yamazaki as Sarina Shizukume, the leader of the group that bullies Aya.


Ryusei Nakao as site manager Nana


"Virtual Youtuber" Kizuna Ai as Administrator B (Okame)


Nobuhiko Okamoto as Kaname Asagiri
Tatsuhisa Suzuki as Kiichirō Misumi
Yūya Asato as Keisuke Naoto

Tadahito Matsubayashi (Tokyo Ghoul: Pinto) is directing the anime at production doA, and Takayo Ikami (Yurikuma Arashi, Beautiful Bones: Sakurako's Investigation) is in charge of the series scripts. Sakae Shibuya (A Centaur's Life, Kimi ni Todoke 2nd Season) is designing the characters, and Keiji Inai (Is It Wrong to Try to Pick Up Girls in a Dungeon?, Outbreak Company) is composing the music. The idol unit i☆Ris (PriPara, Twin Star Exorcists, Mushibugyō) performs the anime's opening theme song "Changing point" (Akaneya and Serizawa are also members of i☆Ris). Haruka Yamazaki is performing the ending theme song.
Satō (Magical Girl Apocalypse) launched the horror manga on the Champion Tap! manga website in July 2013, before moving it to Weekly Shōnen Champion last September. Akita Shoten published the manga's ninth compiled book volume on March 8. Seven Seas Entertainment is releasing the manga in English.
Source: Mantan Web
---