News

Shining Resonance Refrain Game Ships in West on July 10

posted on by Jennifer Sherman
Video previews Switch, PS4, Xbox One game's hero characters
---
The official PlayStation Blog revealed on Tuesday that Shining Resonance Refrain, the PlayStation 4 remaster of Sega's Shining Resonance game, will ship for Nintendo Switch, PlayStation 4, and Xbox One in the Americas and Europe on July 10. PlayStation also began streaming a character trailer that previews the games heroes.
The Western release will have dual English and Japanese audio. The Western launch edition for PS4, Switch, and Xbox One will come in a special metal slipcase. The release will cost US$49.99.
The game will have enhanced graphics and other new elements. The Original Mode will include all of the original game's DLC, and the new Refrain Mode will unlock Imperial Princess Excella and Dragonslayer Jinas as party members. If the party members' bonds are strong, "Resonance" may occur to provide a new level of support. The B.A.N.D. system will let characters play music together for beneficial effects.
Tony Taka designed new "Black Lotus Swimsuit" and "Red Lotus Swimsuit" costumes for the game. Saori Hayami (voice of Kirika Towa Alma) and Asami Seto (voice of Sonia Blanche) perform the new theme song "Towa Iro no Aria" (Eternity-Tinged Aria).
The game shipped in regular and limited-edition Premium Fan Box versions in Japan on March 29. The new virtual reality "figure viewer" VR Figure from Shining: Kirika Towa Alma debuted at Sega Fes 2018 on April 14-15.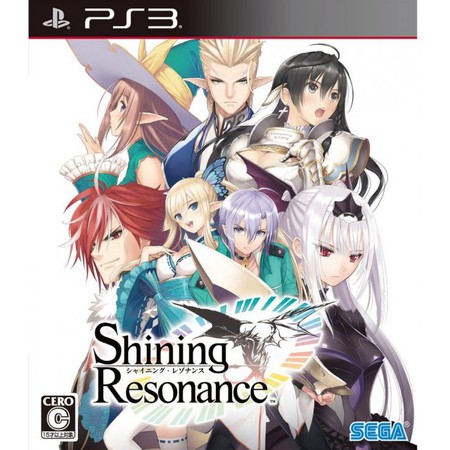 The original Shining Resonance game shipped for PS3 in Japan in December 2014. Taka returned to the Shining series as character designer with Tsuyoshi Sawada as the game's producer.
The player commands a party of four to battle various enemies, including rival artificial dragons created by the empire. The "dragon and musical instrument-playing role-playing game" features seamless transitions from field to battle sequences.
The story is set in a land of the gods known as Alfheim. The once proud race of dragons are ruined, and their souls are crystallized and scattered across the world. One day, a young man named Yuma Ilvern, who has the soul of the Shining Dragon, is discovered. Dragon slayers from the imperial army and church set out to find him. A girl saves him from the dragon slayers, and they gather the Dragonars. The Dragonar warriors play musical instruments called Armonics that resonate with the dragon's soul.
Sega launched its Shining game franchise with Shining in the Darkness in 1991, and the previous most release in the main series, Shining Ark, shipped for the PlayStation Portable in 2013. The 2010 Shining Hearts role-playing game inspired the Shining Hearts: Shiawase no Pan television anime.
[Via Gematsu]
---