The Captains: Live in Washington D.C.
Direct from Japan, the modern GS champions play a rare live performance during their first visit to the United States on the "Last Group Sounds US Tour 2007" presented by Tokyo No Records.
Event details:
September 24, 2007
Red & Black
1212 H Street, NE
Washington, DC 20002
9 PM, $8.00
About the Captains:
Modern GS champions The Captains consider themselves the "Last Group Sounds", proudly carrying on the tradition of their rock and roll forefathers. The Captains' first two records were released in 2002 on the independent Autobahn Records label. These were followed by their 2004 release "The New World" in which the band solidified their sound and style. The Captains' made their major label debut on Toshiba EMI with their fourth record, "The Rock'n'Roll Frontline" in 2006. Also that year, in honor of the genre's 40th anniversary, The Captains released a three song EP entitled "GS Covers" which included covers of GS legends The Carnabeats and The Dynamites.
About Group Sounds (GS):
The Group Sounds era of Japanese rock and roll lasted roughly from 1966-1969. The term itself was coined shortly after The Beatles' first trip to Japan in June of 1966, where they played three consecutive sold-out shows at Tokyo's Nippon Budokan (a 10,000-seat arena originally built for the 1964 Summer Olympics). One year prior to this, The Ventures toured Japan and "eleki (electric guitar) fever" swept the nation's youth. Hundreds of bands sprung up, but they were more concerned with imitating the sounds of the genre rather than expanding upon it. The same goes, with a few exceptions, for the Group Sounds bands, of which there were too many to count. The typical GS act was composed of four to six clean-cut young men clad in matching outfits. Despite unthreatening appearances and seemingly harmless pop-rock sounds, GS acts gained a reputation of being dangerous and unpredictable, much like their foreign counterparts. The turn of the decade saw the rise of the psychedelic New Rock movement, which concentrated on mood and mind expansion rather than teenage girls and Monkees-styled escapades. Some GS groups adapted their sounds to the changing times, but most disbanded without ever releasing more than a single or two.
Tokyonorecords.com : Thecaptains.jp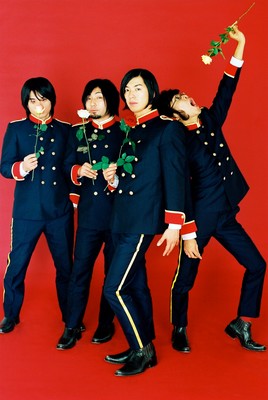 ---