Viz Cinema Makes Music the Centerpiece of December's Film Program
"Hit Me With Music" Complements The Holidays With Four Films Featuring Rollicking Soundtracks At The Nation's Premier Venue For Japanese Pop Culture
San Francisco, CA, December 3, 2009 – VIZ Cinema, the nation's first and only movie theatre dedicated to Japanese film, presents music as the theme for its December program that features a quartet of critically acclaimed movies.
"Hit Me With Music, Volume 1" kicks off with the high school rock and roll melodrama, Linda Linda Linda , to be followed by 20th Century Boys 1: Beginning of the End for a special two-week run to celebrate the new DVD release from VIZ Pictures. The theatre's popular Weeknight Anime People will delight fans with a special presentation of The Girl Who Leapt Through Time and the month concludes with the coming of age musical drama Shindo. Preview trailers and a complete list of screening times are available at: http://www.vizcinema.com.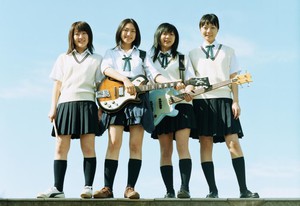 Linda Linda Linda, December 4th-10th
Only three days before their high school festival, guitarist Kei (Yu Kashii), drummer Kyoko (Aki Maeda of Battle Royale), and bassist Nozomi (Shiori Sekine) are forced to recruit a new lead singer for their band. They choose a shy Korean exchange student named Son (Doona Bae of Sympathy for Mr. Vengeance), even though her comprehension of Japanese is a bit rough! It's a race against time as the group struggles to learn three songs for the festival's rock concert – including a classic 80's punk-pop song "Linda Linda" by the Japanese group The Blue Hearts. The film notably offers a soundtrack by ex-Smashing Pumpkins guitarist James Iha and a cameo by punk rock legends The Ramones.
20th Century Boys 1: Beginning of the End, December 11th-24th
By popular demand! 20th Century Boys 1: Beginning of the End returns to VIZ Cinema to celebrate the highly anticipated DVD release! Based on the best-selling manga series by Naoki Urasawa, this first chapter of the film trilogy revolves around the "Book of Prophecy" written by a boy named Kenji and his friends, who imagine a hero who will stand up to an evil organization plotting to destroy the world. Thirty years later, a series of global catastrophes occur exactly as they were described in their book. With the power of music, will Kenji be able to save the world from destruction?! A special DVD release event is scheduled for Friday, December 11th at 7:30pm. Admission is $25.00 and also includes a copy of the DVD.

The Girl Who Leapt Through Time, December 15th-16th
Underachieving high school student Makoto Konno recently started hearing voices and having strange visions that can't be explained. One day while riding her bike home from school she gets hit by a train – but doesn't die. Instead she finds herself transported back in time to a few moments before the accident, allowing her to escape in time. After learning that she has this unique ability to "leap" through time, Makoto begins to use it in her everyday life to deftly avoid just about every mundane inconvenience or socially awkward situation. However, when she uses her powers too much with her closest friends, she discovers that the benefits of time travel aren't all they're cracked up to be.
Shindo, December 26th- January 7th REGIONAL PREMIERE
Shindo is based on a manga series created by Akira Sasou. Wao is a high school graduate wanting to go to music school and he meets Uta, a 13-year-old child prodigy pianist. Uta often skips lessons behind her mother's back but she takes a liking to Wao, who is completely devoted to the piano. Uta soon begins to regularly visit Wao's family vegetable shop and although they are not lovers or siblings, their relationship grows close through the pair's shared love of music. Actor Kenichi Matsuyama gives an excellent performance as the young man, Wao, while Uta is played by Riko Narumi, a talented up and coming actress. This is her first starring role in a feature film.
VIZ Cinema is the nation's first movie theatre devoted exclusively to Japanese film and anime. The 143-seat subterranean theatre is located in the basement of the NEW PEOPLE building and features plush seating, digital as well as 35mm projection, and a THX®-certified sound system.
NEW PEOPLE offers the latest films, art, fashion and retail brands from Japan and is the creative vision of the J-Pop Center Project and VIZ Pictures, a distributor and producer of Japanese live action film. Located at 1746 Post Street, the 20,000 square foot structure features a striking 3-floor transparent glass façade that frames a fun and exotic new environment to engage the imagination into the 21st Century. A dedicated web site is also now available at: www.NewPeopleWorld.com.
---