MangaGamer Announces Trial Version for Koihime Musou
September 11, 2010 - We at MangaGamer are proud to announce that a Trial Version of Koihime Musou is now available.
Hongou Kazuto was just an average, ordinary student at St. Francessca Academy. His biggest goal at the time was to defeat his upperclassman in Kendo. Then, on one fateful night he stood off against a thief trying to steal an ancient artifact from the school museum, and found himself transported back in time to the Three Kingdoms Era of ancient China. But just as he was about to lose his life to a group of armed bandits, a dark-haired beauty came to his rescue and sent the bandits packing. She introduces her self as Kan'u, the legendary warrior known as Guan Yu in historic records, but what's more surprising, is that she is convinced Kazuto is the messenger from Heaven they've been waiting for--the one who will quell the wars enveloping all of China!
As Kazuto reluctantly agrees to help them bring peace to the land, more brave generals begin to gather under their flag: Chouhi, one of the five Tiger Generals recorded as Zhang Fei; Shokatsuryou, the general recorded as Zhuge Liang, China's greatest strategist; and Kazuto finally realizes the position he's in. Not only are the great Chinese generals of historic renown female in this world, but he has fallen into the role of Liu Bei.
How will Kazuto's presence in this ancient world affect the course of history? Gather what troops you can, carefully choose your military formations, and keep your own general's abilities in mind as you decide who to place at the head of your armies! "Know thy enemy, know thyself, and you will be the victor of many battles," could never ring more true. Will you be able to bring peace to China? The answer lies with you!
And when you finally have a breather from all the conflict, you can find out what 'sharing the same bed' meant in ancient times......
Experience The Romance of the Three Kingdoms in a way it's never been told before!
The full game will be available this Winter, but the Trial Demo is available for download now, at MangaGamer!
ABOUT MANGAGAMER.COM
MangaGamer.com
is the world's first legal download site for English translated Visual Novels. Since its launch in July 2008, it has offered services where fans can download and enjoy popular Visual Novels such as CIRCUS's Da Capo and OVERDRIVE's Kira Kira right from their home. Don't forget to visit us on Facebook and Twitter!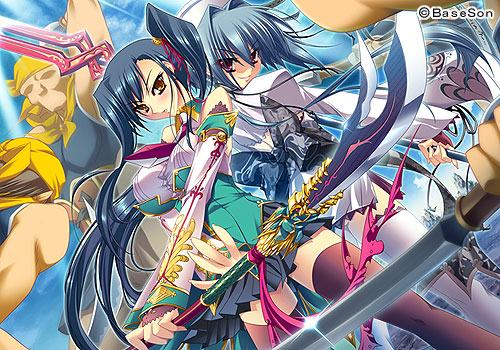 ---
discuss this in the forum (8 posts)
|