Otacool 4: Amazing Illustrators Worldwide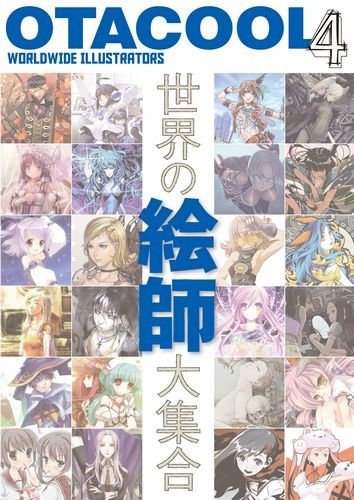 Tokyo, Japan Friday, November 26, 2010 - Kotobukiya Kotobukiya is proud to present the fourth installment of the OTACOOL series, OTACOOL
4: WORLD WIDE ILLUSTRATORS . In keeping with the same concept of "OTAKU is COOL", the next volume of OTACOOL will spotlight illustrators from around the world.
Following the precedent set forth by previous editions (OTACOOL 1: World Wide Otaku Rooms, OTACOOL 2: World Wide Cosplayers and OTACOOL 3: World Wide Desktops) OTACOOL 4 embraces the CGM (Consumer Generated Media) style where content is collected through the Internet by fan submissions. This time Kotobukiya has teamed up with Pixiv; Japan's premier illustration communication site with over 200 million registered users and over 1.5 billion page views per month to bring you the hottest talent of today's character illustration world.
In collaboration with Pixiv, Kotobukiya held a contest on their website. From over 1200 submissions, they have selected the best up-and-coming and forefront of illustrators. With entries from more than 30 countries, readers will get a look into how rich design based on anime/manga culture has flourished, transcending continents with re-interpretation, originality, and advancement.
As a special feature interviews with popular manga artists such as Okya Hiroya (creator of GANTZ) whose work will be adapted to film in 2011, illustrator Kazuki Yone of the fan favorite Hakuouki series, Chinatsu Kurahana, Kunihiko Tanaka, Shunya Yamashita and Redjuice will also be included. Ever wonder what it is like to be a professional illustrator? Now you can know with exclusive images of each illustrator's room, workspace, resources and preferred tools of the trade. This book captures a rare glimpse into their daily work routine along with answering personal questions regarding tastes and preferences.
To fully appreciate these wonderful illustrations, the volume and size of this book has been enlarged to B5 size/160 pages. See before your eyes as the world of illustration opens wide before you!
OTACOOL 4: WORLD WIDE ILLUSTRATORS
Publisher: Kotobukiya
Release date: December 2010 (Japan) February 2011 (International)
Price: $34.99
Speck: B5 size・160pages・full color
ISBN: 978-4-7753-0871-4
IEN# YK047
© Kotobukiya 2010
For more information please visit the following sites:
Kotobukiya official website: http://www.kotous.com/
OTACOOL official website: http://www.figure.fm/feature/en/otacool/
Pixiv official website: http://www.pixiv.net/
Okya Hiroya http://studiooku.zombie.jp/
Kazuki Yone http://yonekkyt.blog87.fc2.com/
Chinatsu Kurahana http://www.chroma.cc/
Kunihiko Tanaka http://homepage3.nifty.com/net-onevisions/
Shunya Yamashita http://shunyama.web.fc2.com/
Redjuice http://redjuicegraphics.com/
---
discuss this in the forum (1 post)
|