×
remind me tomorrow
remind me next week
never remind me
Subscribe to the ANN Newsletter • Wake up every Sunday to a curated list of ANN's most interesting posts of the week.
read more
Lauren Landa to Appear at Otakon 2012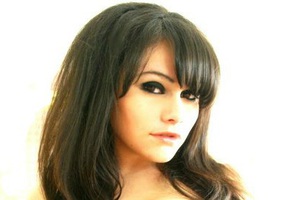 Voice Actor Lauren Landa to Appear at Otakon 2012! In addition to her career as a stage actor, which she started at the age of 11, Lauren is also a skilled voice actor. As a voice actor, she is most known for roles including Litchi Faye Ling in the popular fighting games BlazBlue: Calamity Trigger as well as the sequels BlazBlue: Continuum Shift, and BlazBlue Continuum Shift Extend. Other notable roles include Yan Leixia in Soul Calibur V and Boiboi from Redline. Most recently, Lauren played the role of Kyoko Sakura in the hit anime series Puella Magi Madoka Magica.
Lauren's greeting to Otakon members: "Hello Otakon! I am thrilled for this event, and I cannot wait to meet you all! Be sure to come say Hi!"
Otakon 2012 will be held July 27 – 29 at the Baltimore Convention Center in Baltimore, Maryland.
ABOUT OTAKON AND OTAKORP, INC.: Now entering its nineteenth year, Otakon is an annual celebration of Japanese and East Asian popular culture, and also one of the largest gatherings of fans in the United States. Otakon celebrates popular culture as a gateway to deeper understanding of Asian culture, and has grown along with the enthusiasm for anime, manga, video games, and music from the Far East. Since 1999, Otakon has been held in Baltimore, Maryland; currently, Otakon is one of Baltimore's few large, city-wide events, drawing over 31,000 people for three days each year (for a paid attendance of over 85,000 turnstile attendees). Otakon is a membership based convention sponsored by Otakorp, Inc., a Pennsylvania-based, 501(c)3 educational non-profit whose mission is to promote the appreciation of Asian culture, primarily through its media and entertainment. Otakorp, Inc. is directed by an all-volunteer, unpaid staff – we are run by fans, for fans.
For more information about Otakorp, Inc., see www.otakon.com/otakorp/index.asp For more information and the latest news on Otakon 2012, see www.otakon.com/
---