February Issue of World's 1st Digital Manga Magazine "Comicloud" on Sale Soon

BookLOUD Inc. simultaneously releases the February issue of Monthly
COMICLOUD (Vol.4, No.2)
—the world's first digital manga magazine that entered publication in July 2010—
worldwide on February 28, 2013
for the Amazon Kindle, Kindle DX and Android.
Cover illustration is made by Shintaro Kago. "DEMENTIA 21"
Product Details
Title: COMICLOUD Vol. 4, No. 2
Genre: Digital Manga Magazine
Specs: Monolingual English & Japanese editions
Pages: 94 pages
Price: US$4.99

Hit Manga Series!
QUADRIFOGLIO 2 by Takeshi Okamoto
Shun is about to take Maya on a date when Chloe swoops in and drags her off for a ride in her 206 CC, which Maya just had repaired. But then they suddenly happen to come across Koji Moroboshi on the side of the road. Meanwhile, Yotsuba is on her way to Quadrifoglio when she spots a Black SZ and decides to follow it...
The books (Vol.1 - Vol.3) have been released.

DEMENTIA 21 by Shintaro Kago
Mr. Kayama used to be a famous actor. Valentine's Day is supposed to be a happy day, but for him it's pure horror...There's a limit to everything!
The books (Vol.1 - Vol.2) have been released.

X-HUNTER RAY by Ryu-zin
The Colonel is in utter pain and blood is oozing out of his entire body after calling up two X-rank apps. Meanwhile the ehidora demonstrates its incredible regenerative ability after surviving a direct hit from an RPG. The brutal contest between it and the Colonel heats up!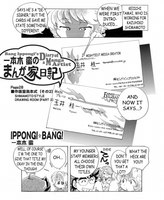 IT'S BANG IPPONGI' S DIARY OF A MANGA ARTIST by Bang Ippongi
Part 2 of Bang-chan's visit to Kazuhiko Shimamoto's place. Finally we get to know the secret behind Tamai's title! The sense of naming in the manga industry is all over the place!

POCKET HUSBAND by Ichiro Hirai
Rintaroh has foiled Pierre's plan, but then he and Michiko find themselves in an even bigger fix when the well-endowed, mysterious woman pulls a gun on them. Rintaroh and Pierre are two of a kind, and there seems to be more than meets the eye with the swindler. The mystery deepens as this slapstick scenario reaches a climax!

NOBUNA-GIRL by Taro Matsumoto
Deloris had the upper hand in her fight against Natan, but then he cast his hallucination blade on all the warriors in her troops... The Four Heavenly Gods versus Deloris & Azuba. The battle between the two sides will be a fierce one!
Official Website
http://www.comicloud.net/
About BookLOUD Inc.
BookLOUD Inc. is dedicated to spread the excellent Japanese entertainment content around the globe! We are Japan's first digital publisher aiming to offer a new place where people can engage in social communication through e-books.
About COMICLOUD Android Edition
COMICLOUD Android edition is generated with Androbook.(
http://androbook.net/
)
"Kindle" and "Amazon Kindle" are registered trademarks of Amazon.com, Inc. (USA).
"iPhone" and "iPad" are trademarks of Apple Inc. (USA).
"Android" and "Google Play" are registered trademarks of Google Inc. (USA).
©2013 BookLOUD Inc. All rights reserved.
COMICLOUD Vol.4, No.2 2013.Copyright 2013 by BookLOUD Inc., All rights reserved.
No part of this letter may be reproduced or retransmitted in any form or by any means without the written permission of the copyright holder.
---