Tokyo Otaku Mode Father's Day Survey
Jun 13th 2014

Tokyo Otaku Mode Father's Day Survey:
Anime Fans from 80 Countries Choose Minato Namikaze
from Naruto: Shippuden as the Best Father Figure!

TOKYO - Tokyo Otaku Mode Inc. (incorporated in Delaware, U.S. by President and CEO Tomo Kamei), the managing body of Tokyo Otaku Mode (TOM), a worldwide distributor of otaku content including anime, manga, and cosplay, announces the results of a survey posed to overseas anime and manga fans through its Facebook page (

www.facebook.com/tokyootakumode

) asking "What anime character would you want as your dad?" which 1,249 respondents from 80 countries answered.

・The ideal dad is Minato Namikaze, Naruto Uzumaki's dad in Naruto: Shippuden

Q: What anime character would you want as your dad? (Free answer)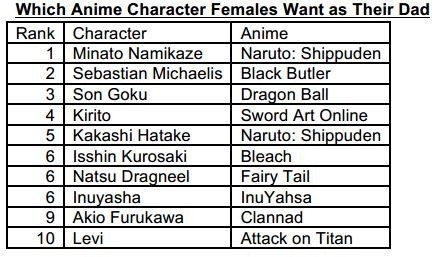 In this survey, 246 character names were given by male respondents and 231 character names were given by female respondents, but at the top of the ranking for both males and females was Minato Namikaze, main character Naruto's dad in Naruto: Shippuden. Minato also received wide support from fans all over the world regardless of age. Naruto: Shippuden is an anime that boasts high popularity all over the world and has been broadcast in 80 countries to date. Minato is depicted as a cool dad who is a Hokage, a rank denoting the very best ninjas, which Naruto longs for. In addition to him, another unique point is that many female fans voted for Sebastian Michaelis from Black Butler.
*More detailed information about the results is available upon request. Please inquire
at [email protected]
■ Survey Overview
・Survey Period
: May 25, 2014 to May 29, 2014
・Sample Population
: 1,249 fans of the Tokyo Otaku Mode Facebook page
Age Group
: 14-19: 56.3%, 20-24: 30.8%, 25-29: 8.1%, 30-34: 2.7%, 35-39: 1.1%,
40+: 0.8%
Gender
: Male: 53.9%, Female: 46%
Region
: North America: 35%, Asia: 24.7%, Europe: 19%, South America: 13%,
Oceania: 3%, Africa: 0.7%
Country
: U.S.: 24.8%, Mexico: 5.5%, Philippines: 5.2%, Indonesia: 4.6%, Canada:
4.2%, Malaysia: 4.1%, Germany: 2.6%, Australia: 2.3%, France: 2.2%, Other: 29.6%
・Method
: Posted a questionnaire and URL to the survey site on the Tokyo Otaku Mode
Facebook page. Tallied answers on the survey site.
*129 comments posted to the Tokyo Otaku Mode Facebook page were not included.
About Tokyo Otaku Mode Inc.
Tokyo Otaku Mode (TOM) is a worldwide distributor of otaku content––including, anime, manga, cosplay, and otaku entertainment news. TOM is owned and managed by Tokyo Otaku Mode Inc., which was incorporated in Delaware, U.S. in April 2012 by President and CEO Tomo Kamei. TOM began on Facebook on March 24, 2011 as a page for introducing to the world Japan's otaku content–including anime, manga, games, and goods, as well as the latest news and event reports (
www.facebook.com/tokyootakumode
). A mere 22 months after its Facebook page was established, TOM surpassed 13 million likes to become the first Facebook page managed by a Japanese company to clear this milestone*. In the fall of 2012, TOM launched its web service Tokyo Otaku Mode (
http://otakumode.com
), which includes a user-generated content (UGC) platform on which Special Creators can upload their own otaku creations––such as cosplay, illustrations, figure photos, and latte art––as well as a news page for delivering to the world the latest news on otaku culture straight from Japan. In the summer of 2013, TOM launched its worldwide e-commerce site Tokyo Otaku Mode Premium Shop (
http://otakumode.com/shop
), which sells anime-related goods as well as original goods developed through collaborations with its Special Creators.
TOM is more than just a site on which to enjoy otaku culture; it provides a community for otaku culture fans to interact with one another. Furthermore, it is a place that inspires artists to create content that otaku culture fans admire and contributes to broadening the worldwide otaku market by providing a platform on which creators rightfully profit from their creations. Through its services, TOM hopes to enrich the otaku lifestyle of all otaku culture fans as well as add new value to the worldwide entertainment marketplace.
*According to research conducted by Tokyo Otaku Mode Inc.
Any company or product names referred to herein are registered trademarks of their respective organizations.
---
discuss this in the forum (1 post)
|