Gallery Nucleus Publishes Limited Edition Print Set by Artist Junko Mizuno, to Launch at SOL Exhibition in August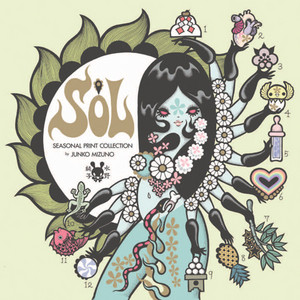 Los Angeles, CA
— Gallery Nucleus proudly announces its newest publication in collaboration with storied artist Junko Mizuno.
SOL
is a print collection of 12 original works centered around capturing the timeless iconographies of various holidays throughout the calendar year. With
SOL
, Junko Mizuno has taken her favorite holidays from both American and Japanese cultures and created a dozen unique artworks bound in a removable album sized format. The print set is sealed in a flower petal case and limited to only 1000, not to be reprinted.
Each print leaves nothing to be desired, as Junko Mizuno's trademark art style is vividly encapsulated within every holiday design. The artist's muted colors fill every illustration from corner to corner and the back side of each print contains an image of the original penciled concept sketch and a description of the holiday being featured. Mizuno takes care to display the exact date of the holiday as well as the Japanese translation of the holiday's name—SOL is every bit a learning experience as it is a wonderful print collection that is perfect for the changing seasons. (more details)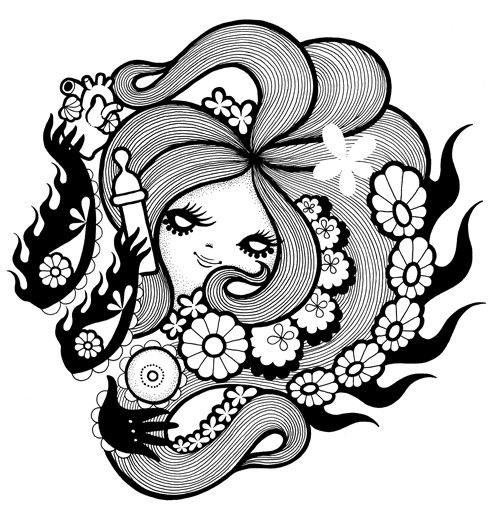 Guests are automatically entered to win this original ink drawing by Junko by purchasing 1 of the 30 ultralimited, hand embellished SOL wood ornament editions. After purchasing you will receive a raffle number via email. The winning number will be announced on the Nucleus Facebook page after all 30 have sold.
Exhibition & Opening Reception
Attendees are welcome to share a drink and take silly pictures in a customized cut­out photo op while hanging out with Junko Mizuno on Saturday, August 16th, 2014. She will be flying in for the opening reception and original drawings will be on display and available for sale. The exhibition itself will be up until August 31, 2014.
About Junko Mizuno
Artist Junko Mizuno is a Japanese manga artist who was born in Tokyo, Japan. Her unique drawing style has been termed Gothic kawaii, or kawaii noir, for its combination of childish cuteness and dark, sometimes terrifying elements. Influenced by shōjo manga works, the bright colorization and characters' large eyes give her artwork a decidedly Japanese pop­art flair. Mizuno's popular designs span the gamut of the merchandising spectrum, involving everything from prints and t­shirts to graphic novel publications and vinyl figurines.
About Nucleus
Since October of 2004, Gallery Nucleus has strived to be a welcoming gathering place for the art loving community by offering quality art, art­related goods, and rarities. Focusing primarily on gallery exhibits, we have also had benefit auctions, product signings, music events, and artist lectures. After three and a half years, we moved one block east to a much larger and more dynamic space. Still in the heart of quaint downtown Alhambra, we re­opened in March of 2008 with over 2000 square feet of open gallery space, 1000 square feet of shop/boutique, and over 3000 square feet of studio/production space. Having exhibited both local artists and artists from abroad, and catering to an international customer base, we offer an extensive collection of original contemporary, illustrated, graphic, commercial, and narrative art — all of which are carefully catalogued on our website: www.gallerynucleus.com
---