×
remind me tomorrow
remind me next week
never remind me
Subscribe to the ANN Newsletter • Wake up every Sunday to a curated list of ANN's most interesting posts of the week.
read more
The Spring 2023 Anime Preview Guide

Ranking of Kings: Treasure Chest of Courage
---
What is this?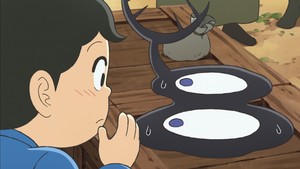 In the first season of Ranking of Kings, young Prince Bojji overcame a lifetime of prejudice, nefarious schemes from within the royal ranks, repeated assassination attempts, and scores of other challenges. In doing so, he fought to prove himself a worthy heir to his late father's throne, only to discover that his journey would take him to deeper depths and higher heights than anyone could have predicted. In Ranking of Kings: Treasure Chest of Courage, Studio Wit takes us back to the world of shadows, giants, witches, and monsters to explore some of the previously unseen stories that took place during Bojji's big adventure.
Ranking of Kings: The Treasure Chest of Courage is based on Sōsuke Tōka's manga and streams on Crunchyroll on Thursdays.
---
How was the first episode?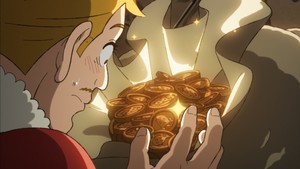 James Beckett
Rating:
Here is all you need to know about Ranking of Kings: The Treasure Chest of Courage: It is more Ranking of Kings. If you do not automatically know the correct response to that news, there are only two options. The first is that you simply do not like Ranking of Kings, in which case I can only pray for your broken and wayward soul. The second option is that you have yet to watch the first season of Ranking of Kings, in which case the only course of action is to go and immediately watch it. All of it. Right now. I don't care what obligations you think might be more important than catching up on the magical adventures of Bojji, the Goodest Little King There Ever Was and his best friend Kage, the Blobby Shadow Boy; you owe it to yourself, your loved ones, and the future of your country to do your civic duty and devote your time to Ranking of Kings. You may return once you are finished.
Okay, are you back? Wasn't that just so freaking good!?!? I mean, yeah, the weird, potentially pro-colonial stuff that sneaks in there near the end of the season sure is a bit cringe-inducing, but c'mon, I know you're not about to tell me that everything else about Bojji's adventure isn't just the most heartwarming (and only occasionally horrifying and gruesome!) thing you've ever seen. Studio Wit, man. Every time you think they aren't going to top themselves, they go and produce something this good. It's unfair—to the rest of the industry; I mean, since who the hell is going to want to compete with these mad lads and their magical shenanigans?
Anyways, yeah, Treasure Chest of Courage is more of that, which is to say that it is delightful beyond belief. Just about the only thing I could see people disliking about it is the total lack of meaningful stakes or plot development; these are all side stories that take place in between and outside of the stuff we already saw in the first season, which makes it very likely that the show will mainly consist of fanservice (in the narrative sense, not, you know, the boobies-and-butts sense. Though Despa is pretty thicc…) Hell, the two sketches we get in this episode are literally fetch quests, in which Kage has to go and fetch some magic mushrooms to help Despa deal with some minor dermatological issues. Then Kage and Bojji have to put on their best carnie hats to scam some money out of the locals in the Underworld. This is not the place to go if you crave more intense Ranking of Kings drama.
That isn't to say that these lovely little stories lack substance. They'd probably be worth watching for the soft spectacle of the visuals alone. Still, we also get to see our characters engage with the world they're in more meaningfully than you might think, such as when Bojji implores Kage and Despa to give back some of their earnings to the poor little girl that gambled the last of her coins on a chance to help her mother. Sure, you could argue that Despa could have just given the family some of his massive gold pile instead of roping them into a "charitable" long-term loan, but I get it; he's going off of the old "Teach a man to fish" perspective. It's at least nice that he's genuinely trying to aim for long-term impact over short-term gains.
The title, The Treasure Chest of Courage, feels very appropriate for this series of short reunions with our favorite (and potentially least-favorite) characters from Ranking of Kings, at least if you're like me and automatically associate the word "treasure" with those chocolate coins wrapped in fake gold foil that come in cute little plastic treasure boxes. Each week, we will get a sweet new treat from the world of Ranking of Kings to unwrap and enjoy. That can only be a good thing in my book.

---
Disclosure: Kadokawa World Entertainment (KWE), a wholly owned subsidiary of Kadokawa Corporation, is the majority owner of Anime News Network, LLC. One or more of the companies mentioned in this article are part of the Kadokawa Group of Companies.
---
discuss this in the forum (256 posts)
|
this article has been modified since it was originally posted; see change history
back to The Spring 2023 Anime Preview Guide
Season Preview Guide homepage / archives