RIGHT TURN ONLY!!
Sodium Hypochlorite
by Carlo Santos,

The discovery of a large-breasted, gashapon-sized, 35,000-year-old statuette in Germany reveals a very important fact:

Bishoujo figurines have been around for literally thousands of years.
So next time someone gets on your case for blowing $60 (and surely there's a better deal than that) on an 8-inch Mikuru Asahina, just tell them you're partaking in a deeply ingrained aspect of our civilization. Figurine collecting is
human nature!
---
BLEACH


Vol. 27
(by Tite Kubo, Viz Media, $7.95)
FROM THE BACK COVER:
"Ichigo 'Strawberry' Kurosaki never asked for the ability to see ghosts—he was born with the gift. When his family is attacked by a Hollow—a malevolent lost soul—Ichigo becomes a Soul Reaper, dedicated his life to protecting the innocent and helping the tortured spirits themselves find peace. Find out why Tite Kubo's
Bleach
has become an international manga smash-hit!
Orihime's return from the Soul Society is interrupted by the Arrancar Ulquiorra, who has a different, terrifying path for her. Using duplicitous tactics, Ulquiorra convinces Orihime to accompany him to Hueco Mundo, which brands her as a traitor in the Soul Society's eyes and therefore unworthy of rescue. Ichigo refuses to abandon his friend, and sets out to storm Hueco Mundo to set her free! But can he win when the entire world is against him?!"
EVIDENCE FOR:
After several chapters spent on dull training sessions,
Bleach
is officially awesome again! The capture of Orihime marks a major turning point, sending the story in a much more effective direction than before. There's also the matter of the skirmish between several Soul Society captains and Arrancar—which gets all-star performances from Hitsugaya, Urahara, and Shinji before coming to a surprise finish. But the sudden change of scene is there for a reason: it's time to attend to the much more pressing Orihime situation, which reaches its emotional peak in the deeply poignant "Goodbye, Halcyon Days" chapter. Tite Kubo has already proven his expertise with quiet, heart-wrenching moments, but just in case anyone had forgotten, he's at it again in this volume, slowing the action down and letting the feelings linger in each carefully nuanced panel. Then, just a couple of chapters later, things are back to full-on action mode as Ichigo and friends let their fists and swords do the talking in his dramatic decision to save Orihime. Exotic weaponry, bizarre enemies, otherworldly locales, and the thrill of battle—the spirit of
Bleach
is back, and not a moment too soon.
EVIDENCE AGAINST:
Don't get too excited, folks—the capture of Orihime may look like a dramatic change, but dedicated analysts of
Bleach
will tell you that this is the part where everything starts copying the original Soul Society arc and Ichigo has to go save another damsel in distress. The first battle after arriving in Hueco Mundo is certainly not the most exciting, as the opponents of choice are a couple of small-fry Arrancar who rank far below the
real
villains in terms of interesting qualities. And even when the real villains do show up—like in the Arrancar vs. Captains showdown in the early chapters of this volume—they apparently just want to toy with the characters for a bit before running off and not finishing the job. Come on, are we ever going to get a real fight scene going or is it all just going to be Arrancar trial runs? Even the design of Hueco Mundo feels incomplete, with its unadorned stone rooms and lack of architectural features. It seems that the excitement of Ichigo's new adventure is yet to arrive.
FINAL VERDICT:
It may be lacking in seriously epic fight scenes, but the newfound energy of the Orihime rescue mission—as well as the emotional turmoil caused by her departure—still add up to a
B
.
---
FULLMETAL ALCHEMIST


Vol. 18
(by Hiromu Arakawa, Viz Media , $9.99)
FROM THE BACK COVER:
"In an alchemical ritual gone wrong, Edward Elric lost his arm and his leg, and his brother Alphonse became nothing but a soul in a suit of armor. Equipped with mechanical 'automail' limbs, Edward becomes a state alchemist, seeking the one thing that can restore his and his brother's bodies ... the legendary Philosopher's Stone.
Automail engineer Winry is captured and held hostage to force Edward to do her captor's bidding. Hawkeye discovers the disturbing truth about President Bradley's son. Our heroes have fortuitous and not-so-fortuitous reunions with old friends and enemies. And multiple intrigues and double-crosses ensue as some people plot to save the world while others scheme to destroy it."
EVIDENCE FOR:
If there is one constant in
Fullmetal Alchemist
, it's that nothing ever remains constant—motivations change, allegiances shift, and even after 18 volumes there's no telling what the characters will do next. The mere arrival of Winry in the frozen north is a complete game-changer, with plotlines twisting and folding into each other as the story continues to develop. Things ultimately lead to a confrontation with Scar—which of course means lots of exhilarating action and creative fighting moves (yes, I suppose Alphonse's body on a snowy day
would
be thermodynamically identical to an ice-slicked metal pole)—but what happens afterwards is even more dramatic, with Winry's moment of personal reckoning and an escape ploy that will fool just about everyone. Factor in Kimblee's military maneuvering, Hawkeye's shocking discovery, and the explorations under Briggs Fortress, and clearly the series isn't even close to running out of ideas yet. Arakawa's clean artistic approach and distinctive character designs keep things easy to follow, even when there are seven different characters all charging forward with different goals in a single scene. Complexity, surprises, and excitement—no other action series is as complete as this one.
EVIDENCE AGAINST:
Seven different characters charging forward with different goals is probably one of the major problems with this volume—along with all the other complications that result from trying to resolve multiple plotlines. Throughout each chapter, the mission to capture Scar feels like it's straining at the pages, desperately trying to keep track of which characters are present, where they've been, and where they're headed. (Be prepared to flip back plenty of times.) As a result, even the much-lauded action scenes get too big for their own good—sure, it's easy enough when Scar's fighting a couple of chimera, but once everyone else shows up, it just becomes this ridiculous 20-person cage match or something. The magnitude of this story arc also ends up having a knock-on effect on the others: Mustang and Hawkeye's investigation soon becomes a minor aside, despite their vital discoveries, and the fate of Major General Armstrong's troops only gets a passing mention when they enter the mysterious tunnels and again when they get out. Looks like the story needs to find a better balance.
FINAL VERDICT:
It's kind of overwhelming due to sheer complexity, but a storyline on this scale with so many surprises and revelations is still good enough for a
B
.
---
HAYATE X BLADE


Vol. 3
(by Shizuru Hayashiya, Seven Seas, $9.99)
FROM THE BACK COVER:
"With Ayana and Hayate blazing up the ranks of the Hoshitori, it's only a matter of time before they meet their match. Too bad their match is in the form of Ayana's lovestruck roommate, Kuga Jun, and her desperately powerful sister-in-arms, Shizuma Yuho.
Could this spell the end of Ayana and Hayate's unstoppable winning streak and their first taste of defeat? Or can our heroines somehow prevail against a pair of opponents with whom they are so evenly matched?
One thing is certain ... Ayana and Jun's friendship will never be the same again."
EVIDENCE FOR:
Sometimes, it's not the intensity of the battle itself that makes it great, but the story behind it. That principle is what makes
Hayate X Blade
's third volume so compelling, as Hayate and Ayana finally start taking on some serious rivals. Even the first chapter—which only catches the tail end of the battle with Asakura—shows how elements like childhood friendship and conflicted emotions can make every swing of the sword more meaningful. The buildup to the battle against Jun and Yuho is a long but rewarding one, telling the story of a partnership forged in ancient family ties, of a sickly girl who won't give up her dream, of a mother whose concern for her child leads to desperate measures. And when Ayana, Hayate, Jun and Yuho finally step onto the battlefield ... the stakes are clearly raised higher than ever before, with visually stunning acrobatic attacks, special techniques on display, and a surprising cliffhanger to cap it off. At the same time, Hayate's pure energy and humor (plus her newfound overconfidence) shines though, creating a fight scenario that is deeply serious yet still fun.
EVIDENCE AGAINST:
Is this what's considered an improvement?
Hayate the Combat Blade
(ha ha) continues to make the same errors that bogged down previous volumes: poorly choreographed action, an underdeveloped art style, too many characters to tell apart, and a sense of humor that relies on only one joke. Yes, we get it, Hayate is CRAZY and DUMB. Enough already. As for the battles, the only difference now is that there are more sword strikes and speedlines, meaning that the opponents are tougher, but the extreme closeups and bad paneling choices still make it difficult to follow each fight. Going from Dramatic Pose A to Dramatic Pose B should not require a "guess what happened in between!" on the part of the reader. Of course, when everything's drawn in stiff, plain lines with little concern for shading or clarity, that's going to make anything difficult to follow. And there are just too many girls thrown into every scene, along with mind-numbing reams of dialogue. Yes, even in the heat of battle. You want an example of swordfighting done right? See above for
Bleach
.
FINAL VERDICT:
The series tries to improve by developing a deeper storyline, but any hopes of that are dashed by the continuing poor visuals and storytelling that leave this at a
C-
.
---
SAMURAI HAREM: ASU NO YOICHI


Vol. 1
(by Yu Minamoto, Tokyopop, $12.99)
FROM THE BACK COVER:
"Bushido, babes, and battle. What more could an aspiring samurai hope for?
In the great tradition of classic fanservice manga and the inspiration for the popular anime,
Samurai Harem: Asu no Yoichi
stars Yoichi Karasuma, a young man from a small mountain village looking to become a great samurai. He heads to the city to continue his training, only to find himself staying at a dojo rn by four babelicious sisters!
He's there to train, but Yoichi's newly awakened libido is going to make concentration more difficult than ever! Let the hijinks begin!"
EVIDENCE FOR:
Isn't there some law that the male lead in a harem series is supposed to be a generic, spineless schoolboy? Well, consider that law broken! Yoichi is actually the most interesting character so far, with his flowery manner of speech, his penchant for getting into "duels," and of course his archaic cluelessness in the ways of women. The main point of interest may be Yoichi's misadventures with the girls of the Ikaruga dojo, but it's his activities outside of the harem norm that truly stand out: his ongoing rivalry with school bully Washizu, for example, is an instant source of thrilling action moments and hot-blooded manly passion. Oh, but what about the girls? Their distinctive personalities and wildly differing attitudes toward Yoichi create more layers of conflict in the story, not only in their relationships with him but among the sisters themselves. Best of all, Yu Minamoto's overall artistic confidence not only guarantees that the girls are cute, but the action scenes and layouts also please the eye with sharp lines and good contrast. It may be a harem at heart, but it comes with plenty of other stuff too.
EVIDENCE AGAINST:
Make all the excuses you want, but there's just no redeeming this one—it could have done some clever things with the concept of an old-fashioned samurai kid stuck in the big city, but instead it devolves into the usual "guy does something dumb, but then proves his sincerity to make the girl like him" pattern by about Chapter 3. And the supposedly distinctive personalities belonging to the Ikaruga sisters are nothing more than standard-issue stereotypes: the motherly one, the tsundere, the loopy one, the ... ten-year-old ... yeah, we're not treading any new ground here. The only difference, perhaps, is that the motherly one spends half her time beating up Yoichi as well, which makes even less sense. Naturally, this predictable bishoujo behavior leads to completely predictable plotlines too, like having the tsundere cook a meal for him because she kinda likes him but doesn't want to admit it, or the quirky sister trying to mess with his mind by coming on to him. Even the fanservice side lacks creativity: here we go again, fixating on boob size and drawing preprogrammed swimsuit-model poses. Yawn.
FINAL VERDICT:
Starts out with a fascinating lead character, but falls into too many of the usual traps of the genre. Nice swordfights, though, so it gets a
C
.
---
YOKAI DOCTOR


Vol. 1
(by Yuki Sato, Del Rey, $10.99)
FROM THE BACK COVER:
"Yokai are mysterious, troublemaking spirits and demons that have tormented Japan for centuries. Kotoko's grandfather exorcised them for a living, but Kotoko never thought that her family lineage was an asset. Then she meets Kuro, a yokai doctor. Yokai have doctors? Now Kotoko is learning firsthand that healing the yokai is a lot more challenging than getting rid of them!"
EVIDENCE FOR:
"Ah, so Kimihiro Watanuki finally found a solo gig!" ... is what one might think after seeing
Yokai Doctor
's front cover. But aside from that and the subject matter, that's where the similarities to
xxxHOLiC
stop. This series takes a much more down-to-earth approach to the supernatural, injecting Kuro and Kotoko's adventures with healthy doses of high school humor and focusing on the dynamics of human-monster friendships. The cleverest narrative touch in this volume is the telling of the origin story from multiple viewpoints—first we get Kotoko's side of the tale, and then Kuro gets a chapter to himself, revealing a secret that fully explains everything that happened earlier. Somewhat less ambitious, but still worth reading, are the stories of Kotoko's dealings with yokai, which often come with a poignant finish. Of course, no tale of the supernatural would be complete without otherworldly artwork, and that's exactly what we get as all sorts of outlandish (and occasionally cute) monsters show up for treatment. With strong blacks and whites and sharp attention to detail, this work truly captures the essence of Japanese folklore.
EVIDENCE AGAINST:
There isn't a whole lot of "super" to be found in this supernatural series. Much of the humor is dreadfully banal, from Kuro's fascination with boobs (gee, didn't see that one coming) to Kotoko's various classroom predicaments. At its worst, the story seems more like a generic school comedy romp where a bunch of yokai just happened to stop by. And when the yokai do stop by, they often lack that certain aura of mystery—instead we get monsters that simply want to kill or fight or play tricks or any number of tasks that could easily be performed by humans. If yokai do have wondrous and magical characteristics, well, that doesn't seem to be a factor here. As a result, things get disappointingly mundane after the origin stoy: yokai shows up with a problem, Kuro and Kotoko try to solve the problem, and ta-da! Everyone goes home happy. Suddenly it wouldn't seem so bad to explore Kuro's internal conflict about his personal secret, or maybe Kotoko's spirit-busting family history. Now that would be story material.
FINAL VERDICT:
A cleverly told first chapter and highly accomplished art are an asset to this series. Predictable plot structure and dumb high school antics? Not so much, which is why it gets a
B-
.
---

PIANO NO MORI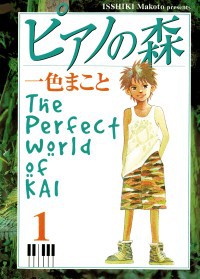 Vol. 1
(by Makoto Isshiki, Kodansha, ¥505)
FROM THE ENCYCLOPEDIA:
"A tranquil tale about two boys from very different upbringings. On one hand you have Kai, born as the son of a prostitute, who's been playing the abandoned piano in the forest near his home ever since he was young. And on the other you have Shuhei, practically breast-fed by the piano as the son of a family of prestigious pianists. Yet it is their common bond with the piano that eventually intertwines their paths in life."
EVIDENCE FOR:
When it comes to stories about the piano, there's always the danger of turning into (1) a
Nodame Cantabile
wannabe, or (2) one of those schmaltzy redeeming-power-of-classical-music movies that comes out every few years. But
Piano no Mori
has its own unique characteristics: a warm coming-of-age tale built around the romantic image of an abandoned piano in the woods. If that alone isn't enough romanticism, then there's the effortless genius of Kai, who pulls all the right heartstrings by being a poor kid of questionable parentage while possessing miraculous levels of musical talent. But it's the relationships between the characters that really provide the substance here: Kai's friendship with Shuhei is the perfect depiction of childhood innocence, while his dealings with the class bully provide some necessary comic relief, and the tale of music teacher Ajino sets up another layer of back story that should come in useful next volume. The joy of piano shines through in the art as well: the characters emote with every facial and bodily gesture, while expressive lines and spacious layouts help every scene to flow like a sonata of pure emotion.
EVIDENCE AGAINST:
So, aside from the wondrous imagery of a dead old piano in the woods (which, by the way, would be highly impractical, and what happens when it rains?), is there anything actually original about this series? Most of it is built piecemeal from other music-story clichés, starting with the lead character himself—sorry, folks, but once you get over Kai's charismatic personality, the poor-kid-with-ridiculous-talent act has already been done plenty of times. Same with the friendship between two diametrically opposed musicians: why, of course the the kid with raw, untrained passion is going to awaken a spark in the kid with a highly regimented upbringing. (So it's a
Nodame
wannabe after all!) And then we learn that the music teacher had his performance career cut short by a tragic accident—what next, is there going to be a student who has to hide his musical dreams from his doctor-or-lawyer-only parents? Meanwhile, the artwork sometimes veers on the edge of being too expressive, with a handful of "ugly" characters plus some special effects and exaggerations that go too far. Perhaps the manga-ka could use some refinement and training as well.
FINAL VERDICT:
Although the story is heartfelt and deeply passionate about music, it's also true that the story elements borrow a lot from other sources. So enjoy it, but don't expect anything too groundbreaking.
---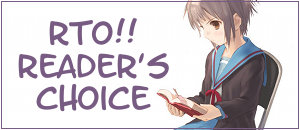 Perhaps the most artistically beautiful manga in the world is so mind-blowing that people can't find words to discuss how great they are. Which is entirely plausible! And besides, we all know what one picture is worth.
But no matter! For next month, please write in about
The Most Overrated Manga
. You know ... the one that everyone thinks is so great but you just. Don't. Get. It. What's that one title that really doesn't deserve the praise it gets?
Meanwhile, just for ironic kicks, here's a title that some actually consider badly drawn, but is awesome anyway—
Banana Fish
, reviewed by
CJ Thomas
.
BANANA FISH

(by Viz Media, Akimi Yoshida, $9.99 ea.)
I'm always looking for it, that one special manga or anime that towers several feet above even the best. It's not usually something that you highly anticipate, it's something you look up on a whim or hear one good thing about in passing, then check it out only to be amazed. They come few and far between, and Banana Fish is one such manga to me.
Pretty boy genius Ash Lynx is the leader of a gang in New York City as set in the 1980's. When Ash encounters a dying man one night and is told "go see banana fish" and given a mysterious phial with a strange substance, he is unexpectedly put into conflict with crime lord Dino Golzine, who raised Ash as his adopted heir and sex toy.
A few days later, Eiji Okumura and Shunichi Ibe, a photographer and reporter respectively, arrive from Japan to do a report on NYC gangs. Due to an unexpected incident involving the phial Ash received earlier, Eiji and Ibe are swept into Ash's life of gang violence. Thus the adventure begins.
While the artwork is nothing special, in some cases it's simply ugly, everyone looks like guys, even the women look like dudes here, action is clear and easy to understand, and when the story is this engrossing, it's easy to forgive character designs. Unfortunately, I had trouble distinguishing between one of the inspectors and one of Golzine's men most of the time, but I eventually straightened it out.
Well developed and distinct characters are pouring out of every orifice of this series. The story is captivating, thanks in part to the stripped down style without chapter separators, filler material, or other fluff commonly found in manga, and in part to being well written. Combining characters and fast pace, it's something you don't want to put down until you've finished it. The ending is fantastic, but bittersweet and is followed by a prologue of Ash meeting Shorter (another main character) and an epilogue of Eiji that takes place 7 years after the story, both of which really help tie the story together and give more conclusion to the ending.
If you're looking for a drama without interruptions, a highly engrossing and memorable story, and don't mind chunks of action and bits of romance (between two guys) you won't go wrong here.
---
Is there a hidden gem of manga you'd like to reveal to the world? Is there a piece of garbage that deserves to be bashed in public? Or is there a title that didn't get a fair grade here, and you want to set the record straight?
Now's YOUR chance to be the reviewer! Write a review of about
300-400 words
(a little more or less is fine) and include:
- Your name
- Title of manga (and volume no., if applicable)
- Author/Artist
- Publisher
- Briefly describe the story, then explain why this manga is great, terrible, or in between. Be objective, but also be entertaining.
Then send it in to
rtoreaders (at) gmail (dot) com
. One review will be selected out of all the submissions and will be published in the next column. All types of manga and manga-inspired comickry are accepted, from past and present, from Japan and beyond—what matters is that it's the Reader's Choice! NOTE: Submissions may be edited for formatting and grammar.
---
discuss this in the forum (26 posts)
|