×
remind me tomorrow
remind me next week
never remind me
ANN Reader Survey • If you haven't had a chance yet, please fill out our annual survey, It's so helpful to us. As a thank you for filling out this massive survey, we're giving away 100 ANN subscriptions to people who fill it out.
read more
×
remind me tomorrow
remind me next week
never remind me
Subscribe to the ANN Newsletter • Wake up every Sunday to a curated list of ANN's most interesting posts of the week.
read more
Shelf Life
Always the World's Greatest
by Bamboo Dong,
For almost ten years, Peter Forsberg graced Denver hockey with his power shots, his reckless ability to score, and his pure talent. He took my breath away when the Avalanche first came to Colorado (a welcome change to fill my growing depression with the Rockies that never quite lifted), and with his incredible skills and dedication to the team, skated his way into two Stanley Cup championships and the hearts of his newfound fans. When Patty retired, everyone felt sure that ol' Foppa would soon follow suit. Word was that he was set to go back to Sweden, leaving behind an unshatterable legacy. Instead, the NHL came back, and the salary cap reared its ugly head. If the Avalanche were to keep Forsberg, they'd have to get rid of two other key players. So, after nearly a decade, Foppa left Colorado for Philadelphia, leaving behind legions of crushed fans and painful nostalgia.
A month back, a fan took footage of Forsberg over the years and set it to R. Kelly's "The World's Greatest." And, for the first time in my life, I cried over a music video. I can't deny that I'm bitter at the league, and I'm angry over what happened as a result of it, but I can only hope that Forsberg will bring thousands of Flyers fans the same joy that he brought us. Good luck this season, Flyers, and may you rise to be the second greatest team in the NHL.
Welcome to Shelf Life.
[Note: This SL is special—it's the last of the flaky columns! Now that I'm settled in for the school year, and Mail Services is being good to me again, expect columns to be coming on a more consistent basis, as well as newer titles. As for a lot of the older titles (released circa May), my goal is to eventually write reviews for
all
the discs I have from this year, so don't be surprised if you see a disturbing slew of older titles. Hey, they might still be new to you!]


Samurai 7 DVD 1 – Limited Edition
FUNimation 105 min. 1/? $49.98 08/23/2005
Samurai 7 DVD 1
FUNimation 105 min. 1/? $49.98 08/23/2005

If Gonzo was a punk band, it would've won a prize for the Best Cover Ever. Known for their flawless animation and their innovative minds, they've managed to take Akira Kurosawa's Seven Samurai and spin it into an anime series worthy of the homage. After the events of a terrible war, dozens of villages suffered under bandits, who plunder their grain supplies and leave them starving and helpless. They're not just ordinary thugs though—they're biomechanical behemoths who have become more like giant weapons. Desperate for relief, a small-town priestess set out on a journey to ask a samurai for help. After finding a good candidate, it's decided that they need six more men before they can start preparing the fight. Although the setup is rather long, the gist of it is covered in the first few episodes. Everything after that is just a matter of finding guys, thwarting bad guys, and preparing for the final showdown. Truthfully, it's a little boring right now, but the quality of the storytelling is stellar. Even the concept of the show is amazing. Applying the idea of Seven Samurai to a futuristic setting is cool enough, what with the bionic villains and the robotic samurai, but I'm really aching to see the battles that were showcased in the opening credits. The idea of samurai slicing through spaceships has me quivering in anticipation, and nothing can dull my interest. So, while the series isn't exactly a bowl of action and high-flying excitement right now, it has immense potential. Until then, the rich storyline and the amazing artwork will keep you occupied.

Similar Series: For other futuristic retellings of classic stories, check out Geneon's release of Counte of Monte Cristo, also known as Gankutsuo. If it's just more samurai action you want, try Otogi Zoshi.


Yugo the Negotiator - Pakistan: Departure + Artbox
ADV Films 75 min. 1/4 $29.98 07/26/2005
Yugo the Negotiator - Pakistan: Departure
ADV Films 75 min. 1/4 $19.98 07/26/2005

From the ashes of obscurity comes an anime series that will redefine just how terrific well-scripted drama can be—and it comes in the form of a negotiator. A professional negotiator by trade, Yugo Beppu is hailed as the best in his field, combining a solid background in sociology and human psychology with impeccable intelligence and sheer balls. He's approached by a woman whose kidnapped father is in the middle of a violent Pakistani conflict, one steeped in political and religious issues. Promising to rescue him, he plunges into Pakistan and embarks on a dangerous journey to retrieve the father before it's too late. Yugo the Negotiator is just the kind of action show I'd love to see more of on shelves. Rather than your typical gun-toting, bounty-hunting, cigar-flicking testosterone fling, it's relies a lot more on sheer determination, outwitting your enemy, and rushing into dangerous situations. For the first time in a long time, I wasn't able to predict the plot twists, and was able to sit down and let the drama wash over me. Action fans should definitely check this one out.

Similar Series: There's really just nothing out there that's quite like Yugo the Negotiator. Certainly not on the anime market, that is. By all means, make more of this stuff!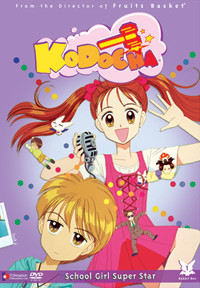 Kodocha DVD 1 - School Girl Super Star + Artbox + Shoulder Bag
FUNimation 100 min. 1/? $44.98 08/02/2005
Kodocha DVD 1 - School Girl Super Star
FUNimation 100 min. 1/? $29.98 08/02/2005

Kodocha is bliss in a bag. Almost literally, too, since the art box comes with a MythWear shoulder bag. Regaling the adventures of sixth grade TV star Sana, the first disc is mostly just fluff that sets up the friction between her and a bully named Hayama. What sets this apart from a lot of other comedies though, is that this show is sincerely funny. All of the characters are so wild and so vivacious that virtually all of them can bring you to your knees in laughter. If not your knees... well, you'll at least be smiling. That's really the biggest draw of the first volume. The series may get more serious later on, but for now, the story is simple: Sana versus Hayama. For now, most of the fun is just seeing how all the different characters interact with their environment. Whether it's seeing Sana freak out at the breakfast table, or watching for her mom's weird squirrel-house hats, everyone is just so unpredictable that it's hard to tear your eyes away. For several years, fans have been begging for this show to come overseas, and boy, was the wait worth it. If you're aching for some goofy comedy and firecracker characters, Kodocha has your name stamped all over it.

Similar Series: If you took Kodocha and removed the storyline and gutted the characters of their depth, you'd end up with something nutty like Excel Saga. At least this point in the series.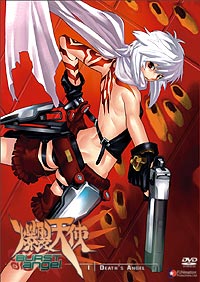 Burst Angel DVD 1 – Death's Angel + Artbox
FUNimation 100 min. 1/? $39.98 05/10/2005
Burst Angel DVD 1 – Death's Angel
FUNimation 100 min. 1/? $29.98 05/10/2005

Burst Angel has made itself a home in that awkward limbo between Really Cool and Meh. To its favor, it's incredibly hip in appearance. The characters (of legal age) are sexy, vibrant, and the situations they find themselves in are incredibly thrilling. The problem is, it was executed in such a plain manner that it falls short of its potential. At some point in the future, citizens are given the right to use guns at their own discretion, meaning angry grandmas could prove to be a bigger threat than an entire drug cartel. Naturally, things descend into chaos and near anarchy, but one team of girls has made it their job to rid the streets of thugs and corrupt cops. Ultimately, the show is probably headed towards some kind of big revelation about the seedy practices of certain government organizations, but the edginess and suspense is damaged by lackluster writing. The scripts give plenty of cool lines to the girls, but don't bother adding any substance to the storyline. Add to that the disappointment of having girls with cookie-cutter personalities, and it's kind of a let-down. Even so, the fiery girls are enough to carry the show, so if you're looking for some babes doing violent things, check out Burst Angel this weekend.

Similar Series: While it's a lot more chipper than Burst Angel, Mezzo is great for some hired-gun action. For a higher ratio of girls though, check out Daphne in the Brilliant Blue.


Shingu: Secret of the Stellar Wars DVD 1 - Altered Perceptions + Artbox + Tshirt
TRSI 125 min. 1/? $44.95 03/29/2005
Shingu: Secret of the Stellar Wars DVD 1 - Altered Perceptions
TRSI 125 min. 1/? $44.95 03/29/2005

In just five episodes, my opinion about this series changed at least six times, if not more. At first, it seemed like a silly fluff story about aliens. Then it turned into a Quirky Kids vs. Evil show. Now... well, I'm not quite sure where it's trying to go. Everything is nice and quiet until a giant alien entity appears in the sky. Suddenly, the truth that everyone has been whispering about for year is finally confirmed by the government—aliens do exist. Aliens may be exciting, but for small town boy student Hajime, he's more interested in his school's odd student government leaders and the new transfer that just showed up in an ancient school uniform. Before he knows it, he discovers the truth about the different alien races and their plans for Earth—and how one of his schoolmates has been designated to fight it. Right now, the series is still mildly confusing, but it'll be interesting to see what happens next, considering how man plot twists it's already thrown in. The only big problem right now is the pacing—things are a little too laid back and dull. Now that the main character has been clue in on all the secrets though, things will probably move a lot faster—and forward, for that matter. For now, Shingu won't exactly strap you to your seats, but it'll definitely have you wanting to watch the rest of the series.

Similar Series: In terms of aliens descending from the sky, and girls being dispatched to beat them back, this series is a lot like Brigadoon. In terms of "woah, what" plot twists, it's starting to creep into Shadow Star Narutaru realm—but not quite.


Divergence Eve DVD 2- Core Mission
ADV Films 100 min. 2/3 $29.98 04/26/2005

Despite how abominably bad the first episode was, this series just keeps improving. It won't reach masterpiece status any time soon, but the storyline is getting more and more fascinating by the minute. Now that the enemy is finally revealed, a team of pilots is being assembled to help defend Watcher's Nest against the GHOULs, including Misaki. Too bad for her, she has much more on her mind than just screeching monsters. As information starts pouring in from unlikely sources, the unfortunate truth is finally revealed about her past, her father's death, and her origins. With only one more volume to go, it'll be interesting to see what happens. Ultimately, the finale will have already been decided, since the series started with the "last" episode, but how it will get to that point is anyone's guess. Up until now, the pace has been rather uneven, and the scenes have been disjointed, so I'll be rather surprised if the series manages to round up decently.

Similar Series: Cadets in space fighting a life-threatening problem? Stellvia!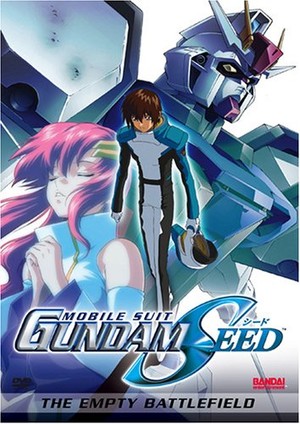 Gundam SEED Movie 1: The Empty Battlefield
Bandai 95 min. 1/3 $29.98 07/11/2005

Since the first episode, Gundam SEED has always been freakishly similar to Gundam 0079. It's not surprise, then, that the first Gundam SEED movie would bear resemblance to part one of the 0079 film trilogy—and suffer from the same problems. While it's appreciated that the production staff decided to make a Lite version of the long series, it suffers from having too much crammed into too small of a space. In fact, it has just enough to squeeze out the basics: Kira Yamato is a Coordinator who has somehow stumbled into a war, forced to pilot a Gundam for the Earth Alliance against the ZAFT forces (which incidentally, are heavily made up of Coordinators). He discovers with a shock that his main opponent is a childhood friend. They're forced to fight each other over and over again to defend their friends, their honor, and airhead women. With the way that the scenes are spliced together though, there are often jumps where a war appears out of nowhere, without viewers being clued in to why or when it's happening. Thankfully, these jumps are much more seamless than the ones that spotted the 0079 movies, but it still leaves room for plenty of confusion. It doesn't help that many of the characters look the same. Half the time, it's a chore just to figure out which character is on whose side. Frankly, this movie isn't really worth watching. Despite its longer length, Gundam SEED is a much better investment in terms of entertainment, clarity, and storyline. It may be more expensive to collect it the series than the movies, but what good is watching the abridged versions if they don't make any sense? Skip this, and head for the series, trust me.

Similar Series: Too close to the Gundam 0079 trilogy for comfort, in both pros and cons. Just spare the time to watch the whole series.

Thanks for reading! See you next week!
---
discuss this in the forum (30 posts)
|