Shelf Life
Heart of Bored
by Bamboo Dong,

Welcome to Shelf Life.
What didn't hit the spot so much was the new Rurouni Kenshin OVA. My expectations were too high going in, and I was burned as a result.
Lastly, though, was a show that seems to divide viewers between loving it and hating it. I speak of Toriko, an over-the-top Shonen Jump show about Gourmet Hunters, who sacrifice their lives and ridiculous powers to hunt down delicious animals and harvest dangerous, man-killing vegetation.
Alright, folks, that's it for this week. Thanks for reading, and now I get to finish the rest of Penguindrum!

This week's shelves are from Justin, aka HelterSkelter01:
"Greetings. My name is Justin. I am a long time viewer of animenewsnetwork, and have an account with it by the name of HelterSkelter01. These are some pics of mine that I was hoping would be considered for display on one of the site's Shelf Lives. It displays a large amount of anime on dvds and bds. It also features a moderate manga collection, and two imported cds at the very end. There is an interesting story behind the size of this collection. While it was considerable beforehand, it gained a great deal after the announcement that Bandai Entertainment was closing down. Having worked out a wish list of these things I wish to collect in my life, I was eager to buy as many of the Bandai titles that I could get my hands on before they became unavailable. That is why much (but not all) of the Bandai titles are on these shelves. The majority of these were bought by me, but several of them were gifted to me. My collecting first began when I was about eighteen, and has gotten quite large in the last seven years."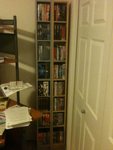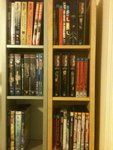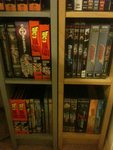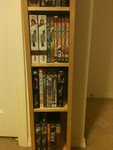 Very cool! Want to show off your shelves? Send your jpgs to [email protected] Thanks!
---
discuss this in the forum (65 posts)
|