Shelf Life
Amagi Brilliant Park
by Paul Jensen, James Beckett,

I'm off on vacation visiting my extended family this week, so my brain is entirely too frazzled to come up with a clever or interesting introduction. Instead, I'll just jump right into it. Welcome to Shelf Life.
Jump to this week's review:
Amagi Brilliant Park

On Shelves This Week

Attack on Titan: Junior High - Complete Collection BD+DVD, Limited Edition
Funimation - 300 min - Hyb - MSRP $64.98|$84.98
Currently cheapest at: $43.99 Amazon|$59.99 Amazon

Synopsis: Eren and his friends start their first year at a school for humans and Titans, and Eren quickly vows to get rid of the Titans.
Extra: We have episode reviews for this comedy spinoff, and it's available streaming on Funimation and Hulu.
---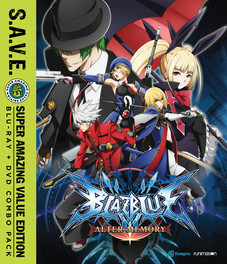 BlazBlue: Alter Memory - Complete Collection [S.A.V.E.] BD+DVD
Funimation - 300 min - Hyb - MSRP $29.98
Currently cheapest at: $20.69 Amazon

Synopsis: Armed with a powerful weapon called the Azure Grimoire, Ragna the Bloodedge faces off against lawless vigilantes and ruthless government forces.
Extra: I reviewed this show during my first week as the new head of Shelf Life. Yes, it's already been a year and a half. You can stream the series on Funimation.
---

Girls und Panzer: This is the Real Anzio Battle BD+DVD
Sentai - 38 min - Hyb - MSRP $19.98
Currently cheapest at: $12.99 Right Stuf

Synopsis: Miho and the girls of Team Oorai square off against the Anzio High School tankery team.
Extra: While we haven't reviewed this OVA yet, we do have reviews of the TV series here and here. The TV series is available on Crunchyroll, Hulu, and The Anime Network.
---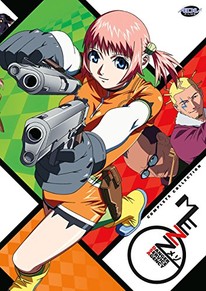 Mezzo - Complete Collection DVD
Sentai - 325 min - Hyb - MSRP $29.98
Currently cheapest at: $19.49 Right Stuf

Synopsis: The eccentric members of the Danger Service Agency take on a variety of odd jobs that frequently end in gunfights.
Extra: This series was released in single-disc form between 2004 and 2005, and we have a review from back then. It was available streaming once upon a time, but doesn't appear to be any more.
---

Pokemon the Movie 19: Volcanion and the Mechanical Marvel DVD
Viz - 92 min - Dub - MSRP $19.98
Currently cheapest at: $12.96 Amazon

Synopsis: Ash and the Mythical Pokemon Volcanion must work together in order to rescue the Artificial Pokemon Magearna.
Extra: We don't have any reviews of this movie, but you can watch it and many of the other films in the franchise on Pokemon.com.
---
Shelf Life Reviews
James is up to bat this week with a review of Amagi Brilliant Park.

It's the perfect elevator pitch: what if all of the magical places, people, and strange creatures that occupied amusement parks were
real
? When Seiya Kanie is coerced into visiting the faltering, decrepit Amagi Brilliant Park (or Amagri) by the stoic and heavily armed Isuzu Sento, he gets the answer to that question, along with much more than he ever bargained for. Not only are the many magical denizens of Amagri quite real, they also live off the supernatural energy created by bringing joy and happiness to the park's visitors, and attendance has been pitiful lately. Despite putting on egotistical airs, Kanie is moved enough to take up the position of manager at the park, making them a promise. By the end of summer, he will rope in 250,000 guests and save the park from financial and existential ruin. That's a bit easier said than done, however, and over the course of 13 episodes and an OVA, Kanie and company will discover just how much blood, sweat, and tears you have to put out to keep a magical theme park afloat.
If I'm being honest, I had an inkling I would enjoy Amagi Brilliant Park before I ever got hold of Sentai Filmworks' Blu-ray set. I spent some time as a teenager working at a super-popular theme park, so I immediately related to the mundane trials and tribulations that come with trying to satisfy thousands of people over just a few short months. I still wasn't prepared for just how much I would end up enjoying this series. I didn't just enjoy Amagi Brilliant Park, I loved every second of it. I don't know that I would call this the best series I've ever reviewed for Shelf Life, but I've been contributing to this column for over a year now, and this is easily the most fun series I've covered.
I think it really comes down to the characters. Amagri is populated by dozens of faeries, monsters, and otherwise fantastical creatures, and almost every one is brimming with charm and personality. The core trio of park mascots is made up of the serious mouse Moffle, the perpetually horny Pomeranian Tiramy, and the mischievous sheep Macaron. These three knuckleheads alone would make for an excellent Three Stooges-style comedy series. There are also the lovable Elemental Sprites who sing and dance for the park guests, a dorky Dragon with a passion for obscure trivia, a terrifying shark with a heart of gold, and many more. Amagi Brilliant Park takes the potential of its central premise and runs with it, creating a little world filled with zany characters who are both funny and surprisingly relatable. It's one thing to see a bunch of scruffy mascot types get into magical shenanigans trying to run a trans-dimensional theme park, but it's another thing altogether when all they want to do is hit the bar afterwards and trade stories over beer. For a show that's ostensibly focused on spitting out as many gags as possible, Amagi Brilliant Park never loses its eye for the human element that makes things special.
Speaking of the human element, our core cast of human characters are also great. Kanie is the perfect mix of smug jerk and genuinely passionate manager, and Sento plays an endearingly befuddled straight-woman to the madness surrounding them all. The two have excellent chemistry, and the way their relationship develops over the series is one of its highlights. Princess Latifah, the sickly girl who owns the park, probably gets the least to do, but she still manages to inject some cuteness into most scenes. Also, the main humans are in fact named after Kanye West, 50 Cent, and Queen Latifah respectively. Any series that manages to get away with naming adorable anime protagonists after some of America's biggest hip-hop stars is alright in my book.
Though this Blu-ray set doesn't contain any special features outside of the usual creditless opening and ending, it does have both the series' thirteenth episode and its OVA, which aren't available in the West for streaming at this time. While neither episode is essential to the main plot, which gets wrapped up handily in the main twelve episodes, both of these extra entries are just as funny, heartfelt, and delightful as anything else in the series. Episode 13 in particular focuses on the team's efforts to create a promotional video for the park, resulting in some of the biggest belly laughs Amagi Brilliant Park has to offer. If you want to see Amagi Brilliant Park in its entirety, then this Blu-ray is for you.
This release also contains an English dub, which is how I watched the series, and I have to say that it's pretty darn good. Evangelion mainstays Tiffany Grant and Allison Keith-Shipp pop up as Moffle and Macaron respectively, and I thought every performer did an excellent job in playing up both the pathos and the relatability of their parts. Adam Gibbs and Molly Searcy also turn out appropriately charming performances, which is good, given that their characters get the lion's share of screentime. An English dub always has the potential to muddle the comedy of a series in translation, so I'm glad to report that Amagi Brilliant Park avoids that pitfall.
If it isn't clear already, I couldn't recommend Amagi Brilliant Park enough. It's one of the few shows where I have almost nothing to complain about, because any little nitpicks or criticisms I have wouldn't hold a candle to how much unbridled joy I felt watching it. It's true that the gags might not work for everyone, and the series places much less emphasis on worldbuilding than it does on putting a magical twist on workplace comedy. I can't say that I minded any of this personally. I don't rave about things very often on Shelf Life, but this series is absolutely worth raving about. If you're looking for a refreshing, endearing, and endlessly entertaining comedy to add to your shelf, then Amagi Brilliant Park is a must-own.
-James[TOP]
That wraps up the review section for this week. Thanks for reading!

This week's shelves are from Ashlee:
"Hello, my name is Ashlee (aka Aura Ichadora)! I've been featured on Shelf Life two times before, but it's been about 3-4 years since I was last featured and a lot of things had happened since then! I had gotten married, we had moved into a new place, and both my husband and I's shelves had grown from being split into two rooms to lining nearly every wall of our bedroom. Which is a good thing, considering how much our collections had grown! Sadly, I don't have everything featured here - a large portion of my husband's gaming and manga collections are a mess and we hadn't had much time to reorganize it - but I did want to include the parts we were most proud of.
The Resident Evil shelf is my husband's; it's one of his favorite series and something he's extremely happy to brag about! Some of his favorites are the signed copy of Umbrella Chronicles (from D. C. Douglas, voice of Wesker), his figures of Berkin and the Tyrant, and his replica guns (VP-70 is the one on the second shelf, and the P-Virus/D.S.O./Sentinal 9 is in the case on the third shelf). He's still missing a few games and other things, but he's working on expanding it! He has some promo art from GameStop for RE7 he wants to put up, but we hadn't found an area to display it yet, however.
The rest of the shelves are of my anime and manga, with a small picture of my Obitsu dollfies (from left to right: Ambellina, Ceraesa, Seramye, and Yuki). For my anime, the things I'm proudest of are the autographed items, something I'm still gathering while going to cons. So far, my collection includes signatures from Johnny Yong Bosch (Eureka Seven), Todd Haberkorn (Fairy Tail), Greg Ayres (Nerima and Ouran), and much of the main cast for Fullmetal Alchemist (although you can't see Caitlin Glass' autograph on my FMA movie because it's on the back, I did get her autograph for Ouran).
For my manga, the Japanese volumes I own are for Glass Mask, a series I'm still wishing will get a US release someday. I don't think I have any specific prides in anything with my manga collection, outside of my general love for anything CLAMP. I do have a few frustrations, though! My collection of the Jing: King of Bandits manga still remains incomplete after trying to collect it for the last 8 or so years, but I hope to finally get those last two volumes soon! I also keep wishing for Translucent to be finished in English; I love the series, but having it remain virtually incomplete (similarly to my Glass Mask DVDs...) sometimes drives me bonkers!
I am working on the gaps in my collections though! I've also included pictures of my small figure collection, ranging from full figures to small blind-box finds and I think a couple of cake toppers that I found randomly at garage sales (at least that's what I think the Inuyasha figures are). That's really all else I can say at this point, though; thanks for featuring my collection and my ramblings, and hopefully I'll be re-submitting my shelves again in the future with even more growth (and more shelves)!"
The best relationships are the ones that expand your collection. Thanks for sharing, and for reading Shelf Life for all these years!
If you'd like to show off your own shelves full of anime and manga goodness, send me your photos at [email protected]!
---
discuss this in the forum (28 posts)
|