Sound Decision
Evangelion #3
by Jonathan Mays,
Title:
Neon Genesis Evangelion Original Soundtrack #3
Artists:
Shiro Sagisu
Label:
Geneon Anime Music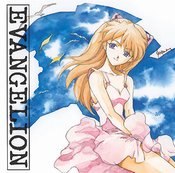 Release Date:
2004-08-03
Suggested Retail Price:
$14.98
Description:
The third time's a charm when Evangelion conductor Shiro Sagisu returns to reacquaint EVA fans with his classy, stylized approach to symphonic flair, locked and freshly sealed in the 'Neon Genesis Evangelion Original Soundtrack III.'
The journey back into Evangelion brilliance kicks off with two new image songs: 'Happiness Smells of Sin' and 'Eternal Embrace,' followed by 20 finely intricate instrumental tracks that were used in the more dramatic scenes, and closing with 12 additional remixed and extended versions of that timeless ballad 'Fly Me to the Moon.'
Track list:
01 Happiness Smells of Sin
02 Eternal Embrace
03 Normal Blood
04 Harbinger of Tragedy
05 Childhood Memories, Shut Away
06 Those women longed for the touch of others' lips, and thus invited their kisses
07 Background Music II
08 Background Music III
09 In the Depths of Human Hearts
10 Hostility Restrained
11 Three of Me, One of Someone Else
12 Crime of Innocence
13 The Sorrow of Losing the Object of One's Dependence
14 Do you love me?
15 Separation Anxiety
16 Introjection
17 Depression
18 Splitting of the Breast
19 Infantile Dependence, Adult Dependency
20 Mother is the First Other
21 The Heady Feeling of Freedom
22 Good, or Don't Be
23 Fly Me to the Moon (Yoko Takahashi TV Size Ver.)
24 Fly Me to the Moon (4 Beat TV Size Version)
25 Fly Me to the Moon (Aya Bossa Techno TV Size)
26 Fly Me to the Moon (Acid Bossa TV Size Version)
27 Fly Me to the Moon (4 Beat Off Vocal TV Size Ver.)
28 Fly Me to the Moon (Off Vocal TV Size Version)
29 Fly Me to the Moon (Aki Jungle TV Size Version)
30 Fly Me to the Moon (B-22A Type TV Size)
31 Fly Me to the Moon

32 Fly Me to the Moon
33 Fly Me to the Moon
34 Fly Me to the Moon (Aya London Beat Ver.)

Total time: 1:10:59
---
discuss this in the forum (5 posts)
|
back to Sound Decision - Little Big Muddy
Sound Decision homepage / archives