Sound Decision
Utena Movie
by Jonathan Mays,
Title:
Utena movie
Original Soundtrack
Artist:
Various
Label:
Geneon
Anime Music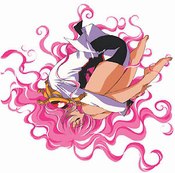 Release Date:
2004-06-06
Suggested Retail Price:
$14.98
Description:
Revolutionize your anime world with 'Utena: The Movie Original Soundtrack - Adolescence of
Utena
ADOLESCENCE RUSH,' based on the masterfully artistic and radically symbolic theatrical film.
Just beneath the film's intricate layered plot and luscious animation lies a marvelous auricular ballet of swooping duel choruses, regal waltz tunes, delicate piano-led melodies and dramatic orchestral salvos. This 14-track CD includes two dynamic vocal tracks, 'At times, love is"" and the remixed version of 'A Round Dance - Revolution' both sung by shining
J-pop
star
Masami Okui
(Slayers,
Blue Seed
, Sorceror Hunters).
Track list:
01 Rose is rain - Rose Egg Rebirth Record
02 Scarlet group's dance - Reunion
03 The Rose Signet - Sky Garden's Bride
04 Duelist - Resurrection! Never-ending history of the Middle Ages
05 Illusion - Malice's
Pupa
06
Belladonna
's snare
07 At times, love is
08 Akio's Waltz - Video Recollection
09 Naked Rose - Carnage - Constellations Alpha Psi Zeta Galaxy
10 Abraxas - The Sunlit Garden
11 The Revelation of Absolute Destiny - Adolescence of Utena
12 Decisive Battle ~ Bezelbub's Royal Castle
13 A Round Dance - Revolution ~ Adolescence Rush
14 I want to be your fiancée - symphonic instrumental -
Total time:
0:58:35
---
discuss this in the forum (5 posts)
|
back to Sound Decision - Then and Then
Sound Decision homepage / archives