The Gallery in Japan - Felipe Smith
by Evan Miller,

Hello everyone! Apologies for the month-long column hiatus; right after I returned from Sakura Con, I got mono and spent about three weeks lying in bed and eating "sick people food" (hooray for jello and toast). While three weeks of sleep might sound wonderful, I assure you that the sleep you get when you have mono isn't that great. It's like the sleep you get while you're flying in coach and someone is kicking the back of your seat. With steel-toed boots. In any case, I'm on the mend and the column should return to its normal weekly schedule from here on out. Really.

Despite the delays, we have something special for you this week: the first ever Gallery interview with an artist publishing their work for a Japanese audience in a major publication.


This week's artist currently lives in Tokyo, where his latest work is being serialized in Kodansha's monthly manga magazine Morning 2 (which is also the host publication for Kodansha's International Manga Contest). However, North American readers may know him best for his series MBQ. All the way from Tokyo, please welcome...
---

Profile

Color: No favorites; I like 'em all!
Tools of the Trade: Ballpoint pen, Markers, Photoshop, Acrylic Paint.
Favorite song to sing at Karaoke:"Welcome to the Jungle"
While drawing, I listen to: Movies or music my friends pass on to me.
Guilty pleasure: ?
Pet Peeve: nail-biters, open-mouth chewers.
One thing you miss about LA, and one thing you do: Pears, Apples.

Most interesting moment from everyday life in Japan: Grapes.

Gill and Aniki from Peepo Choo (ANN exclusive)
 

Felipe takes a break to meet with us in Tokyo
Felipe Smith's first published work, MBQ, doesn't open with an intense shōnen action battle, a transformation sequence, or any kind of robot. It doesn't even open with a vista of Los Angeles, the urban sandbox in which the characters that populate Felipe's story interact. Instead, the reader sees Dee, the character who administers almost half of the ass whoopings in the story, giving us the middle finger. Actually, he's barely acknowledging the reader at all; he's sitting there talking on his cell phone, eyes glancing forward as if to say he's too busy for us. It's not the kind of image that any reader expects to see in their comics, which maybe explains the variety of reactions that MBQ got from readers. Many critics praised Felipe's first work as a welcome challenge to the established definition of what "comics" and "manga" were supposed to be like. Other readers found MBQ to be too noisy and hectic, and the fact that the title came billed as a "manga" because it was one of Tokyopop's flagship "OEL" titles came as a shock to readers expecting big eyes, magical girls, and other stereotypical "manga" features. According to the author himself, the creation of MBQ involved a variety of emotions and feelings as wide as the ways in which the comic was received. "That first page carried a lot of my feelings. That book was a fuck you to many people, but a thank you to many others as well," says Felipe. As he puts it, "[With MBQ,] I wanted to state who I was and what I was about." Today, work like MBQ has helped push Felipe to a frontier that most aspiring manga artists only dream of reaching. His latest work, Peepo Choo, is being created and serialized exclusively in Japanese in Kodansha's monthly manga magazine Morning 2. The story was featured on the cover of the magazine, complete with a full color intro section, last summer. About two weeks ago, on April 23, the first volume (tankōbon) of the series was released as well, making Felipe the first of the current generation of North American manga artists to have an original work serialized for a Japanese audience. The work has involved a lot of adjustment from Felipe both in how fast he works and how he produces his work. Regardless, Felipe Smith approaches the deadlines and trials that he faces knowing that he's doing what he loves.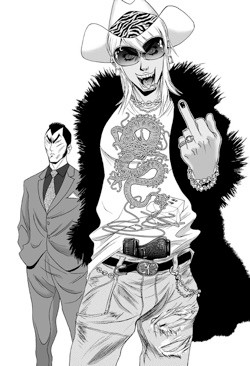 Morimoto Rockstar (Peepo Choo)
The people who have met Felipe often mention how noticeable his energy and passion for art is. When I first met him at a convention in 2005, he spent an entire weekend foregoing sleep and sketching congoers at parties. Back then, the first volume of MBQ had just hit shelves. "I thought I could die happy when I finally got published," says Felipe, who cites the release of MBQ Volume 1 as one of the best moments of his life. Today, with the publication of Peepo Choo Volume 1, Felipe is once again eagerly waiting to see what kind of response his work will get. "The first people to read Peepo Choo are going to be from a different culture, in a different language, so I'm not sure what to expect," admits Felipe. "I'm already wondering about reactions, how many copies it will sell... whether the editors will get positive feedback or not." The publication of Peepo's first volume puts a point on Felipe's experiences as an artist living in Japan working for Kodansha, a journey which began in late 2007 and has involved a crash course in the demands and deadlines faced by Japanese manga artists every day - such as having to produce 50 pages a month, or more if the editor demands it. "In the time I put out one volume of MBQ," says Felipe, "I've put out one and three-quarter volumes of Peepo Choo. I've never worked that fast." Despite the stress and adjustments that the new lifestyle has required of Felipe, he's still excited to hear what people have to say about his work, no matter what that response may be.
Felipe's journey towards becoming a professional artist began when he was growing up in Akron, Ohio and first got his hands on something he could write with. After his parents discovered that their son had turned their latest issue of TV Guide into his personal canvas, they decided to get Felipe a box of crayons and see what he could do. It wasn't long before Felipe's parents came home after work to find their son in a sea of papers covered in sketches that Felipe did of every Star Wars figure he owned. The support that his parents gave him became a cornerstone of support for Felipe's artistic ambitions, and he's quick to mention the the many other people who haven't been shy about supporting his talent. "A lot of times as an artist, it seems like people don't understand you," says Felipe, adding, "I was lucky, since so may people around me supported me and took an interest in what I did." That interest from others continued as Felipe and his family moved to Argentina. As he grew up, his exposure to comics and other art styles was limited, which meant that Felipe's own style became a mix of little stylistic cues that he had picked up from observing everyday life. Aside from a friend from an elementary school classmate who drew and a middle school classmate from Japan who sketched Saint Seiya characters, Felipe was the only person in his school with a strong interest in pursuing art. It wasn't long before art became one of the things Felipe was known for amongst his peers, and the attention surrounding his work motivated him to keep it up.

Peepo Choo
When Felipe was 13, he was first introduced to the world of comics. Although he didn't take a strong liking to the storylines in comics, he did admire the sequential art style and settings that comics offered. Felipe took particular interest in the work of British artist Simon Bisley and the "muscular" look to his work, such as Sláine The Horned God. "I wanted to do nicely painted work like that," remembers Felipe, who also spent his high school years on his first major artistic experiment: a self-published comic called The LPL Brothers. "It was about some goblins in a low rider," remembers Felipe, who remembers selling the books to classmates for 1 peso. "The characters had guns and were thugs... it was corny as hell - like New Jack City, except that they were trolls." After his brief experiment with self-publishing, Felipe found himself drifting away from the world of comics. Unsure if he wanted to make a living off art or not, he spent the remainder of his time in high school pondering his next move. In his senior year, he decided: although he never found a storyline in the comics world that really drew him in, Felipe knew that he wanted to have art be the focus of his professional life. With the blessings of friends and family, Felipe graduated and returned to the United States to attend the School of the Art Institute of Chicago.
After spending most of his formative years as the only artist around, Felipe was excited to get to Chicago and enter a world where he'd be surrounded by other artists. It took a little while for Felipe to find a place where he felt comfortable; although he felt like painting might be a worthwhile pursuit considering his background with murals, he eventually settled on the field of animation. Around the same time, Felipe's attention began drifting back towards the world of comics - specifically, the "indie" comics scene. His exposure to the comics scene was fostered by his friends from art school, who were already producing their own comics. One of these friends, Bill Halliar, gave Felipe one of his first comics-related commissions: a pinup of his character Evilman. "Even though Evilman looks kind of like the M&M Peanut from the candy commercials, I drew him with giant, veiny arms," says Felipe. Although he only made twelve dollars from the commission, after graduation he would end up working with Halliar again at an educational software company doing bit animation. Although Felipe had graduated and found work, he didn't feel at home working in the world of educational software. "You have to do things you enjoy," says Felipe, adding, "If you push to do something else, it becomes 'work.'" Believing that something bigger and better was waiting for him, Felipe packed his bags and headed for a completely different kind of setting: Los Angeles.

Gill (Peepo Choo)
When he got to Los Angeles, Felipe's style was, as he puts it, "non-existent" - a trait that certainly didn't help as he looked for work. After being rejected for a few animation jobs, Felipe found himself working odd jobs to pay the bills as he kept looking for his chance to break through as an artist. Of course, he kept on looking for other art styles and forms that he could potentially learn from himself. It was around this time that he happened upon a few Japanese bookstores in LA and saw their manga section. Although he couldn't understand the Japanese dialogue, Felipe could tell that he was looking at something a world away from the comics he was used to. "Back then, most of the manga available in the US was the same kind of thing," remembers Felipe, adding, "The stories in the manga I saw [in that bookstore] were simple stories of everyday life. Seeing that manga was more than just the cliches I was familiar with opened up a door for me in terms of being able to say and express what I want in my own work."

Jody (Peepo Choo)
Drawn to the storytelling opportunities and creative control offered by manga, Felipe began drawing up stories about everyday life as he saw it - set in the busy urban landscape of LA. Although he wanted to embellish certain details, Felipe wanted his characters to talk and interact in a way that felt natural. "Communication has always interested me," says Felipe, whose use of swearing and slang in MBQ became one of the primary means by which his characters defined themselves. "That's why I love comics," says Felipe. "You can flesh out characters with words and draw an entire interaction. I just love talking to people and putting those interactions into my stories." As he kept making money through odd jobs and picked up a little Japanese from his job at a karaoke box, Felipe began submitting his work to publishers and entering contests in the hopes of getting noticed. Around 2003, he began working on two submissions: an almost autobiographical take on his life as an artist called Manga, and a 20 page short story called Money. The first project was submitted to Tokyopop's third Rising Stars of Manga contest, where it garnered it a runner up award and publication in the third Rising Stars volume. Meanwhile, Felipe submitted Money to a contest which offered a trip to Japan to the grand prize winner. "Money started out like many of my stories, where it seems like the characters have different stories, but everything converges in the end," says Felipe, describing the narrative style that he would later revisit in MBQ. "If the reader doesn't have patience with me and trusts that I'm getting somewhere, it's a tough read." In the end, the judges awarded Money the grand prize, sending Felipe to Japan for the first time. Upon his return, it wasn't long before he was asked to take on another project: his own three volume manga series, published by Tokyopop. That project would become MBQ.
Inspired by Felipe's own experiences as a struggling artist, MBQ follows a wide cast of characters living in modern day LA and how their lives interact. The focus of the story often falls on Omario, who (much like his creator) is an artist trying to find an outlet for his vision. Much like the middle finger that greets the reader on the first page, it becomes clear while reading the story that the pages of MBQ have a very personal side to them. "The only reason I made it that far is because I had people around me who kept me going," says Felipe, who repaid the generosity and help his friends gave him by putting them into the story. "With the exception of Aidan O'Malley, the rookie cop in the story, the cast of MBQ are all friends of mine," admits Felipe. "Dee is a friend of mine, Brian's character [who works at a Karaoke box in the story] worked at the same Karaoke place I worked at, and Jeff [Omario's roommate] was my roommate in LA." Although the publication of MBQ was a milestone for Felipe, being sold in bookstores didn't bring Felipe's struggle to pay bills to an end. In one instance, Felipe was nearly evicted from his apartment. Fortunately, his editor was willing to come to him to meet with him and discuss progress of MBQ's subsequent volumes. "He was like my mom sometimes," remembers Felipe, adding, "he drove me to book signings, he brought me food... to say thank you, I actually put him in MBQ Volume 3 as the editor." Although the process of making MBQ a reality was a struggle, the fact that his work was reaching a larger audience was more than enough to keep Felipe going: "I was sharing my experience with whoever wanted to read it. I just wanted to do something that kept me interested." Although Felipe left plenty of story arcs open for a fourth volume of the series, the Tokyopop publishing contract deemed that the series would conclude with volume 3, which hit shelves late 2007. As the series neared its conclusion, Felipe began to wonder where life would take his work next.

Reiko (Peepo Choo)
As MBQ appeared in North American bookstores, it also succeeded in exposing Felipe's work to a handful of comic and manga aficionados overseas. One of these people was blogger and literary agent Yukari Shiina, who was first exposed to Felipe's work through Manga, his Rising Stars of Manga submission. After reading MBQ, Yukari saw potential for Felipe's art style to make an impact in the Japanese manga world. She e-mailed Felipe offering to help him get published in Japan. Although Felipe's initial reaction to the e-mail was to start looking for whoever was playing a trick on him, he nevertheless responded seriously - a good call, especially when the opportunity turned out to be for real. Yukari and Felipe organized a meeting at San Diego Comic Con 2007, a meeting which was also attended by an editor from the new monthly Kodansha publication Morning 2. After meeting and discussing the kind of story that Felipe might create for a Japanese audience, Felipe was asked to create a first chapter for the story. After sending the chapter to Kodansha, Felipe was invited to Japan for 10 days in November, 2007 to discuss the project. Although he didn't realize it at the time, the trip would offer him his first taste of the struggles of being a manga artist in Japan.
"I was actually warned of how hard the work could be," remembers Felipe, who first talked with his future editor about his aspirations that summer in San Diego. "I was like, 'we're gonna do this, dude!' and he looked at me like I was insane," says Felipe, recalling the words of the editor. "He said, 'This isn't a joke. You will piss blood one day from the stress of this work.'" Remembering what his editor said, Felipe h eaded to Japan for 10 days with 40 pages of thumbnails for his proposed story. The editor looked over the thumbnails, handed them back to Felipe, and gave him his first task as a manga artist for Kodansha: "Do them all again," said the editor, adding, "you have two days." Felipe panicked. He spent a day and a half brainstorming ways to change the look of his thumbnails before breaking down and asking to meet with his editor again. "I asked him, 'do all artists work this hard here?' and he said to me, 'well, do what you can and we'll take it from there.'" Right then, Felipe made up his mind. "I knew I didn't want to give up. I knew I had to finish the project." With that sentiment in mind, Felipe headed home to work. Just as he picked up the pen to draw, he heard a knock at the door of his rental apartment. The knock turned out to be Brian, the same friend who Felipe had drawn into the pages of MBQ, who also happens to live in Tokyo. "He wanted to hang out," remembers Felipe. "I told him that I had lots of work to do, but he was welcome to stay and watch TV." So, with his friends keeping him company, Felipe pulled an all nighter, drawing thumbnails and chugging soda until dawn. By the time noon rolled around, Felipe had finished 35 pages of thumbnails, with 5 to go. "I went straight to the publisher, and drew the last 5 pages in his office," says Felipe. "That way, I knew I wouldn't fall asleep." The result? As Felipe puts it, "He looked at me, nodded, said 'mmm', and said he wanted to work with me." Yukari, who was there helping with the meetings, was ecstatic. And Felipe? "I wanted to cry or vomit - I wasn't sure which. I said I wanted a drink, so we went out." With that, Felipe moved to Japan to start working full time on his newest project: a bizarre cross-cultural tale called Peepo Choo.

Milton (Peepo Choo)
As one might expect, Peepo Choo bears a few similarities to Felipe's previous work. Scenes of violent gang conflict share page space with sight gags and comic references, and the setting of the story is decidedly urban. However, unlike the semi-autobiographical MBQ, the theme of Peepo Choo covers a far more complicated subject: the cultural divide between Japan and the United States. As Felipe puts it, "It's about cultures and learning about yourself." Unlike his previous LA-based adventures, Peepo Choo takes place in two other urban areas: Felipe's college home of Chicago, and Tokyo, his current home. The first - and most prominent - character of the story is Milton, a nerdy American "Otaku" who cosplays, collects figures, and has an unquestionable devotion to his favorite anime: a cutesy show called Peepo Choo. In the story, Peepo Choo is the hottest anime in the US fan scene, and Milton is its most devoted fan. Since he lives in the projects and can't afford figures on his own, Milton works for free in exchange for figures at a Chicago comic shop - an arrangement that was set up by the store's clerk, Jody (who, incidentally, can't stand Peepo or anything related to it). The shop itself is owned by Gill, who harbors a secret: he's also an assassin. In the first volume of the story, Gill is asked to eliminate a few yakuza, but needs an excuse to go to Japan that doesn't arouse the suspicion of the police, who have been watching his activities closely. In the end, Gill creates the perfect cover: a trip to Japan for the winner of a contest held in his store. Milton wins the contest, and it isn't long before he, Jody and Gill are on their way to Japan - Gill to fulfill his mission, Milton to visit what he sees as the mecca of everything he loves, and Jody to just be along for the ride. Much like MBQs sizeable cast, Peepo Choo also establishes a set of characters in Japan. These include Aniki, an old school yakuza, Morimoto Rockstar, a Hollywood-loving yakuza who wants to add "flare" to Japan's secretive underworld, Tanaka Busaiku, a nerdy anime otaku, and her friend Reiko, who (in a stark contrast to her friend) works as a gravure model.

Milton, changing into his Peepo Choo cosplay outfit
Felipe admits that the biggest challenge of creating Peepo Choo has been gearing it towards a Japanese audience. Since the Japanese language doesn't really contain "swear words," Felipe had to adjust how his characters talk to get their attitudes across to his audience. "American readers might find swearing funny or endearing," Felipe observes, "but a Japanese reader will wonder, 'Why does he hate him so much? Why does he curse like that?' They might not see the kind of friendships or bonds that swearing can represent with characters in the US." Still, the subject matter of Peepo Choo gives Felipe ample opportunities to impact his readers in other ways. In one scene, Milton and Jody are watching a late-night Japanese variety show. The meaningless physical humor is confusing and mindless to Jody, but Milton finds it hilarious. Such exchanges are at the heart of what Felipe has set out to accomplish with Peepo: show readers just how many assumptions we still make about other cultures. "It reflects the way I see things going," says Felipe, describing the relationship between the United States and Japan. "The two nations are mutually interested in each other, but there's more to understanding than learning the language of the other. Milton arrives in Japan confident that he'll find friends and that people will talk like he thinks they do." Of course, Felipe's efforts with Peepo aren't related to the story alone. Aside from trying to keep things entertaining and coming up with humor that translates well, the publishing schedule for the series has required Felipe to write, thumbnail, sketch, ink, and finish upwards of 40 to 50 pages a month. The strenuous schedule has been eased a bit since Felipe has hired a few assistants to help him (a standard practice in Japan), but he still admits that the schedule is a world away from the expectations people have of artists in the west. "In the west, you're happy if your favorite comic just comes out on time," says Felipe. "Here, no one gets an 'Artist Pass.' Manga artists are treated like any other salaryman, and if you slack off, you pay for it." Regardless, he says the hard work is something that has had a few positive affects. "There's a huge difference in terms of art and storytelling when you compare MBQ Volume 3 and volume 1 of Peepo Choo," says Felipe. "Not only have I learned how to plan ahead and handle these multi-character stories every month, but I can also work faster. It sounds weird, but I've learned how to work when I thought I couldn't."
On the cover of the first volume of Peepo Choo, you see a display similar to that intro page to MBQ: a woman giving the middle finger to the reader, the finger surrounded by rings with the Japanese and American flags on them. It's hard to tell if Japanese readers will respond to the gesture like an American reader would, but if the gesture signifies anything about its artist, it is that Felipe will continue to draw and present his work as he feels it should be presented, for whoever is willing to read it. In total, during his first full year in Japan, Felipe completed more than 370 pages of work. He says he is grateful to have an editor who wants to help convey his points to a Japanese audience, and hopes to keep working on his language abilities so he can save Yukari the time required to translate his work. As an artist, his goals haven't changed: even though he's been published all over the world, he's still trying to share his work with a larger audience and hone his skills as an artist. Fittingly, the release of Peepo Choo also offers his Japanese readers a chance to check out his last work; SoftBank Creative did a print run of MBQ's first volume under the title MBQ: Tales of LA, which went on sale the same day that Peepo Choo Volume 1 was released.

Peepo Choo cover
Looking back, Felipe realizes that he is lucky to have walked the path he has, and feels a kinship with other artists who have been in his shoes. "The growth of American manga artists is really being stunted," says Felipe, referring back to when he was defined by others as an "OEL" manga artist. "Some [American manga] artists aren't drawing a difference between comics and manga, which is smart, since in Japan, they're really the same thing. Still, the industry is neglecting them." Above all, Felipe's journey as an artist has shown him that people who try to create a unique style have a hard road, but being able to inspire readers in a different, unique way makes the journey worth it. The artist himself puts it best:
"Anyone who draws super heroes is copying a style, just like someone drawing in a 'manga' style. Artists in Japan do the same thing. A lot of the artists out there - 'OEL' and otherwise - are trying to innovate and create something different, and that uniqueness is how comics and manga evolve as a whole. The industry will always need that. I think if you were to ask any manga artist in Japan, they would agree that the day you stop growing and changing as an artist is the day that you're done." If his work is any indication, Felipe Smith isn't going to be "done" any time soon.

---
To see more of Felipe's work, here's where to go:
All three volumes of MBQ can be ordered online or through your bookstore; for starters, try Amazon or Right Stuf.
If you would like to import the first volume of Peepo Choo, you can do so via Amazon Japan here. If you live near a Japanese bookstore (Kinokuniya, etc.), they can also special order it for you.
Acknowledgements: A big tip of the hat to Ed Chavez from Mangacast, who not only helped set up this interview, but also offered invaluable insights on the Japanese manga publishing world that helped me prepare for the piece. Additional thanks to Felipe's agent Yukari Shiina, who set up the meeting time and place for the interview and has been extremely helpful with organizing materials and images for the piece. A big thank you to the editors at Kodansha, for letting me steal their artist for an evening. Finally, thanks to Felipe for taking so much time to chat with me about his work.
---
Are you an aspiring manga artist looking for some extra page views? Do you have a friend or loved one who draws extremely good original manga but needs a boost? Don't just sit there! Submit two links to your work, including one original piece (no file attachments please! File attachments will be shaken down for loose change and credit cards), to evan [at] animenewsnetwork dot com, and you could be featured in a future Gallery column!
All works © Felipe Smith. Peepo Choo © Kodansha/Monthly Morning two.
---
discuss this in the forum (22 posts)
|