This Week in Games
Delays All Around
by Heidi Kemps,
Sometimes you get a wrench thrown in your plans not once, but twice. See, this week I'd planned to delay the column a bit, because Nintendo announced a Nintendo Direct that would be happening at 3 PM today. I figured I'd wait until that was over, since Nintendo Direct is usually jam-packed with important news and announcements and leaves everyone chattering happily for the rest of the day. It's worth a slight delay to be timely with the big news, right?

Unfortunately, Japan has been hit with not one, but two major natural disasters in the past week: an immensely strong typhoon in Western Japan that caused significant damage (and has paralyzed a major international airport), and, just yesterday, a huge earthquake in Hokkaido that's knocked out power and caused landslides. Several people have died and many more are still missing because of both events, so Nintendo – who usually broadcasts Nintendo Direct simultaneously worldwide – wisely opted to postpone the broadcast out of respect. It might disappoint to those outside of Japan, yes, but right now a lot of people over in Nintendo's homeland need some space to process the awful stuff that's happened, and that's more important than another Smash reveal.
BUT THAT'S NOT THIS WEEK'S ONLY DELAY
In an unfortunate coincidence, some other big delays were announced:
One Piece: World Seeker is now slated to launch in 2019. No reason for the delay has been given, but we all know big open world games aren't the easiest things to make.
Super Neptunia RPG has been pushed back from its scheduled late September release date to late December. The English version has been similarly delayed a bit.
SQUARE ENIX IS PARTNERING WITH TENCENT
Tencent is one of the biggest companies most people don't know about. Have you heard of WeChat? That's Tencent. League of Legends? That's also owned by them. They have big stakes in Supercell and Epic Games. But for everything you have heard of, there's far more you haven't heard about, since it's primarily China- or Asia-based. But suffice to say, Tencent is a gigantic company, and they have a games division that is similarly huge.

You know what else is huge? The Chinese gaming market – and Tencent's already entrenched there. So when the news that Square-Enix and Tencent are forming a joint venture hit, it was obvious what the primary goal was: get more Final Fantasy and Dragon Quest in China. Tencent's WeChat could also be used as a platform to promote Square-Enix's mobile gaming library, much like LINE does in Japan. But it's also a good way for Tencent to get more access to publishing and localization for its titles outside of China – and, given that Tencent has been suffering some big setbacks from Chinese government regulators lately, that might be just what they need. In any case, I expect interesting things to result from this tie-up: remember that it was the Square/Electronic Arts tie-up that resulted in the localized PSOne RPG renaissance of the late 90s.
THERE'S A BUNCH OF SWITCH GAME ANNOUNCEMENTS THAT WERE PROBABLY MEANT TO BE ELABORATED ON IN NINTENDO DIRECT, BUT THAT'S NOT HAPPENING YET
So instead, all we really have to go on here are newsbytes.

Umihara Kawase Fresh!, a new game in the long-running Umihara Kawase series of physics-based platformers, is coming to Switch. You may recognize the heroine from her recent appearance in Blade Strangers, though here she's considerably more of a pacifist.
No More Heroes: Travis Strikes Again was shown at PAX West and given a release date of January 18, 2019. It's still looking pretty wild, and I'm eager to play it.
Valkyria Chronicles Remastered is coming to Switch on October 16th to join Valkyria Chronicles 4 on the platform. Portable war, woohoo!
Speaking of war, Langrisser I & II have a trailer now!
The remake of The Ninja Warriors Again, titled The Ninja Warriors Once Again, has finally been shown off in trailer form. It'll launch globally in 2019, and thus far it's a Switch exclusive.
FIGHTING GAME NEWS ROUNDUP: NEW CHARACTERS, UPDATES, AND SNK TEASES

Hey, did you know Cervantes and Raphael are in Soul Calibur VI? Well, you do know… even though Bamco presumably doesn't want you to yet, since some images from a preview event got leaked online. Oops! Well, we still have some slick trailers to look forward to, right?
If you want something you can play now, though, how about some new Tekken 7 cast members? Season 2 of the DLC characters is dropping, and it brings fan favorites Anna and Lei along with it, along with some balance changes for existing cast members. Still no more info on Negan, but I'm sure that'll be coming in due time.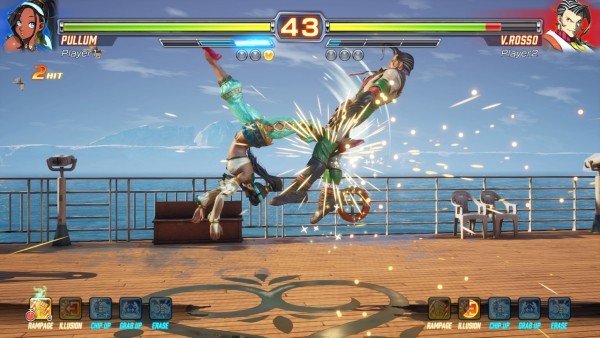 The newest update for Fighting EX Layer is also out, so you can now play as Pullum Purna and Vulcano Rosso. Much like Tekken 7, there have been various balance teaks around the board, so hop on and give it a whirl!

The big stuff, however, is coming from our friends at SNK. They teased a new character for SNK Heroines at PAX West, showing a mystery silhouette. Fans are speculating that it might be someone from the Fighting EX Layer roster, given that Terry is showing up in that game, but given the very nondescript look of the outline it's hard to tell. I get an Akira from Rival Schools vibe, but I honestly don't know what SNK and Capcom's relationship is like these days.
That's not all the Neo Geo People are buzzing about, however: A mysterious countdown promises a game reveal on September 10th. While SNK hasn't explicitly said it's a fighting game, that's what most folks seem to be expecting: fan theory is pointing towards a new Garou game. If that's true, it would be very interesting, since Garou 2 was a ways into development in the early aughts when the old SNK collapsed. How much of that idea would have survived, I wonder?
NEW RELEASES

OUT NOW: 428: Shibuya Scramble (PS4, Steam)
It's still hard to believe that 428 is out in English. It's one of the most beloved adventure/visual novel games ever released in Japan, but between the unusual still-photography story images that populate the entire game and the massive amount of text it contains, I figured it was never going to happen. The visual novel boom of the last few years, however, has yielded many pleasant surprises, and now we have a fully translated version of 428: Shibuya Scramble to enjoy.
So what is this game? It's the story of one very, very crazy day in Shibuya as told through the eyes of five protagonists: A police detective investigating a kidnapping case, a young street punk, a fierce freelance journalist, an esteemed virus researcher at a major pharmaceutical firm, and a young girl who's stuck in a cat mascot suit hawking shady diet drinks. Their stories (and the choices you make within them) all affect each other in interesting and unusual ways, transforming into a tense, multi-layered thriller.
Still not convinced? Okay, what if I told you that it had ties to a pretty popular anime series from a few years back?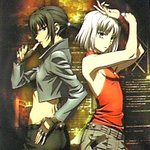 Yeah, remember Canaan? 428 is what happens before that show. Those familiar with the anime will see a lot of familiar characters and see a key event that's only referenced in the show happen firsthand. If you liked Canaan, then go buy 428. Heck, buy it even if you didn't!

DRAGON QUEST IX: Echoes of an Elusive Age (PS4, Steam)
428 isn't the only incredibly wordy game to hit this week. Dragon Quest XI certainly has taken its sweet time coming Westward, but it's finally here, and it's fantastic. I've written plenty of words about it over on my GameSpot review, so why not have a read?

OUT TOMORROW: SNK Heroines Tag Team Battle (PS4, Switch)
Does anyone else remember the era of goofy fanservice fighters? I can't be the only old fart here who recalls stuff like Pretty Fighter X, Asuka 120% Burning Fest, Touki Denshou Angel Eyes, and Variable Geo. I feel like that general type of game is what SNK is going for with SNK Heroines: it's not the most mechanically complex fighter on the block, and I'm sure better players are going to find some incredibly broken stuff soon, but that's not really the point. This game is about dressing up a bunch of cute girls in goofy outfits for stupid story reasons and having them duke it out with a simplified combat engine. I know I've railed on bad fanservice games before, but I think (and hope) SNK can at least deliver a fighting engine that's playable. If they can't and the game sucks, well, at least we'll always have Really Stacked Terry Bogard.
That about does it for this week. Hopefully next week's world events will be a bit happier and we'll get the Nintendo news we all crave, but there's plenty to play in the meantime. And hey, why not support Japan relief too?
---
discuss this in the forum (6 posts)
|
this article has been modified since it was originally posted; see change history
RightStuf - Anime, Manga and More
Meet the main cast of Devil May Cry 5. They're all here, Nero, Dante, V, Lady, Trish and Nico.
― NERO The Young Devil Hunter The young Devil Hunter operating out of the mobile Devil May Cry. Having lost his demonic arm (the Devil Bringer) before the events of the game, he stands against the invading demonic forces with a new power provided by Nico. DANTE The Strongest Demon Slayer The proprietor of ...
This absurdist comedy is the first anime made by Virtual YouTubers like Kizuna Ai and Mirai Akari. Micchy and Steve will be your guide to this strange new world inhabited only by the Extremely Online.
― VIRTUAL-SAN LOOKING is the first anime made by Virtual YouTubers like Kizuna Ai and Mirai Akari. This week, Micchy and Steve will be your guide to this strange new world inhabited only by the Extreme...
The long and proud history of giant robot model building is forever connected to the anime industry. Mike's ready to build a robot - are you?
― I was surrounded. On all sides, people from a disconcertingly wide variety of age groups crouched in their chairs, as if ready to leap into action. They gripped a variety of sharp tools in their hands, and concentrated intensely, waiting for the right moment ...
This epic Holy Grail War doubles the number of heroic spirits on the playing field, but does this twist enhance the story or leave it feeling overcrowded? Rebecca Silverman weighs in on Aniplex's deluxe release.
― While Fate/Apocrypha does share some basics with the game that started it all, Type-Moon's Fate/Stay Night, it's really best to think of it as totally separate from the story of Shirou, Rin...
What's the difference between a "union dub" and a "non-union dub" and why does it matter? Justin digs in to the details.
― Anonymous asked: This might come across as a naive question but what does it mean when a role is 'non-union' and why are so many anime roles non-union? For clarity I am a trade union rep myself but for an office job in the UK and I have an idea of what SAG, Equity and the other ...
James takes a look at an '80s mecha classic, while Paul breaks down this week's new blu-ray releases, along with a Yuri!!! on Ice-tastic Shelf Obsessed collection.
― I'm sure I'm just adding to an already loud chorus here, but y'all really should be watching Mob Psycho 100 (or catching up on the first season if you missed it). I can already tell I'm going to go back through this show a second or thi...
This Universal Century timeline film works well as a complement to Gundam Unicorn, but struggles to stand out as its own story. Kim Morrissy has the details in our full review.
― The only thing I knew about Mobile Suit Gundam Narrative before I watched it was that hilarious key visual showing three characters striking an awkward pose together. You might have seen it too because it was an Internet mem...
James Cameron and Robert Rodriguez spent 200 million dollars and roughly 20 years trying to bring Yukito Kishiro's beloved cyberpunk manga to life. Now that it's finally here, is it any good? Let's find out!
― It's been a long, long, long and rocky road to release for Alita: Battle Angel. First announced in 2003 by a post-Titanic, pre-Avatar James Cameron who'd spent his Oscar afterglow making nerdy ...
Our feisty heroine has some choice words for a tengu who doesn't know how to treat his bride, as this soothing otherworldly romance continues.
― It feels very clear that Odanna (also known as Kijin) is playing a long game with Aoi. Whether he initially planned it that way or not is much more up in the air, because it seems as if he honestly didn't realize that the young woman wouldn't be thrilled to ...
Gang warfare between delinquents in Japan can be a dog-eat-dog world, but what if all the street toughs are actually adorable stray cats? Rebecca Silverman checks out this feline twist on classic gangster manga.
― If the cult '80s song "Stray Cat Strut" had a manga adaptation, it would look an awful lot like this. Nyankees is a gag manga about street toughs who are actually stray cats living in urban...