This Week in Games - Delays All Around
by Heidi Kemps,

Sometimes you get a wrench thrown in your plans not once, but twice. See, this week I'd planned to delay the column a bit, because Nintendo announced a Nintendo Direct that would be happening at 3 PM today. I figured I'd wait until that was over, since Nintendo Direct is usually jam-packed with important news and announcements and leaves everyone chattering happily for the rest of the day. It's worth a slight delay to be timely with the big news, right?

Unfortunately, Japan has been hit with not one, but two major natural disasters in the past week: an immensely strong typhoon in Western Japan that caused significant damage (and has paralyzed a major international airport), and, just yesterday, a huge earthquake in Hokkaido that's knocked out power and caused landslides. Several people have died and many more are still missing because of both events, so Nintendo – who usually broadcasts Nintendo Direct simultaneously worldwide – wisely opted to postpone the broadcast out of respect. It might disappoint to those outside of Japan, yes, but right now a lot of people over in Nintendo's homeland need some space to process the awful stuff that's happened, and that's more important than another Smash reveal.
BUT THAT'S NOT THIS WEEK'S ONLY DELAY
In an unfortunate coincidence, some other big delays were announced:
One Piece: World Seeker is now slated to launch in 2019. No reason for the delay has been given, but we all know big open world games aren't the easiest things to make.
Super Neptunia RPG has been pushed back from its scheduled late September release date to late December. The English version has been similarly delayed a bit.
SQUARE ENIX IS PARTNERING WITH TENCENT
Tencent is one of the biggest companies most people don't know about. Have you heard of WeChat? That's Tencent. League of Legends? That's also owned by them. They have big stakes in Supercell and Epic Games. But for everything you have heard of, there's far more you haven't heard about, since it's primarily China- or Asia-based. But suffice to say, Tencent is a gigantic company, and they have a games division that is similarly huge.

You know what else is huge? The Chinese gaming market – and Tencent's already entrenched there. So when the news that Square-Enix and Tencent are forming a joint venture hit, it was obvious what the primary goal was: get more Final Fantasy and Dragon Quest in China. Tencent's WeChat could also be used as a platform to promote Square-Enix's mobile gaming library, much like LINE does in Japan. But it's also a good way for Tencent to get more access to publishing and localization for its titles outside of China – and, given that Tencent has been suffering some big setbacks from Chinese government regulators lately, that might be just what they need. In any case, I expect interesting things to result from this tie-up: remember that it was the Square/Electronic Arts tie-up that resulted in the localized PSOne RPG renaissance of the late 90s.
THERE'S A BUNCH OF SWITCH GAME ANNOUNCEMENTS THAT WERE PROBABLY MEANT TO BE ELABORATED ON IN NINTENDO DIRECT, BUT THAT'S NOT HAPPENING YET
So instead, all we really have to go on here are newsbytes.

Umihara Kawase Fresh!, a new game in the long-running Umihara Kawase series of physics-based platformers, is coming to Switch. You may recognize the heroine from her recent appearance in Blade Strangers, though here she's considerably more of a pacifist.
No More Heroes: Travis Strikes Again was shown at PAX West and given a release date of January 18, 2019. It's still looking pretty wild, and I'm eager to play it.
Valkyria Chronicles Remastered is coming to Switch on October 16th to join Valkyria Chronicles 4 on the platform. Portable war, woohoo!
Speaking of war, Langrisser I & II have a trailer now!
The remake of The Ninja Warriors Again, titled The Ninja Warriors Once Again, has finally been shown off in trailer form. It'll launch globally in 2019, and thus far it's a Switch exclusive.
FIGHTING GAME NEWS ROUNDUP: NEW CHARACTERS, UPDATES, AND SNK TEASES

Hey, did you know Cervantes and Raphael are in Soul Calibur VI? Well, you do know… even though Bamco presumably doesn't want you to yet, since some images from a preview event got leaked online. Oops! Well, we still have some slick trailers to look forward to, right?
If you want something you can play now, though, how about some new Tekken 7 cast members? Season 2 of the DLC characters is dropping, and it brings fan favorites Anna and Lei along with it, along with some balance changes for existing cast members. Still no more info on Negan, but I'm sure that'll be coming in due time.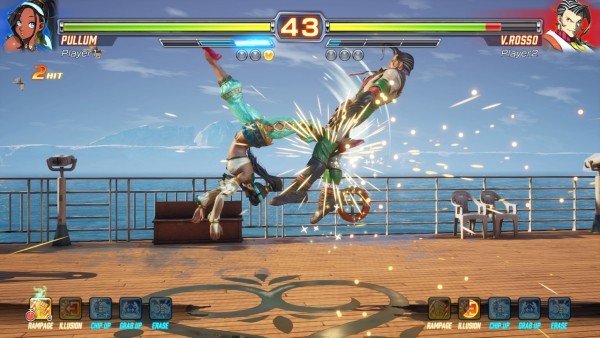 The newest update for Fighting EX Layer is also out, so you can now play as Pullum Purna and Vulcano Rosso. Much like Tekken 7, there have been various balance teaks around the board, so hop on and give it a whirl!

The big stuff, however, is coming from our friends at SNK. They teased a new character for SNK Heroines at PAX West, showing a mystery silhouette. Fans are speculating that it might be someone from the Fighting EX Layer roster, given that Terry is showing up in that game, but given the very nondescript look of the outline it's hard to tell. I get an Akira from Rival Schools vibe, but I honestly don't know what SNK and Capcom's relationship is like these days.
That's not all the Neo Geo People are buzzing about, however: A mysterious countdown promises a game reveal on September 10th. While SNK hasn't explicitly said it's a fighting game, that's what most folks seem to be expecting: fan theory is pointing towards a new Garou game. If that's true, it would be very interesting, since Garou 2 was a ways into development in the early aughts when the old SNK collapsed. How much of that idea would have survived, I wonder?
NEW RELEASES

OUT NOW: 428: Shibuya Scramble (PS4, Steam)
It's still hard to believe that 428 is out in English. It's one of the most beloved adventure/visual novel games ever released in Japan, but between the unusual still-photography story images that populate the entire game and the massive amount of text it contains, I figured it was never going to happen. The visual novel boom of the last few years, however, has yielded many pleasant surprises, and now we have a fully translated version of 428: Shibuya Scramble to enjoy.
So what is this game? It's the story of one very, very crazy day in Shibuya as told through the eyes of five protagonists: A police detective investigating a kidnapping case, a young street punk, a fierce freelance journalist, an esteemed virus researcher at a major pharmaceutical firm, and a young girl who's stuck in a cat mascot suit hawking shady diet drinks. Their stories (and the choices you make within them) all affect each other in interesting and unusual ways, transforming into a tense, multi-layered thriller.
Still not convinced? Okay, what if I told you that it had ties to a pretty popular anime series from a few years back?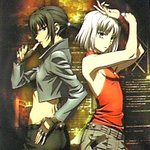 Yeah, remember Canaan? 428 is what happens before that show. Those familiar with the anime will see a lot of familiar characters and see a key event that's only referenced in the show happen firsthand. If you liked Canaan, then go buy 428. Heck, buy it even if you didn't!

DRAGON QUEST IX: Echoes of an Elusive Age (PS4, Steam)
428 isn't the only incredibly wordy game to hit this week. Dragon Quest XI certainly has taken its sweet time coming Westward, but it's finally here, and it's fantastic. I've written plenty of words about it over on my GameSpot review, so why not have a read?

OUT TOMORROW: SNK Heroines Tag Team Battle (PS4, Switch)
Does anyone else remember the era of goofy fanservice fighters? I can't be the only old fart here who recalls stuff like Pretty Fighter X, Asuka 120% Burning Fest, Touki Denshou Angel Eyes, and Variable Geo. I feel like that general type of game is what SNK is going for with SNK Heroines: it's not the most mechanically complex fighter on the block, and I'm sure better players are going to find some incredibly broken stuff soon, but that's not really the point. This game is about dressing up a bunch of cute girls in goofy outfits for stupid story reasons and having them duke it out with a simplified combat engine. I know I've railed on bad fanservice games before, but I think (and hope) SNK can at least deliver a fighting engine that's playable. If they can't and the game sucks, well, at least we'll always have Really Stacked Terry Bogard.
That about does it for this week. Hopefully next week's world events will be a bit happier and we'll get the Nintendo news we all crave, but there's plenty to play in the meantime. And hey, why not support Japan relief too?
---
discuss this in the forum (6 posts)
|
bookmark/share with:
this article has been modified since it was originally posted; see change history
RightStuf - Anime, Manga and More
UQ Holder's eleventh volume offers a sometimes unsatisfying but generally well-executed sampling of all the manga's various priorities.
― It sure has taken a while to get here. First introduced all the way back in volume seven, this volume sees the Mahora Martial Arts Tournament finally on the immediate horizon. We aren't there quite yet, and unfortunately, a great deal of this volume does feel like ...
Twin Star Exorcists is finally out on bluray, and Gabriella Ekens is here to take it for a spin. PLUS: all of this week's DVD & bluray anime releases!
― Holy crap, we have a lot of new releases this week. You'd almost think it was the beginning of the holiday rush or something. Well, no matter how many titles get shoved out the door in a single week, we'll be here to cover them. Welcome to Shelf Lif...
Western animation - particularly the big-budget mainstream kind - tend to record performances before they animate, but when it comes to anime, this is rarely the case. Why is that? Justin gets into it.
― James asked: Some time ago, you stated that one of the major differences between western animation and Japanese animation is that, in western animation, all dialogue is recorded first, and then the ...
Capcom resurrects a bunch of their classic arcade brawlers with a seven-game collection. Do they still put up a fight?
― Brawlers. Beat 'Em Ups. Belt-Scrollers. Double Dragon Clones. Punk Punching Parades. Those Arcade Games That Mom And Dad Always Said Were Too Violent For You Back in 1988. Whatever you call them, they never quite got their moment on top. True, they were staples of arcades in the la...
UQ Holder's tenth volume leans heavily on Akamatsu's laziest tendencies, trending far more harem than action spectacle.
― Ken Akamatsu's works have been a balancing act between harem shenanigans and fantasy aspirations, ever since Love Hina's mild-mannered Keitaro was spirited away by a squad of zeppelins. Negima more or less split the difference between these goals, offering legitimately thrilling a...
From Radiohead to the Backstreet Boys, here are 7 times Western music found its way into some of your favorite anime opening and closing theme songs.
― A recent article about the potential death of the 90-second anime song intro got me thinking about some of my favorite opening and ending sequences. I realized that while the vast majority of anime credit songs are in Japanese (with a few English fla...
Escape Journey is one of those BL manga that struggles to hit a note between "romantic" and "kind of upsetting."
― Escape Journey is one of those BL manga that struggles to hit a note between "romantic" and "kind of upsetting." It's the story of a relationship that could be termed unhealthy from some points of view, and like many of what are known as "Old Skool" romances, consent isn't always a given...
Without any say in the matter, the girls wander into the "Greatest x Worst Zombie World." They only have one wish.

"We want to live."
― Zombie Land Saga Official Website: https://zombielandsaga.com/ Introduction Story Characters Cast & Staff Gallery Premiers October 4, 2018 (JST) Key Staff Director: Munehisa Sakai ("One Piece Film Strong World (movie)", "Pretty Guardian Sailor Moon Crystal (ONA 201...
Just over a year after its creation, Nick, Micchy, Jacob, and Steve of This Week in Anime have laughed and cried over an avalanche of great and terrible anime. Here are some of our favorite memorable moments.
― Hello everyone! Our "This Week in Anime" feature will return next Tuesday to cover the newest avalanche of Netflix premieres, but in the meantime, we thought we'd put together a Best Of TWIA t...