Super Deformed Double Feature (OAV)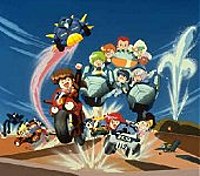 Alternative title:
Scramble Wars: Tsuppashire! Genom Trophy Rally (Japanese)
SD Double Feature
The Ten Little Gall Force
スクランブルウォーズ 突っ走れ!ゲノムトロフィーラリー (Japanese)
テンリトルガルフォース (Japanese)
Objectionable content:
Significant
Plot Summary:
Two seperate comedy shorts on one tape: Ten Little Gall Force and Scramble Wars. Ten Little Gall Force is a mock documentary of the making of Gall Force, using chibi/superdeformed versions of the characters. Scramble Wars has the (chibi) cast of Gall Force, Bubblegum Crisis, and Genesis Survivor Gaiarth competing in a no-holds-barred race to the finish for the Genom cup. While these shows can be watched without any previous knowledge of the series they're lampooning, they're even more hilarious if you get the in-jokes.
User Ratings:
40 ratings have been given [details]
Opening Theme:
"Cinderella Nanka Tsumaranai" (シンデレラなんかつまらない) by Sayuri Shimizu
Ending Theme:
"All My Love" by Maria Kawamura, Hiromi Tsuru, Michie Tomizawa, Eriko Hara, Akiko Hiramatsu, Chieko Honda, & Naoko Watanabe
"Sugao no Spy tachi" (素顔のスパイたち) by Maria Kawamura, Naoko Matsui, Yuriko Yamamoto, Hiromi Tsuru, Michie Tomizawa, Eriko Hara, & Naoko Watanabe
Official website:
You can contribute information to this page, but first you must login or register
Japanese staff
Japanese cast




Japanese companies

English staff
English cast

(none)


English companies
This encyclopedia is collaboratively edited by the users of this site
# A B C D E F G H I J K L M N O P Q R S T U V W X Y Z
Anime anthology