News

Broccoli/Nippon Ichi's Z/X Card Anime's Cast Announced

posted on

2013-09-16

17:00 EDT
---
Kubota Ignition, producer of Broccoli and Nippon Ichi Software's trading card game Z/X Zillions of enemy X (ZX is pronounced as Zex), announced at Monday's "Akihabara Zexstream 2013.Autumn" event the following cast members for the game's anime adaptation:
The cast is so far the same as the cast for the free smartphone app that contained voice samples for the characters. The official website lists the remaining cast members from the app that have not yet been confirmed for the anime:
Several promotional videos for the trading card game have been produced, and the video advertising the third season of the card game introduces the above main characters: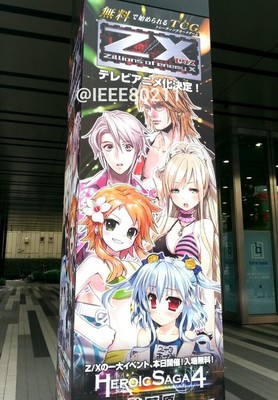 The event included game tournaments and a "stage event" hosted by producer Kubota Ignition and Yurika Endō, winner of Pony Canyon's 2nd annual "Koetama Princess" voice actress contest. Kanemoto also made an appearance as a guest.
Additionally, an advertisement placed in Akihabara (pictured at right) revealed on Monday that the anime will air on television.
The game advertises itself as the "first free" trading card game system since a free deck is offered at meets held by card shops and events. A PDF file is even posted online so people can print them out themselves. The card game has also been adapted into a PlayStation 3 game and a manga series.
The story is set in the not-so-distant future. Five "Black Points" suddenly appeared around the world as portals to parallel worlds. Immediately after, strange creatures began their invasion from these portals. These creatures are the inhabitants of five worlds — the same worlds in different timeframes. In order to ensure their own future timeframe survives, each of the five invasion forces battle to wipe the other future timeframes out. The key is one card-shaped device.
[Via IEEE80211, Radio Kaikan]
---
Around The Web