Anime Spotlight - ARATA THE LEGEND
by Justin Sevakis,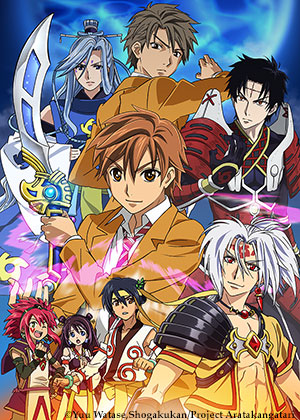 April 8, 2013 (Japanese Premiere)


Key Staff
Original Creator: Yuu Watase

Director: Kenji Yasuda

Series Composition: Mayori Sekijima

Animation Production








Introduction
A young man, chosen by god, will become a general.
Story
A young boy travels from the modern day to race across a new world! A Fantasy Drama about the bonds of friendship!!
Hinohara Arata stopped going to school when he was in middle school, but when he manages to enter high school and get a fresh start on life, he's thrown into despair upon learning that his new friend has betrayed him, and finds himself lost in another world.
Meanwhile, Arata, another young boy from the nation of Amawakuni in another world, attends the coronation ceremony of the new Himeou, the empress who rules the realm, and gets himself caught up in a coup d'état by the 12 Divine Generals, the Empress's vassals, and he's forced to shoulder the blame for her assassination.
To make matters worse, when he escapes into a forest to evade his pursuers, he ends up switching places with Arata in the modern world.
Although he's confused by the situation he finds himself in, Arata manages to awaken a Hayagami, one of Amawakuni's deities, and become a General, one who wields such divine blades.
While the 12 Divine Generals' goals start to conflict, Arata shoulders the fate of this new world and begins to follow his new destiny.
Characters
| | |
| --- | --- |
| | Arata is kind high school freshman with a strong sense of justice. He was bullied during middle school, and just as he was falling into despair over the betrayal by his new friends in high school, he found himself lost in Amawakuni, taking the place of the other Arata. When he manages to awaken the Hayagami, Tsukuyo, he becomes involved in those competing to determine the fate of Amawakuni. |
| | A cheerful, honest young boy who hates the unreasonable. Although he attended the coronation of the new Himeou, he also witnessed her assassination and her murder, for which he was then forced to shoulder the blame for. Once he escaped into a forest, a mysterious power switches him with the other Arata, sending him to the modern day. |
| | Kotoha is a young girl who serves Arata. She posses the mysterious power to heal the wounds of others. She believes that the Arata from the modern day is her Arata, and travels with him. While she gently supports the confused Arata with her kind smile, she also proves to be reliable. |
| | Kannagi is one of the 12 Divine Generals. He wields Homura, the Hayagami that reigns over fire, and he rules the land of Kagutsuchi. He plotted the assassination of the Himeou, dealt her a lethal blow by his own hands, and forced Arata to shoulder the blame for it all. When he learns that Arata has awakened the legendary Hayagami, Tsukuyo, he turns his sights on him. |
| | Masato is one of Arata's classmates. He's been in the same class as Arata since middle school, and a fellow member of the track club as well. After a certain event he began to bully Arata, forcing him to stop coming to school. Even in high school he continues to show hostility towards him, but… |
| | Akachi is one of the 12 Divine Generals. He wields Okoro, the Hayagami that reigns over earth, and he rules the land of Haniyasu. He manages to remain calm during the war for Emperor following the Himeou's collapse. He seems to be an old friend of Kannagi's, but… |
| | Kanate is young boy who used to belong to a group of bandits until he was sent to Gatoya, the island of exiles, for his crimes. He's always bright and optimistic. He's sworn to himself that he'll protect Ginchi, who's like a brother to him. He also seems to be interested in Kotoha, but…? |
| | Yorunami is one of the 12 Divine Generals. He wields Nakisawa, the Hayagami that reigns over water, and he rules the land of Mizuhame. His appearance is so beautiful he's often mistaken for a woman. He seeks perfection in everything, and does not tolerate mistakes in his subordinates. |
| | The Empress of Amawakuni. She uses her unique power known as Amatsuriki to govern all the other Hayagami, and maintain peace in her nation. |
Cast
Arata Hinohara

Nobuhiko Okamoto

Arata

Yoshitsugu Matsuoka

Kotoha

Ayahi Takagaki

Kannagi

Yuuki Ono

Masato Kadowaki

Ryohei Kimura

Akachi

Tatsuhisa Suzuki

Kanate

Junko Minagawa

Yorunami

Souichiro Hoshi

Hiruko

Yataka

Kugura

Harunawa

Kikuri

Hibiku Yamamura
Staff
Original Creator

Yuu Watase
(Shogakkan Weekly Shounen Sunday Publishing)

Director

Kenji Yasuda
WooHyun Park

Series Composition

Mayori Sekijima

Character Design

Katsuki Aizawa
SeongShin Lee

Chief Animation Directors

Color Design

Art Director

SeoGu Lee

Directors of Photography

Maki Ueda
SooYeon Lee

Editing

HyunHee Lim

Sound Director

Music

Animation Production

Satelight
JM Animation

Production

Opening Theme

"Genesis Aria" by Sphere

Ending Theme

"The Misfit Go" by OLDCODEX
---
discuss this in the forum (236 posts)
|
back to Anime Spotlight Spring 2013 - The List
Anime Spotlight homepage / archives