Anime Spotlight - Karneval
by Justin Sevakis,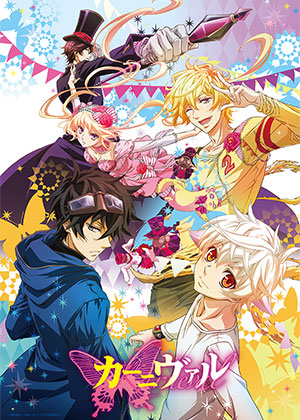 April 3, 2013 (Japanese Premiere)

Key Staff
Director - Eiji Suganuma

Series Composition - Toko Machida

    (Amnesia,

Cat God, Tears to Tiara)

Character Design/General Director of Animation - Toshie Kawamura

    (Mashiro-Iro Symphony, character design on Pretty Cure)

Animation Production

manglobe INC.







Introduction
We are bound by destiny.
Story
Nai is a mysterious young boy who knows nothing other than his name and Karoku. With nothing but Karoku's bracelet from "Circus" to go on, Nai set out in search of Karoku when he was rescued from trouble by Gareki. When Gareki demands the bracelet in exchange for his help, Nai begins to travel with him and joins the National Defense Agency, "Circus" after getting involved with them and a freight train high-jacking. Nai will learn many new things as works together with various people. Gareki too will find the doors opening to worlds he never knew of before.
The rare and colorful world of Karneval starts here!
Top National Defense Agency, "Circus":
The Circus is a law-enforcement agency that travels the land in pursuit of criminals and syndicates. Within the Circus, the First and Second Ships are composed of agents that chase after Possessors, those with certain special abilities. Their chief mission: to kill the Possessors, bury them, and destroy the Kafka organization. They also hold shows to calm the nerves of the local townspeople after the infamous "raids" they carry out without warning.
Characters
Nai is an innocent young boy who only knows his name and Karoku. There are a lot of secrets hidden behind him. While using his bracelet as a clue to search for Karoku, he meets Gareki.

Gareki travels with Nai, because he is interested in the bracelet he carries. He is nonetheless caring of others, while he has a foul mouth and no formal education, is highly intelligent.

A fighter in the Second Ship; a compassionate, honest man who serves to inspire the rest of the team, although he can be weak-minded at times.

A fighter in the Second Ship. She seems cold at first glance and gives the impression that she does her work with indifference, but she's actually a kind girl who pays attention to details.

The leader of the Second Ship. The Boss of Yogi and Tsukumo. He's a prudent person with great foresight, but he also likes teasing Akari and his subordinates.

Iva
VA: Yoko Honna

Iva is a glamorous woman who's kind to girls and strict towards men. Yogi calls her "Iva-neesan", and she's an older sister figure to the Second Ship crew. She often goes on solo-missions, absolutely loves Tsukumo and will deliver harsh punishment to Jiki, who tries to get too close to her.

Hitsuji


The "black sheep" that serves as the Second Ship's defense system. Highly functional, they handle everything from daily chores to ship security.

Mewverona


The mascot of the Circus. Popular enough with children that there is all kinds of merchandise made of him. Yogi is inside the suit.

A fighter in the First Ship. A suave and sensible man, he can often be much harsher with familiar or strong-willed foes.

The leader of the First Ship; he trained alongside Hirato. He's optimistic and doesn't worry about minor details. He also loves liquor and often invites Hirato and Akari to drink with him.

A fighter in the First Ship. She believes that the mission should be accomplished, no matter how cruel, so she's proud, hates to lose, and hard on both herself and others. She's antagonistic towards Tsukumo and Yogi.

Usagi


The white rabbits that serve as the First Ship's defense system. Love being brushed.

Akari is a scientist in "Circus"'s research division. She excels highly as a researcher, but she also has great pride and can be a bit domineering at times. She's a member of a group of important people identified by the government.

Karoku is the mysterious young man Nai is searching for. He's shrouded in riddles, and says that Nai's bracelet belongs to him, but his details are unknown.
Cast
Nai

Hiro Shimono

Gareki

Hiroshi Kamiya

Yogi

Mamoru Miyano

Tsukumo

Aya Endo

Hirato

Daisuke Ono

Iva

Yoko Honna

Jiki

Yūichi Nakamura

Tsukitachi

Koji Yusa

Kiichi

Eri Kitamura

Akari

Daisuke Hirakawa

Karoku

Sōichiro Hoshi
Staff
Original Work

Director

Eiji Suganuma

Series Plannner

Toko Machida

Character Design
General Director of Animation

Toshie Kawamura

Animation Sutdio

manglobe INC.

Produced by

Project Karneval

Music

Shiro Hamaguchi
Keiji Inai

Opening Theme

GRANRODEO
"Henai no Rondo"

Ending Theme

KAmiYU
"REASON"




©TOUYA MIKANAGI/ICHIJINSHA,PROJECT-KARNEVAL
---
discuss this in the forum (236 posts)
|
back to Anime Spotlight Spring 2013 - The List
Anime Spotlight homepage / archives