×
remind me tomorrow
remind me next week
never remind me
Subscribe to the ANN Newsletter • Wake up every Sunday to a curated list of ANN's most interesting posts of the week.
read more
Anime Spotlight - D-Fragments
by Anthony Foronda,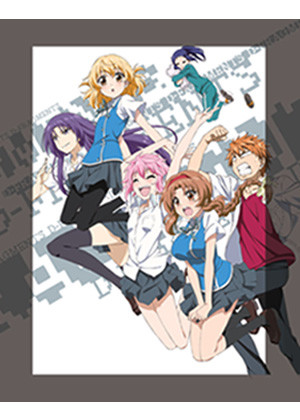 January, 2014

Key Staff
Original Creator: Tomoya Haruno

(Lucky Star; Comic a La Carte, Persona 4 dj-Classic-Crap! I Screwed Up)

Director:Seiki Sugawara

Series Composition: Makoto Umezu

Character Design/Animation Director: Kentaro Matsumoto

(Amnesia, Natsume's Book of Friends)

Animation Production

( Amnesia, Natsume's Book of Friends, Brother's Conflict)
Introduction
Enjoy the unique members of the "Game Development Club (Temporary)" in a high-tension comedy with little to do about game development!!
Story
Kazama Kenji was feared as the worst delinquent of Fujou High, but after certain events led him to peek in on the Game Development Club, he witnesses the outbreak of a fire. While the members inside manage to succeed in putting it out, they all attack Kenji to erase his memory and hide the incident. Kenji desperately tries to escape from them, but when their president Shibasaki Roka rescues him he ends up joining their Game Development Club.
Characters
.
He's the protagonist who acts the straight man, and he's a softmore at Fujou High. His goal is to rule the school… or was it? He's actually a reliable man in a way.

She's the president of the Game Development Club (temporary). She holds "The Strongest Darkness" as her other nickname, and rules the school as its strongest person. She's the troublemaker who dragged Kazama into joining her (temporarily) club.

Takao

Bucho

VA:Shizuka Ito

(The real) President of the Game Development Club. She's a tsundere and she's taken a liking to Kazama. She's had a long relationship with all the members of her (temporary) club.

Current president of the student council and a member of the Game Development Club (temporary). Earth Attribute. She's turned the student council into her personal possession, and shows concern for Roka, her childhood friend.

A member of the Game Development Club (temporary), and Kenji's underclassman. Water attribute, and self-proclaimed little sister attribute. She very rarely gets serious about anything, but she often goes with the flow, and gets motivated whenever water's involved.

The advisor to the Game Development Club (temporary) who looks good in a jersey. Thunder attribute (Stun-gun user.) She's always sleepy, so she approves most things, or rather she ignores them.

Kazama's childhood friend and partner in crime. He won the spot of vice president on the student council. Since he possesses a special attribute (supreme masochist), most disasters are just rewards for this eccentric man.

A member of Kazama's group. Despite his looks he…

A member of Kazama's group. All three members of Kazama's group have known each other since elementary school.
Cast
Kazama Kenji

Katsuyuki Konishi

Shibasaki Roka

Kana Hanazawa

Takao Bucho

Shizuka Ito

Karasuyama Chitose

Chiwa Saito

Mizukami Sakura

Mikako Takahashi

Ohsawa Minami

Ami Koshimizu

Kawahara Ataru

Jun Fukuyama

Funabori-san

Kazama Noe
Staff
Original Creator

Tomoya Haruno (Monthly Comic Alive magazine, Kadokawa Publishing)

Director

Seiki Sugawara

Series Composition

Character Design & Chief Animation Director

Kentaro Matsumoto

Music

Animation Production

Brains Base

Production

Defrag! Production Committee
---
discuss this in the forum (114 posts)
|
this article has been modified since it was originally posted; see change history
back to Anime Spotlight Winter 2014 - The List
Anime Spotlight homepage / archives