Anime Spotlight - HAGANAI NEXT
by Justin Sevakis,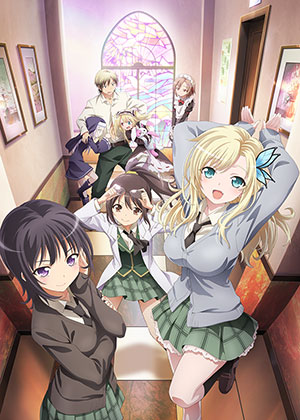 January, 2013 (Japanese Premiere)


Key Staff
Director - Toru Kitahata

Series Composition - Tatsuhiko Urahata

Character Design & Animation Director - Yoshihiro Watanabe

Animation Production








Introduction
A new series of their deplorable daily lives is about to begin!
Story
The Neighbor's Club—a club founded for the purpose of making friends, where misfortunate boys and girls with few friends live out their regrettable lives.
Although Yozora Mikazuki faced a certain incident at the end of summer, the daily life of the Neighbor's Club goes on as usual. A strange nun, members of the student council and other new faces make an appearance, causing Kodaka Hasegawa's life to grow even busier.
While they all enjoy going to the amusement park, playing games, celebrating birthdays, and challenging the "school festival"—a symbol of the school life normal people live—the relations amongst the members slowly begins to change…
Let the next stage begin, on this unfortunate coming-of-age love comedy!!
Characters
A sophomore at St. Chronica Academy High School. Half Japanese, half British, so his natural hair color is a faded blonde. He was also born with menacing eyes, so people often mistake him for a "yankee". One day he spoke up to his classmate, Yozora Mikazuki after school, which led to him winding up in the Neighbor's Club. He's the member with the most common sense, and often points out their abnormal behavior.

A sophomore at St. Cronica Academy High School. Kodaka's classmate, and a girl with androgynous good looks, but she's left out of class because she's always acting irritated. Her conversation with Kodaka led her to found the Neighbor's Club and become its president. The truth however, is that she used to be best friends with Kodaka, and they used to call each other "Taka" and "Sora". She cut her hair short to make Kodaka realize this, but their relationship hasn't changed much since then.

A sophomore at St. Cronica Academy High School. The daughter of the academy's dean. She has blonde hair, blue eyes, big breasts, beauty, excellent grades, and great athleticism. She's extremely arrogant, and many guys treat her as a queen, but other girls hate her. In the Neighbor's Club she gets hooked on galge, and starts saying weird things on occasion. She absolutely adores Kobata, and she's constantly fighting with Yozora.

A freshman at St. Cronica Academy High School. He aims to be a man amongst men, and calls himself Kodaka's apprentice. Because he looks and acts like a beautiful girl, his peers don't understand how to behave around him and keep their distance. He obeys anything Kodaka says, but his misunderstandings and jumping to conclusions causes him a bit of trouble. He's a history nut, and loves military generals.

A freshman at St. Cronica Academy High School. Despite being a high school student, she's a genius inventor who receives many offers from big businesses and contributes to their product development. In the past, she stayed in the science room constantly, avoiding contact with the other students, but she joined the Neighbor's Club after meeting Kodaka. She's a

fujoshi

who absolutely loves

BL

, and goes crazy for

Mecha

X Mecha stories.

A sophomore at St. Cronica Academy Middle School, and Kodaka's little sister. She takes strongly after her British mother, inheriting both her blonde hair and blue eyes. During her first year of middle school, she got hooked on anime and became an unfortunate girl with "middle schooler's syndrome". She also has a serious brother complex, and followed her brother into the Neighbor's Club. She's always getting into fights with Maria Takayama.

A nun working at St. Cronica Academy. A young, 10 year old girl with silver hair and blue eyes. Her academic ability was great enough to allow her to skip grades, but she's easily fooled by small lies, which is how Yozora managed to talk her into becoming the Neighbor Club's advisor. She's attached to Kodaka and calls him "Onii-chan", but can't get along with Kobato.
Cast
Kodaka Hasegawa

Ryohei Kimura

Yozora Mikazuki

Marina Inoue

Sena Kashiwazaki

Kanae Itō

Yukimura Kusunoki

Nozomi Yamamoto

Rika Shiguma

Misato Fukuen

Kobato Hasegawa

Kana Hanazawa

Maria Takayama

Yuka Iguchi
©2013 Yomi Hirasaka・MEDIA FACTORY/
HAGANAI
Project NEXT
---
discuss this in the forum (165 posts)
|
this article has been modified since it was originally posted; see change history
back to Anime Spotlight Winter 2013 - The List
Anime Spotlight homepage / archives