×
remind me tomorrow
remind me next week
never remind me
Subscribe to the ANN Newsletter • Wake up every Sunday to a curated list of ANN's most interesting posts of the week.
read more
Astro Toy
Figma Kaiji Itou
by David Cabrera,

Figma Kaiji Itou
Series: Kaiji
Maker:Max Factory
Cost: about $50
Last time was a huge robot set, so naturally, to balance things out I have to review a moe character.


And here he is, the most moe of them all! From 1993 to the present, Nobuyuki Fukumoto's Kaiji has enjoyed a long career of suffering under his evil corporate masters in gambles to the death. Finally, as the second season of the anime ends, you too can feel in plastic the same "oh my god, he's about to die in a gutter, stripped of the very last shred of his dignity" feeling that so many of Kaiji's fans share.

Now here's a nice Figma sculpt. Kaiji looks just like he does in the first season of the anime, and Fukumoto's distinctive style (that nose!) is clear. The little things were also done right: both Kaiji's powerful mullet and his jacket are made of flexible plastic.


The decals are accurate and clean (aside from the English text: that would be a bit much in this scale).


Kaiji's t-shirt appears to be a solid block on first inspection, but you'll notice that it's parted into two pieces: the joint is cleverly hidden along the folds of the shirt. The articulation is Figma-standard with no other issues.


Kaiji comes with three common facial expressions: a smug smile, determined anger, and, of course, a pained expression. I assume that Kaiji's expression of desperate joy and, of course, his tearful face, are being saved for some future release. With this release's level of obsessiveness over every detail, I don't think that they just forgot about the fact that Kaiji spends half of his ordeals weeping bitterly.


The really impressive thing about this set is that Kaiji can be posed in all of the horrific ordeals that he suffered in the first series. (If you consider this kind of thing a spoiler, turn back now.) Not a single detail was left out. Some of these are simple, like the Restricted Rock Paper Scissors game that opens the series.

And then there's E-Card (the E is for Emperor), which involves not only a set of cards but also a funny-looking piece of headgear which is packed as a separate front hair piece. If you haven't read or watched Kaiji you'll have no idea what this is about, so I'll tell you: it's a drill. Inside that little earpiece is a drill that draws centimeters closer to Kaiji's eardrum as he loses at the game of E-Card. Like they say in the show, if you're broke and you still want to gamble for big money, well, you'd better put something of equal value on the line...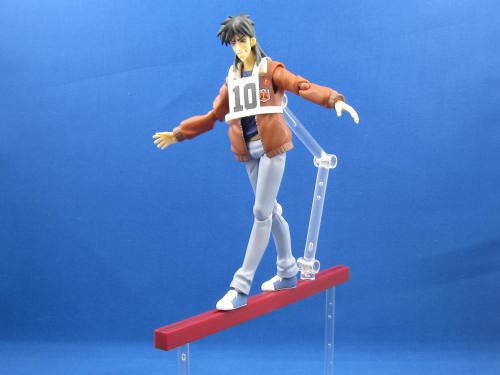 Speaking of which, there's also the Human Derby, in which a pack of poor schmucks walk between two skyscrapers along an electrified steel beam while rich people watch them from the windows, sip drinks and chuckle at the futility of their existence. Kaiji comes with the beam in question, which has its own accessories for keeping it up and attaches to the posing arm of a normal Figma stand (which you're going to need to keep Kaiji in place. Of course, the whole setup isn't complete if Kaiji isn't wearing his little jacket with a number on it, like the kind one puts on a horse. This bit is paper: two strips of paper fold behind the back without falling out of place, making it easily removable.

If there wasn't enough Kaiji love in the box for you, there's a sheet of heavily laminated paper in the box that has everything else used in the series: full Restricted RPS and E-Card decks, the star tags used in Restricted RPS, and no less than four "zawa zawa" word bubbles (small and large, black and white) that you can clip to the display stand. Max Factory's commitment to getting everything that was in the first Kaiji series is a little obsessive, and that's all the better.
Max Factory's track record shows that when it comes to the Figma line, they either try very hard to make an exceptional figure or not much at all for a merely average one. This is definitely one of the above-and-beyond Figma releases, and I can heartily recommend it to any Fukumoto fans who haven't already spent all their money on the (backordered!) Akagi hugpillow. If you're not already into Kaiji (try it!), though, it's probably not nearly as awesome. I mean, they're just cards, right? (Wrong.)
While it's pretty popular in Japan, it is unlikely that Kaiji has enough support to get a full figure line going. Of course, as a Fukumoto fan, I'd like to see second-season Kaiji, a Figma-sized Bog, and a figure of one of the ever-present black-suited underlings.. as well as old and young versions of Akagi, Fukumoto's other beloved antihero.
Kaiji is available online for the typical Figma price of about $50 after shipping.



Cats don't have any trouble with Human Derbies at all.
---
When he isn't killing time on fighting games and mahjong, David Cabrera gets hype about anime, manga and gaming at Subatomic Brainfreeze. You can follow him on Twitter @sasuraiger.
---
discuss this in the forum (5 posts)
|