Pile of Shame
Natsuki Crisis
by Justin Sevakis,

Natsuki Crisis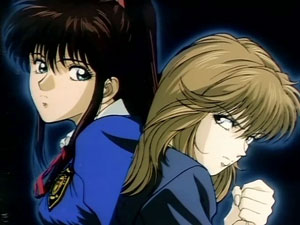 When we first meet Kitsumi Natsuki, she's in her school dojo, gleefully trying to find a sparring partner. The rest of the team is all guys, but they don't stand a chance against the tomboy, and politely bow out. In addition to being fearfullly strong, Natsuki is also the protogé of team captain Yanagisawa, who is basically superhuman in strength. Despite her abilities, however, Natsuki is hardly intimidating. She's cheerful, outgoing, and tries to be everyone's friend.
Natsuki is late in getting to class after morning practice, and she arrives to find the new girl Rina giving her introductions. Rina rides a motorcycle to school, and is generally an aloof loner. Natsuki is determined to make a new friend, and has nearly gotten her to warm up a little when some thugs from Rina's past show up and lay waste to her precious bike, itself a momento from an ex-boyfriend at her old school. Rina suspects Natsuki, and issues her a challenge to a duel. Rina, you see, is one of the strongest wrestlers around...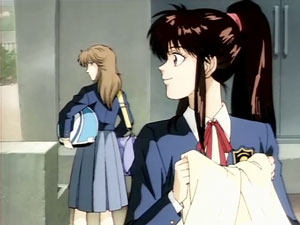 And so goes Natsuki Crisis, a middle-of-the-road but entertaining little OAV series from 1994. It's one of those two parters that seemed to be everywhere back in the VHS era, nearly all of which were released Stateside at some point. (This one wasn't, likely due to it being a Shueisha title: that licensor did not deal with American publishers back then.) Among those short series, this is definitely near the top of the heap. It's got sharp animation, courtesy of Mad House, beautiful fight choreography, and a very nice design aesthetic. It would've been right at home among the OAVs being released by ADV Films and Central Park Media at the time.
Based on an 18-volume manga series from Business Jump, created by Hirohisa Tsuruta, Natsuki Crisis is a precursor to such high school fight shows as Ikki Tousen and Tenjou Tenge. But unlike many of its contemporaries, the show is fairly disinterested in sexualizing its characters. (There are a few flashes of panty here and there, of course.) Front and center are the expertly storyboarded fight scenes, as well as the lightly comedic moments at school. The interplay between the characters is genuinely fun, and while their dialogue is a bit on the trite side, the girls are fun to hang out with.

Unfortunately, as both episodes were being produced at nearly the same time by different directors, the first episode is substantially better than the second. Koichi Chigira (of Last Exile fame) turns in the fast-paced and character-rich first episode, while Jun'ichi Sakata's (Kaze no Stigma, DNA²) second episode is a bit of a slog. This may be less the fault of the directors as it is the source material, however: at this point the characterization dies away in the interest of exploring an evil student council at Rina and Yanagisawa's old school. Said student council is sending henchmen after Natsuki's friends, for reasons that I'm sure are better explained in the manga.
If all of this is starting to sound like a fighting game, there apparently WAS a mediocre Super Famicom game, known as Natsuki Crisis Battle, that was released only in Japan. This, the manga and the OAV is all there is of Natsuki Crisis, and they don't seem to have made much of an impact. The OAV has never been re-released after its initial VHS and LaserDisc runs, and I can't find evidence of any release outside of Japan either. It seems to be mostly forgotten today.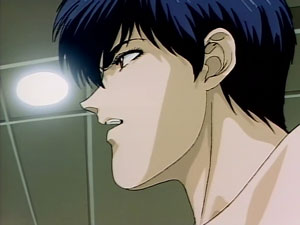 And to be frank, Natsuki Crisis hasn't aged particularly well. From the costumes to the bad kids hanging out on the roof, the general high school anime clichés are piled on pretty high. That said, the tropes at work here can't help but evoke a sense of nostalgia for old-timers like me. I miss the days when a two-part OAV that only tells part of a story could excite our imaginations as fans. This show in particular seemed to pop up on practically every VHS fansub tape trading list back in the day. Despite its (or maybe because of) its silliness, these tropes became as familiar parts of our formative experiences as fans.
I don't know that I can recommend Natsuki Crisis to younger fans. Its uneven storytelling and barely-started story can make for frustrating viewing, and the art and costume styles will definitely seem like an anachronism. But for anyone that was around back when anime was still on tapes, this little OAV series is unmistakably a giant blast of nostalgia.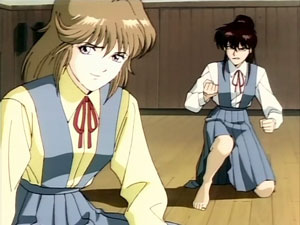 Japanese Name: なつきクライシス (Natsuki KURAISHISU)
Media Type: OAV
Length: 2 x 30 min.
Vintage: 1994
Genres: Seinen, high school, action, comedy
Availability (Japan): There was a VHS and LD release, but no DVD that I can find.
Availability (English): Just fansubs.
---
discuss this in the forum (14 posts)
|