Blue Gender DVD Boxset Contest
September 26, 2003

CONTEST IS OVER — WINNERS HAVE BEEN POSTED HERE
---
Blue Gender DVD Boxset Contest
Anime News Network and FUNimation are giving you the chance to be amongst the first to own a copy of the Blue Gender DVD Boxset! We are giving out FIVE copies of the set. Each has eight DVDs, uncut, in both Japanese and English dialogue. Want to know more? Keep reading.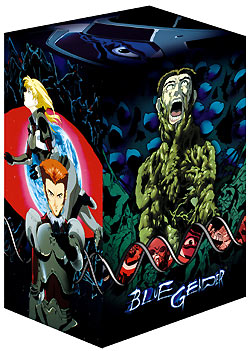 A high school student named Yuji discovers with dismay that he has an incurable virus. Hoping that a cure can be found soon, he agrees to undergo "artificial hibernation" while science works its course. 22 years later, he wakes up, finding that the world he once knew is completely gone. In its place is a desolated Earth, run over by BLUE, a creature that eats everything in its path— humans included. If Yuji wants a chance for humanity to survice, he and others must fight to destroy BLUE!
Contest Rules
We here at Anime News Network want to know what you think the world would be like if you were cryogenically frozen for 22 years (think Fry from Futurama or Dr. Evil from Austin Powers). We want creative answers, so no flying car and robot butler wisecracks. You can write us a story, a diary entry, a poem— as long as it's creative. Remember, we like being entertained too, so the more unique it is, the better chance you have of winning! Our five favorite winners will be the recipients of this great boxset, so if you like this series, now's your chance!
The contest will end October 8, and the contest winners will be posted shortly thereafter. Please e-mail your entries (perferrably as a Word document) to
mailto:

[email protected]

(

bluegenderbox

at

animenewsnetwork.com

)
.
Winners of recent contests, with contest dates ending on or after June 26th, 2003, are not eligible to enter this contest.
The Fine Print: Anime News Network reserves the right to cancel this contest at any time (Unlikely to happen). Contest is open to any and all residents of the planet Earth and neighbour parallel dimensions, however prizes will only be shipped within the continental United States and Canada (So if you win, but you live in Antarctica, you have to arrange to have it sent to someone living in the appropriate area, and they can send it to you.) Contestant names, e-mail and mailing addresses will not be given out to any one and will be erased when the winners have been confirmed. Non-winners will not be contacted, spammed or harassed in any way. We reserve the right to retroactively add new rules when and how we see fit.
---