Anime Expo 2005

Anime Expo - Masquerade

by Roberto Ramirez,
Anime Expo's masquerade is one of the most popular events in the convention. Year after year, individuals and groups alike display their costumes and acting skills to an audience of hundreds, waiting to be judged on their presentation, performance, and of course, their costumes.
The returning master of ceremonies this year was Dave Willis, a favorite within the audience due to his quick improvisations and cartoon voices.
Continuing the tradition of the masquerade, the event started 40 minutes late, but no one seemed to mind. They finally turned down the lights and started playing the Anime Expo theme song, to indicate that we were about to start.
But as always, the public took the opportunity to do something totally unpredictable. Everybody opened his or her cell phones, PDA's, or any gizmo that could emit light, and created a light show that moved to the pulse of the music.
This year event was specially flawed, but not just for the late start; there was no formal introduction of the judges.
The range of the performances was as diverse as the costumes themselves; from simple walks on the stage, to fighting sequences, choreograph dance numbers, and, of course, dancing robots.
During the award ceremonies, the trophies for several categories were missing in action, and the lack of communication between the back and the front stage left the master of ceremonies scrambling for Jarrod "The Back Stage Ninja" to keep the public entertained.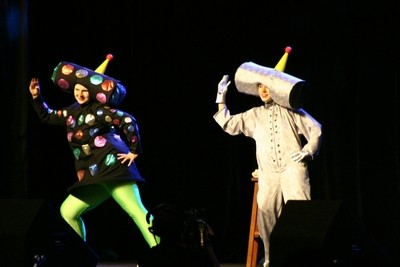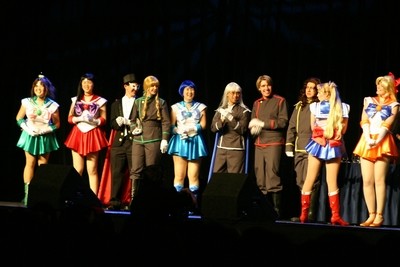 All images by Roberto Ramirez
---
back to Anime Expo 2005
Convention homepage / archives