Anime Expo 2005

Anime Expo from a staffer's view

by Will Jang,
For me, it all started in 2001. I volunteered for Anime Expo in the summer of 2001 out of curiosity. My friends had flown to Japan, and I didn't really want to attend the con alone. So I decided to donate my services for the AX volunteer department. I was then invited on staff for the following years.
The most surprising thing about staffing AX is that you lose most of your free time. I remember I had plenty of time to shop, attend panels, and watch movies when volunteering. I found out that staffing takes a lot of time and effort. Volunteer staffers work six hours a day, but we're always on call. I think I spent around two hours a day really enjoying the con. Oh yeah, Anime Expo is a nonprofit event, thus no monetary benefits. So why do I and fellow staffers continue to work so hard? Good question.
Thursday, June 30th
Most volunteer staffers arrive a day or two before the official start of the con. This day was a bit tough for me, since I had to drive to Anaheim from Tempe, Arizona. Although I was a bit drowsy, it felt great seeing friends that I haven't seen for a year. Most of the day was used processing volunteers and getting the registration packets together. The mounds of registration packets you see are all put together by volunteers.
Other than helping out with the registration lines and stuffing packets, Thursday went off without a hitch.


Friday, July 1st
Yes, I heard the horror stories about registration. Every year, there's something that goes horribly wrong. I still cringe when Long Beach AMV is mentioned. I was processing volunteers Friday morning when I heard the news. It was a bit disheartening when my co-staffers came in and told me how a few disgruntled attendees yelled at them. I know most attendees are cool, but there are always a few that are tough to deal with.
With the morning registration crisis over, we assigned volunteers to various tasks. Usually volunteers are assigned to check badges, control lines, and supply manpower where it's needed. The biggest need for Friday was at registration and exhibit hall. Luckily, we always have plenty of eager hard working volunteers.

Friday night was capped by the AMVs. We assigned at least two dozen volunteers to help move the lines and man the doors. Access department did an excellent job of planning and coordinating the volunteers for the event. The access department basically plans out the line configuration and controlling it. I have to say that this year's access department was the best one by far. The better they are, the less stressed the volunteer department is. After the line was moved in, we gathered and rested our feet. Although I didn't get to watch the AMVs, spending time with fellow weary staffers was just as enjoyable.


Saturday, July 2nd
Saturday was spent worrying about Sunday. Why? Well we had two huge events on Sunday, Maaya Sakamoto concert and the Masquerade. I was working the registration lines on Saturday morning and afternoon. Many people waited as much as four hours in line picking up pre-registration passes. Even though they had spent tons of time waiting in line, most attendees were courteous. To those of you that was so patient with us, thank you.

Right next to registration was the Matsuri festival. I walked by to check on of the volunteers assigned there. Many of them ran mini game booths like fish catching. Catching those little gold fishes are tougher than you think.

Although Saturday was an easy day, some of my fellow staffers were already getting a bit tired. When we get tired, we become a bit kooky. We spent Saturday night playing cards, talking, watching anime, and even taking a dip in the pool.


Sunday, July 3rd
Although Sunday was the toughest of the con, I was actually looking forward to tackling it. The main reason being was the Maaya Sakamoto concert. I've been her fan ever since hearing her on the opening track of Escaflowne. Again the access department did an amazing job of coordinating the lines. I was at the 3rd floor of the convention center, checking on the volunteers manning the doors.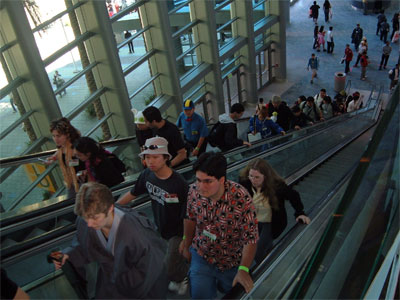 After the concert had started, I was assigned to a very unique task. With a couple of access control and volunteer department staffers, I escorted Maaya Sakamoto out of the concert hall. It's not everyday that a person gets to walk next to a JPOP diva. I was ready to stave away fanatics, but she was led out of the convention center without incident.
Since we had plenty of practice with the AMVs and the concerts, the Masquerade went off without a hitch. Again, the volunteers did an admirable job at being patient and helping the attendees.

Monday, July 4th
Sadly, the final day of the con had arrived. Monday was mostly spent giving volunteers refunds for their hard work. Every year we hand out awards for those volunteers that went above and beyond the call of duty. We had awards like the Bridge Bunny for the male and female volunteers that were most sociable, Cosplay for the best cosplaying volunteer, Enthusiastic, and the Top Gun award. The Top Gun award was given out to the most outstanding volunteer that we would love to induct into our department. This year's Top Gun award went to Patrick Philippe. He was not only hard working; he made all of us laugh out loud with his antics.

Our Top Gun Award recipient (to the left) utilizing his head
Our department leaders

All of our hard working volunteers
So why do we work so hard every year? It's partly due to our love for anime. But mostly, we keep returning to see old friends and make new ones. Feel free to drop by and volunteer your services next year. I know I will.

Friends of Anime Expo. (I'm the guy with glasses)
---
back to Anime Expo 2005
Convention homepage / archives