×
remind me tomorrow
remind me next week
never remind me
Subscribe to the ANN Newsletter • Wake up every Sunday to a curated list of ANN's most interesting posts of the week.
read more
Anime Expo 2007

Focus Panel: Anna Tsuchiya

by Jonathan Mays,
Actress/model/singer
Anna Tsuchiya
's focus panel kicked off promptly at 1:30 in front of 150 fans and several video cameras. Tsuchiya gave a brief introduction:
"Hello everyone, I'm Anna. How do you do? I hope to be singing a lot of songs from NANA and my solo album for you. It's pretty embarrassing to be up here, isn't it?"
Her translator then asked the audience to line up behind a microphone at the center of the room. The first fan asked two questions:
Did you read the NANA manga? "Yes!"
Did you like the NANA manga? "Yes!"
But other fans picked up the load:
Her biggest influences:
"I feel happiest when I'm singing. It feels like the place for me to be; I'm very reassured when I'm singing. As for influences: Queen and Nirvana."
Advice for aspiring performers:
"I don't know if this is good advice, but in each time period there's always something that's the most popular.
You may not want to force yourself to go with the flow--sing what you want to sing, do what you want to do. Selling a lot isn't the most important thing."
Plans for a 2nd Kamikaze Girls movie:
"There are no plans for a part 2, but... it's probably close enough, but while there will be no Kamikaze Girls 2, I'm doing another film by the same director. I get to play a punk nurse!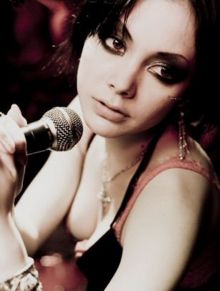 This movie will also have a diverse range of enthusiastic characters."
Plans to enter the US market:
"I'd like to, but I don't know English. [In English] "So I'm trying, but it's very hard." I do try to study English so more people can enjoy my music."
Fan: "Well, you're really good at faking it!" [Anna gives two thumbs up]
Biggest surprise when performing a duo:
"The big surprise came in the form of - all artists try to alter their tongue to fit the song. My partner was very good at drawing out my own tender side. If I were singing it by myself, it would have been a more independent person. He made it more tender."
Dream performance:
"Ahhh! That's tough...I'd start in the classical…or perhaps Queen, but I'd have to get in tights myself! Also, Cyndi Lauper. I met her once - she was a very nice person. I'd love to perform with her.
Childhood story:
"Up until the 6th grade, children can be really cruel. By looking different and having an usual name, I was bullied and teased."
[Cell phone on the table goes off]
[Anna answers, "please wait a second" in Japanese, hangs up]

"Later on, others learned that being half-Japanese was actually cool."

Kamikaze Girls and a fight scene with Kyoko Fukada:
"Well, this was my first time playing a Yankee girl. The fight scene, that was when I realized that women are scary creatures. We were all acting, but someone in there was really serious about hitting me. She must have had some kind of unidentified vendetta. It looked liked a realistic fight because there was a real fight there!
Also, our director was the type who would shoot 50 or 60 times, and we would film all morning until 2 or 3 in the morning.
Kyoko…She's a very cute girl. But she's also tough. One day she was screaming that bugs were scaring her. I told her don't worry, they're just bugs. But I turned around and she was killing every bug in sight."
Working with Kaz:
"My music started with working with Kaz, and he really liked my voice. There's a lot of music that only Kaz can make, and that helped me a lot. He writes beautiful music, which makes me want to write beautiful music. I would say Kaz was my first influence. I wouldn't be where I am today without him."
Getting nervous:
"Even before this panel I was nervous. It's not necessarily about your own performance; sometimes you just want people to like you. So I remind myself to try to have at least one person like my performance. At least during the day. At night, all you have to do is drink up a little and you should be okay. Good luck. Vocalize from your stomach."
Learning lines and getting into roles:
"This may not be good advice since I'm bad at learning my lines, but I tend to, well, 10 minutes before filming, I read the script for the first time. If I'd read the script the night before, I'd be tracing out an act instead of being spontaneous about my acting. I don't consider myself someone who is capable of acting, so I think it is better for me to be spontaneous.
I don't think you can really become a different person--you have a draw a line within yourself to play a different role. So for me, I would simply jump into the film scene. Doing that every day will get you into the character. But that's bad advice. I asked my interpreter if he has any advice."
Interpreter: No!
Career in 10 or 20 years:
"I want to continue singing. Or...should I get into sewing?"
Evolving musical tastes:
"When I was younger, I was basically a well read princess. My love for music was all in Japan. But the first time I heard Queen's music, I realized rock had something in common with classical music."
Her Kamikaze Girls character changing at the end of the film:
"The character is based on the way I am. In my daily life I tend to be the Kamikaze Girl. Everyone has different aspects--tough, cute--but while "Ichiko's" toughness may be in the forefront, but she may have other aspects that come out. Think about how changing your clothes changes your personality. For example, you may be gesturing differently. you may not be conscious of it, but other people will notice."
Her favorite songs:
"Tomorrow I'll be singing some 10 songs, but one of those songs, Frozen Rose, is kind of sad--it has classical elements as well as rock ones. It's been one of my favorites ever since I released it on my mini-album.
For tomorrow, though, the songs I'll be performing will be only my favorites, like Frozen Rose and Take Me Out. But I'll also be performing fast songs like Without You, so let's save the mosh for that."
Receiving clothes from fans, and what she wears on her own time:
"I do have garments from fans that I like to wear, like a certain hat. In my daily life I wear jeans and tank tops, but I wear the opposite when I'm modeling, so maybe that's a backlash from that. When I'm in public, I try to incorporate more elegance into rock fashion. I think the public tends to be condescending towards rock, so I try to incorporate as much elegance as I can even when I'm wearing only black or red."
Her favorite English word:
[in English] "Thank You!"
Stories from her current band:
"Well, they were supposed to be on the panel with me, but they went shopping. The guitarist is the fastest I've ever met, and he speaks with a Kansai dialect. The bassist is playing in Gackt's SKIN today, has been with me ever since the spinoff. As for the drummer, he's an alcoholic."
Accessories:
"Justin Davis is the brand. I collaborate with them to make accessories. It's got Onyx in it. They make their accessories by hand. Because of that, I think this brand has heart."
Errata: The "Ichiko" character nickname and Cyndi Lauper's name corrected. Thanks, hanachan01 and MeggieMay.
---
discuss this in the forum (7 posts)
|
this article has been modified since it was originally posted; see change history
back to Anime Expo 2007
Convention homepage / archives