×
remind me tomorrow
remind me next week
never remind me
Subscribe to the ANN Newsletter • Wake up every Sunday to a curated list of ANN's most interesting posts of the week.
read more
Anime Expo 2010

Black Lagoon Focus Panel

by Gia Manry,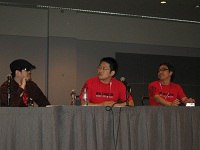 After an additional screening of the Black Lagoon: Roberta's Blood Trail 3rd season OVA, a brief recap of the series was shown before Black Lagoon manga creator Rei Hiroe, manga editor Akinobu Natsume, and anime producer Ogura Mitsutoshi (of Geneon Universal) were introduced.
After the introductions, a video message from Black Lagoon anime director Sunao Katabuchi was shown greeting American fans and introducing Hiroe. Ogura then welcomed the audience and thanked Madhouse Studios for providing director Katabuchi for the series.
This was followed by a "[email protected]MADHOUSE" bonus clip. In the clip, Katabucha presented a machine that is used for checking animation timing, including unfinished footage from the OVA episodes. Character designer Masanori Shino was shown drawing characters Rock and Dutch. It takes about 12,000 such drawings to make a single episode.
Following the clip, Ogura talked briefly about the company's efforts to provide high quality animation and showed a clip from episode 5 of the Black Lagoon TV anime first season. The clip portrayed a submarine, which Ogura claimed was one of the most detailed animations in Japan, created with many resources-- including an actual German U-Boat submarine, which photos of were then shown, followed by the studio's sketches of the boat.
After the presentation came the audience Q&A.
Hiroe also noted that there was originally some conflict between himself and anime director Katabuchi which was eventually resolved. Ogura fielded a question about why the third season was an OVA rather than a TV series; Ogura said that they had been scolded because the series was so graphic, but an OVA has fewer content restrictions.
---
discuss this in the forum (4 posts)
|
back to Anime Expo 2010
Convention homepage / archives