×
remind me tomorrow
remind me next week
never remind me
Subscribe to the ANN Newsletter • Wake up every Sunday to a curated list of ANN's most interesting posts of the week.
read more
San Diego Comic-Con 2010

The X Button at Comic-Con: Thursday, July 22

by Todd Ciolek,
The San-Diego Comic-Con can prove jarring for anyone experienced only with smaller-scale anime conventions, as I was. Compared to the admittedly well-attended Anime Expo or Otakon, Comic-Con is an imposing ocean leviathan in a Green Lantern shirt. It's much more extensive in what it covers and, consequently, much more crowded. Fortunately, I didn't feel out of place for long. Five minutes after I got to Comic-Con, I saw some sad-looking kids carrying "Free Hugs" signs, and then everything seemed just like a regular anime convention.
As an all-encompassing pop-culture behemoth, Comic-Con has a much larger video-game presence than smaller conventions more focused in their nerd venues. Many game companies bring their huge booths straight from E3, and some take full advantage of the crossover appeal.
Capcom was out to fully exploit that appeal, starting with a Dead Rising 2 panel today. Executive producer Keiji Infaune (who was introduced as "The Father of Mega Man" throughout the day) and producer Shūnosuke Ohara introduced the game and its premise: Years after the outbreak of Dead Rising, game show contestant Chuck Greene battles zombies in order to afford anti-undead Zombrex vaccine for his infected daughter. Zombies soon spread out of the studio, of course, and Chuck finds himself battling through the Vegas-like Fortune City, using moose-heads, chainsaw-and-paddle polearms, and anything else he can find to take down the zombies. Infaune remarked on the game's pieced-together weapons, saying ""The Japanese don't often use duct tape, but we're aware of the American duct tape phenomenon."
Inafune joked about the admittedly selfish reasons for setting Dead Rising 2 in a Vegas simulacrum: the original Dead Rising team went to various North American malls to research the game, so Inafune hoped a Vegas-like sequel would get him and his cohorts a "research" trip to Vegas. Inafune himself didn't get such a vacation, but he was pleased with the setting all the same. He also mentioned another possible setting: a Disneyland-like amusement park where zombie gore clashes with kid-friendly atmosphere. While this was devised before the film Zombieland came out, Inafune was glad that the game didn't end up sharing its premise with the movie.
Instead of a demo ripped from the game itself, Dead Rising 2 gets a prequel game entitled Case Zero, to be released on XBox Live on August 31 for 400 points ($5 in Magic Microsoft Money). The game features Chuck and his daughter Katey fending off zombies hordes prior to the events of Dead Rising 2, and it'll likely explain just how Katey was zombified. Ohara added that Case Zero could've sold for 800 points, but he deliberately kept the price low. The proper game's out in late September on both the Xbox 360 and PlayStation 3
August will also see Inafune's debut as a film director. A fan of '80s-style B-movie horror, Infaune put together a live-action film, Zombrex: Dead Rising Sun, that tracks an outbreak of zombies in Japan. Intentionally made on a small budget and with a less-than-straight face, the film follows a wheelchair-bound boy, an zombie-bit nurse, and others desperate to survive a horde of the undead. The trailer showed off both copious camp value (the hero's wheelchair becomes a bladed zombie-killing machine) and English dubbing more clumsy and hilarious than even the collected works of Sandy Frank. The first three parts of the Dead Rising Sun schlock-fest will be on XBox Live starting August 4, with more sections of the film added each week.
Capcom also held a later panel to highlight other upcoming games: Marvel vs. Capcom 3, Okamiden, Ghost Trick, Bionic Commando: ReArmed 2, and Sengoku Basara: Samurai Heroes. Each game's director was on hand to introduce it, though little was revealed in the way of new information. The downloadable XBox Live and PSN game Bionic Commando: ReArmed 2 looks a lot like the original, a remake of the NES classic Bionic Commando, and adds various weapons as well as new, offensive uses for the main character's grappling arm. Okamiden is, well, amazingly cute, as it replicates the original Okami's vision of the wolf Amaterasu using paintbrush-based attacks in battle against demons. This time, however, the game uses the DS and its stylus, the wolf's is Amaterasu's puppy, and there's a selection of partners to help out in combat and puzzle-solving. Shame it won't be out here until next year.
Ghost Trick: Phantom Detective producer Hironobu Takeshita introduced the game with a perhaps-unprintable joke about Americans mispronouncing his name, and then he assured the audience that Ghost Trick would be "anything but shit." The latest DS-based invention of Phoenix Wright creator Shu Takumi, Ghost Trick follows a red-suited man named Sissel, whose ghost tries to solve his own murder by possessing the living and manipulating objects at hand. It has the same upbeat humor as Phoenix Wright, as shown in Sissel's excitable police-detective sidekick Lynne, and some morbid touches. It's a game about murder, after all, and unlike the case-by-case Phoenix Wrights, Ghost Trick tells a continuous story with one major mystery to solve. It's out this winter.
Capcom avoided announcing any new characters for Marvel vs. Capcom 3: Fate of Two Worlds today, though many expect them to do just that at the game's panel tomorrow. Even if they don't, a trailer revealed Doctor Doom, Super Skrull, Devil May Cry's Trish, and (surprise!) Chun-Li earlier this week, and all of them were playable at Capcom's booth. Capcom also showed a new version of the Marvel vs. Capcom 3 trailer, which Deadpool all but stole by striking sexy, heart-exuding poses and talking to the camera.
Discussion of the mysterious Mega Man Universe ended the panel, with Keiji Inafune introducing the amusing trailer unveiled last week. It's vague about the game itself, and Infaune admitted that he couldn't "get into too much detail" at the panel, though he explained that Universe will let players control their favorite versions of Mega Man. As an apology, he gave the audience an exclusive tidbit: there's another new Mega Man game to be announced this year, and it's one that fans often request. When Infaune asked what the audience wanted, everyone seemed to shout something different, though this reporter distinctly heard many yell "Mega Man Legends 3" above the din.

The exhibit hall was thick with game companies displaying their wares. Square Enix had several screens showing off the multiplayer aspect of Front Mission Evolved, the company's most recent and most intensive attempt at selling poor Front Mission to North America. The game plays smoother than it first appears, as Wanzers (that's what Front Mission calls robots) can dash, jump, and wield four weapons at once. It looks (and even feels) similar to Armored Core, but that's hardly bad news for fans of mecha-action games. It's out for the Xbox 360 and PS3 this September.

Sengoku Basara: Samurai Heroes was one of the few games playing at more than one booth: Capcom had it, and FUNimation parked it in front of a table shilling their upcoming release of the Sengoku Basara anime series. Samurai Heroes doesn't meddle too much with its Dynasty Warriors-like formula, though the controls and the variety of attacks are impressive. The display at FUNimation's booth didn't seem to attract many female players, contrary to the way the Sengoku Basara fan base leans in Japan. Perhaps that'll change when the game arrives on the Wii and PS3 (yeah, no Xbox 360 version) in October.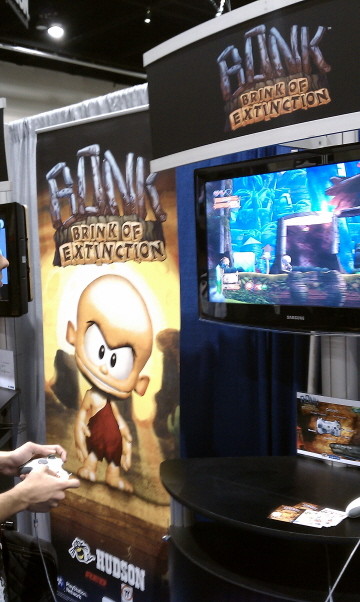 A somewhat menacing Bonk welcomed Comic-Con attendees to Hudson's booth and the new Bonk: Brink of Extinction game for WiiWare, XBox Live, and the PlayStation Network. A return of the side-scrolling action that made Bonk a favorite back in the 1990s, Brink of Extinction puts the bald cave-kid in familiar prehistoric levels, but with two-Bonk simultaneous play and a variety of powers; Bonk can breath fire, spout ice streams, and wear a huge Triceratops skull to break down walls. He also goes against the Super Mario Bros. trend by jumping into the mouths of giant fanged plants, which spit him up to higher levels. It's a simple, fun game, and it's nice to see Bonk survive into this modern era.
There's more when it comes to Comic-Con and games, of course, and we'll cover plenty of it tomorrow. Keep reading.
---
discuss this in the forum (1 post)
|
back to San Diego Comic-Con 2010
Convention homepage / archives