Otakon 2010

The Yoshida Brothers Concert

by Crystalyn Hodgkins,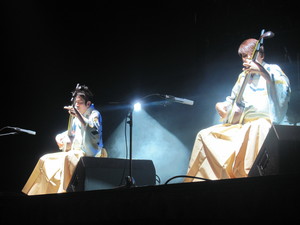 Otakon is known for trying to branch out beyond just anime-themed guests and into the realm of Japanese modern and traditional culture. This year the guests included fashion designer h. Naoto and "Kawaii Ambassadors" founder Takamasa Sakurai. In 2008, Otakon hosted Kaishi Katsura, a Rakugo (traditional storytelling) performer. Many of Otakon's past musical guests have no anime ties at all. So it wasn't much of a surprise when this year, one of Otakon's main musical guests was The Yoshida Brothers – a shamisen-playing duo known in America for their music used in the "Wii Will Play" commercials.
The Yoshida Brothers played in the Main Events Hall, which was surprisingly packed to capacity. Dressed in traditional kimono, the brothers arrived on stage to loud cheers – which would only become louder as the concert went on.
The duo kicked off their concert with a version of the song "Kodo," the one used for the Wii commercials. Interspersed throughout the song, to sound off each change in the music, was a short yell similar to the ones used in a Taiko drum performance. They were to do this throughout most of the other songs in the performance. The two also frequently used their instruments as percussion, banging their ginko-shaped bachi against the soundbox (usually made of dogskin) with each pass against the strings, a trademark of their style of shamisen, Tsugaru.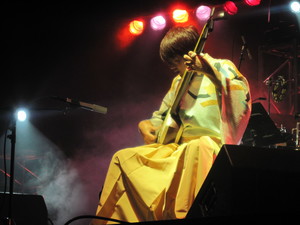 The shamisen proved to be an eclectic instrument throughout the concert. At times it sounded like a banjo, at others a classic guitar, sitar or even an electric guitar. The Yoshida Brothers managed to transcend "traditional" conceptions of what a shamisen should sound like. The brothers, accompanied by a skilled percussionist, managed to pull off blues, rock, traditional Japanese and experimental throughout their set.
After the fourth song, Ken'ichi, the younger brother, introduced himself and said that today, the audience will see which brother is better. He then launched into a lengthy solo titled "The End of the World," which demonstrated his skills. His fingers flew across the strings, and the audience cheered for every difficult phrase. Not to be outdone, the older brother, Ryōichirō, then took the stage and wowed the audience with his own solo, "Saiun," which featured a fantastic quick-fire back-and-forth between Ryōichirō and Ippiki, the percussionist. After the song was over, Ryōichirō declared "I am the older brother and I am better, right?" to more cheers from the audience.

As the cheers got louder after the end of each song, it was clear The Yoshida Brothers were a huge hit. After their final song (a song from the traditional repertoire titled "Tsugaru Jongara-Bushi"), the audience clamored for an encore. Ken'ichi and Ryōichirō took the stage again for one last song, the Wii commercial version of "Kodo," to the obvious delight of the audience.



---
---
discuss this in the forum (3 posts)
|
back to Otakon 2010
Convention homepage / archives