FanimeCon 2011
by Evan Miller,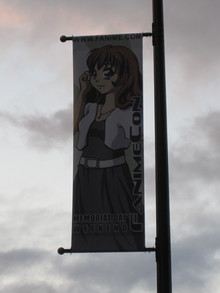 Ten years ago, FanimeCon - Northern California's largest anime convention - was at a crossroads. The convention experienced growing pains as it shifted from college campuses to hotels and convention centers in a short amount of time. For a while, the convention seemed as if it was doomed to bounce from weekend to weekend, being held as early as February or as late as June somewhere in Silicon Valley.
Today, the convention celebrates its eighth year at San Jose's McEmery Convention Center on Memorial Day weekend. As convention attendance continues to grow and FanimeCon banners line the streets of downtown San Jose, the convention has become an institution of California anime fandom. Even though growth has brought new faces to the convention floor, a lot of the programming that makes the convention special, such as the fandub showcase Midnight Madness and the appearance of the Bay Area's strong yaoi fanbase, remains the same as it was ten years ago.
Throughout the weekend, we'll be bringing you daily reports from the show, giving you a look at the panels, the cosplay, and any other crazy/questionable moments worth covering. Stay tuned!
---
this article has been modified since it was originally posted; see change history