×
remind me tomorrow
remind me next week
never remind me
Subscribe to the ANN Newsletter • Wake up every Sunday to a curated list of ANN's most interesting posts of the week.
read more
New York Comic-Con 2011

Aniplex of America Panel

by Crystalyn Hodgkins,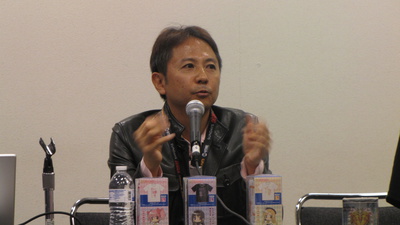 Marketing specialist E.J. Rivera hosted the Aniplex of America panel, which was completely packed with standing room only. The panel kicked off with a reel showing clips from various Aniplex properties, such as Blue Exorcist, Read or Die, Fullmetal Alchemist: The Sacred Star of Milos, Durarara!!, Welcome to THE SPACE SHOW, Baccano!, Puella Magi Madoka Magica, Guin Saga, Fate/Zero, Persona 4 The Animation, Gurren Lagann, Star Driver, and others.
Rivera first introduced Koichiro Natsume, President and CEO of Aniplex, who was present at the panel. He also introduced Hideo Katsumata, who was the Executive Producer of Blue Exorcist. Katsumata would later speak at the panel about the show.
Aniplex then discussed shows that are streaming now. The first show was Blue Exorcist. The entire 25-episode series of Blue Exorcist is currently streaming on Crunchyroll, Crackle, VizAnime, Hulu, and ANN. Volumes 1-4 of the manga are also available.
Next Aniplex mentioned that new episodes of Star Driver are streaming every Wednesday on Crunchyroll, Hulu, and Crackle. In addition, the entire series of Oreimo is streaming on Crunchyroll, Crackle, and Hulu.
Rivera then showed an Adult Swim trailer for Durarara!!, which is airing on Saturday nights at 12:30 a.m. and 4:30 a.m. Next Aniplex went through Blu-rays it has available right now. The Rurouni Kenshin: Trust & Betrayal OAVs and The Reflection OVAs are currently available, and the Rurouni Kenshin film will be released on October 26.
Aniplex then moved on to titles coming soon. Rivera showed a trailer for Oreimo, then added that Oreimo will be released in a DVD set on October 18. It will come with the entire television series and four OVAs, a double-sided poster, 16 post cards, and a booklet.
Next Aniplex showed a trailer for Blue Exorcist. The series will be released soon on DVD in four parts. The first volume comes out on October 18, the second volume will be released in January, the third volume will be released in April, and the fourth volume will be released in July.
Rivera then brought up Katsumata, who talked a little bit about Blue Exorcist. Katsumata, who spoke in English, mentioned he was also the producer of Rurouni Kenshin and Fullmetal Alchemist. Katsumata mentioned the new Rurouni Kenshin anime project, and said he hoped that fans would go see the Fullmetal Alchemist: The Sacred Star of Milos film.
Aniplex asked Katsumata a few questions about Blue Exorcist. During that Q&A, Katsumata revealed that the Blue Exorcist anime was born from when one animator drew a sketch of Blue Exorcist and put the sketch up on the company's image board. Everyone was inspired by that one sketch, and many animators in the company wanted to adapt the manga. Katsumata also mentioned that the character Celty from Durarara!! shows up in the last episode of Blue Exorcist. He also mentioned that a Blue Exorcist PSP game was coming out in Japan, and there will also be a theatrical film for the series. Katsumata could not give any more information about the film, but said he would be willing to take suggestions about what fans want from the film. Katsumata also mentioned his favorite Blue Exorcist characters are Yukio and Rin.
Blue Exorcist will be screening at NYCC on Friday, and Aniplex is also hosting Blue Exorcist cosplay gathering on Friday. Next Aniplex showed a trailer for Fate/Zero. Fate/Zero is currently streaming on niconico.com every Saturday for one week, then it will be streaming on Crunchyroll. Aniplex will be screening the first episode at NYCC.
Next Aniplex showed a trailer for Puella Magi Madoka Magica. Afterward, Rivera announced the release dates for the series. The series will be released in three volumes. The first volume will be released on February 14, the second will be released on April 10, and the third will be available on June 12. There will be a limited-edition box for the series as well, which will include a Blu-ray, DVD, and original soundtrack disc. Regular editions will be available on DVD and Blu-ray as well. Pre-orders for the series will start on October 17 on Right Stuf only. Aniplex is hosting a screening of the first three episodes of Puella Magi Madoka Magica on Friday, as well as a cosplay gathering for the series.
Rivera also announced some of the cast members for Puella Magi Madoka Magica. Sayaka Miki will be played by Sarah Williams, Kyubey will be played by Cassandra Lee, and Madoka Kaname will be played by Christine Marie Cabanos. Due to time constraints, there was only time for a couple audience questions. Of those questions, one attendee asked Katsumata what was his favorite series to produce, and Katsumata said that while he liked them all, Rurouni Kenshin may be the most memorable for him because it was his first with Aniplex.
Aniplex then held a raffle, and Rivera gave out Puella Magi Madoka Magica and Blue Exorcist merchandise.
---
discuss this in the forum (2 posts)
|
back to New York Comic-Con 2011
Convention homepage / archives