San Diego Comic-Con 2011

Comics Arts Conference Poster Session: Manga

by Carlo Santos,
Various scholars gathered together at Comic-Con's Comics Arts Conference to present the results of their academic work, with manga studies represented by George Tsouris of Touro College and Kotaro Nakagaki of Daito Bunka University.

Tsouris' thesis focuses on the works of Yuichi Yokoyama (New Engineering, Travel), an artist whose manga pushes the boundaries of abstraction. Tsouris pointed out that Yokoyama strives to "take the human [aspect] out of manga," resulting in stories that, in a way, have no story at all. Yokoyama's work is characterized by sequences of events but no specific plot, thus emphasizing the journey rather than the destination.
A striking aspect of Yokoyama's work is the lack of dialogue, or minimal dialogue that only serves an ornamental role. In fact, sound effects are the most crucial text component in this type of manga, with entire sequences punctuated by nothing but onomatopoeic sounds. Yokoyama also integrates sound effects into the artwork more deeply than the typical "draw the art, then write over it" approach of more mainstream manga.
Yokoyama's background as a fine artist and graphic designer is what has led him to create manga in this way. The artist himself has said, "narrative isn't important to me," a fact that is reflected in the de-emphasis of characters or plot in his work. Often times it is inanimate objects, machines, and scenery that are part of this "neomanga" world.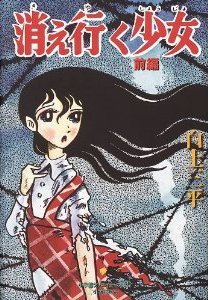 Kotaro Nakagaki, an associate professor at Daito Bunka University, presented a cross-section of World War II manga that may not be familiar to US audiences.. Among these is Sanpei Shirato's A Vanishing Girl (1959), about a young girl who survives the Hiroshima bomb but experiences a difficult isolation after losing her family. Nagagaki pointed out how Sanpei's work tackles social issues such as discrimination, racism, and poverty, with a Korean-Japanese character in the story emphasizing the racial issue. At the same time, this late-50's work was also one of the forerunners of the "tragic heroine" type of shojo manga.
Even among Japanese readers, this part of Shirato's work was not well known—it was only reprinted in 2003, having been overshadowed for decades by his 60's ninja series The Legend of Kamui.
Also highlighted in Nakagaki's study is At the Corner of This World (2009), the most recent work Fumiyo Kōno (best known for Town of Evening Calm, Country of Cherry Blossoms). Despite being a contemporary manga, At the Corner of This World also looks deep into postwar issues. The story focuses on a young female protagonist who moves from Hiroshima to the nearby town of Kure just before the war, and keeps in touch with her family by writing letters to them. This story retains a slice-of-flavor even with the dramatic events going on around the characters.
By calling attention to titles like these, Nakagaki hopes to broaden our knowledge of wartime and postwar manga. Often, manga discussion about the Hiroshima bombing begins and ends with Barefoot Gen, but this is only one viewpoint, and the stories mentioned above offer something new with their female lead characters and different story approaches. Although there are still many gaps in World War II manga that has been licensed and translated into English, Nakagaki says that "American readers are very lucky" to be able to read both classic and contemporary manga today.
---
back to San Diego Comic-Con 2011
Convention homepage / archives