New York Comic-Con 2012

JManga Panel

by Crystalyn Hodgkins,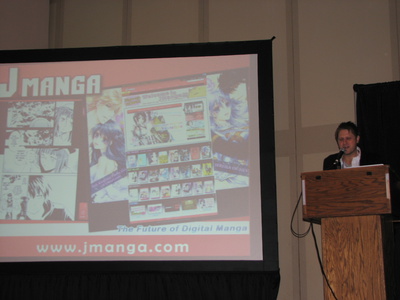 Robert Newman hosted the standing-room only panel on Saturday afternoon for JManga. Newman started off the panel by giving away 5,000 points for the website to the audience member who could scream "yomitai" (I want to read) the loudest.
Newman then introduced JManga, which is a collaboration between 40 Japanese publishers to publish manga in English online worldwide. At JManga, users can buy individual volumes of manga. Currently, JManga has more than 500 volumes, and many of the volumes are available worldwide. The average price of each volume is US$4.99. A sister site, JManga7, just launched this month. The JManga7 site updates with new manga chapters seven days a week. Currently there are 40 series available, and all the series are available for free. The most current chapters for these series are accessible for US$5.99 per month. Newman said the company plans to add 40 more titles within the next two months to JManga7, and that JManga7 is also available worldwide.
Newman then gave away a one-year subscription to JManga7 to the audience member who was able to jump up and down and scream "nana" (seven) the loudest.
JManga recently just launched an app that includes both JManga and JManga7 content in one app. The app is currently available only for Android devices. Newman acknowledged that the Android app is currently having some issues, but they are working as fast as they can to fix the issues. An iOS app that will have content for both sites in one app is coming very soon.
Next, Newman talked about JManga's recently-acquired titles from Kodansha. The titles are Code:Breaker, Pastel, Princess Resurrection, Pumpkin Scissors, School Rumble, and The Yagyu Ninja Scrolls. JManga will be finishing all these titles, and so the company will release volumes past what Del Rey had previously released.
Newman then announced new titles for the site. The new titles are as follows:
Fairy Navigator Runa by Miyoko Ikeda and Michiyo Kikuta
Yozakura Quartet by Suzuhito Yasuda
Gakuen Prince by Jun Yuzuki
My Heavenly Hockey Club by Ai Morinaga
If You Wanna Destroy the World (Omae ga Sekai o Kowashitai Nara) by Kaoru Fujiwara
My Sweet Dragon by Yuuka Sakaki
Yasuko and Kenji (Yasuko to Kenji) by Aruko
Elemental Gelade by Mayumi Azuma
Aoi Hana by Takako Shimura
Neko Ramen by Kenji Sonishi
Additionally, Newman announced that Cousin by Ryo Ikuemi will also be launching on JManga7. Newman also discussed both Pride by Yukari Ichijo, and Crazy for You by Karuho Shiina, which are two shojo titles that was recently posted on JManga7.
Newman then gave away a copy of the And Yet the Town Moves television anime series to the audience member who screamed "mitai" (I want to watch) the loudest. He hen talked about JManga's Manga Translation Battle. The Manga Translation Battle was a contest held earlier this year for aspiring manga translators to try out translating different manga for JManga such as Chocolate Cosmos. The winner will receive a trip to Japan and the runners-up will get iPads. Currently, JManga is going through the submissions and lettering them to put them up on the company's Facebook page for fans to vote on the best one.
Newman then gave away two Sore Machi/And Yet the Town Moves drama CDs, and then launched into a Q&A session.
When asked why Junjo Romantica is listed on the site but no volumes have ever been posted, Newman said that Junjo Romantica was added to the site purely for informational reasons and to gauge interest in the series. He explained later that many Kadokawa Shoten series are listed on the site, but are listed for informational purposes only. If fans want the manga or any other Kadokawa Shoten series to be posted onto the website, then they can e-mail Newman at [email protected] and request that title, and then Newman will see what he can do to talk to the publisher to get it.
When an audience member asked about publishing Chihayafuru, Newman said he'd love to release that title, and if fans want it to be added to the website, to e-mail him and he'll see what he can do.
When asked about releasing titles in print, Newman said that he knows that fans do want their titles to be released in print, but currently JManga doesn't have anything concrete that it's pursuing right now. When asked about releasing Tokyopop titles, Newman said that JManga is releasing both Your and My Secret and Neko Ramen, so the company does plan to release old Tokyopop titles. He added that if fans have any specific Tokyopop titles they would like have added to the site, to please e-mail him to request that title.
Newman then gave away two Nexus 7 devices. He held a dance off to give the first device away, and then he asked everyone to look under their chairs, and the audience member who had a granola bar taped to her chair received the second device. And with that, Newman invited everyone to go to Masakazu Ishiguro's signing session at JManga's booth in the exhibition hall, which was starting right after the panel.
---
back to New York Comic-Con 2012
Convention homepage / archives