Otakon 2012

Kodansha Comics Panel

by Crystalyn Hodgkins,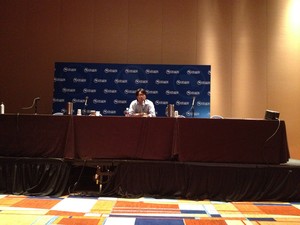 The Kodansha Comics panel was hosted by David Yoo, an editor at Random House. Due to some technical difficulties, Yoo could not use his prepared PowerPoint presentation at the start of the panel. Yoo used to work in Del Rey in the company's manga division, and he started off the panel by giving some insight into how Kodansha Comics makes editorial decisions for its manga. Yoo said he personally believes manga does not need to be heavily adapted for American audiences, as readers have access to a wealth of information nowadays. Yoo said he tries to make sure the original nuance of the Japanese is left intact, and is does not support aggressive adaptation of manga.
Yoo then discussed the Sailor Moon manga, and mentioned how well it has been doing for Kodansha Comicfs, even unseating Naruto. Yoo noted that Kodansha Comics has nothing to do with the upcoming new anime that was announced at the 20th anniversary event at Japan Expo earlier this month.
Yoo said that Kodansha Comics isn't using any other English printing of the Sailor Moon manga as a resource; the company uses the original Japanese manga volumes and do a literal translation from the ground up. Yoo noted that it hasn't been perfect, and Kodansha Comics is aware of that. Yoo said that fans have been very vocal about their criticisms of the manga, but noted that Kodansha Comics does appreciate and considers specific criticism from fans.
The technical difficulties were then fixed, so Yoo started going through his PowerPoint presentation. He mentioned the collector's edition of the Sailor Moon manga and the re-release of the DVDs that are being released in Japan only as part of the 20th anniversary celebration of the series.
Yoo then discussed Shimoku Kio's Genshiken Second Season manga. Kodansha Comics will debut the manga on September 4, 2012. Yoo mentioned that with the second season Kodansha Comics is restarting the numbering of the volumes with number one to signify it is a new series, although in Japan the volume 1 of Genshiken Second Season is numbered as Genshiken volume 10.
Next, Yoo mentioned that Kodansha Comics will debut Ema Toyama's Missions of Love manga in November 2012. The manga revolves around a high school student named Yukina who is secretly a cell phone novelist. Her fans want her to write about love, so she works with the most popular boy in school to try to learn more about love for her novel.
Yoo then discussed Yukito Kishiro's Battle Angel Alita Last Order manga. He noted that the author had switched publishers to Kodansha in Japan, so Kodansha Comics picked up the rights to the North American release. Kodansha Comics decided to release the volumes past what Viz Media has already released. Volume 16 of the series will debut in North America in December.
Kodansha Comics will also release Natsume Ono's Danza. The one-volume manga contains six short stories.
Next up was Hajime Isayama's Attack on Titan manga. Volume 1 of the series is on sale now. Yoo then discussed Ken Akamatsu's Negima! Magister Negi Magi manga. Volume 38, the final volume in the series, will be released in April 2013.
Yu Kinutani and Masamune Shirow's Ghost in the Shell Stand Alone Complex manga was then mentioned. Yoo noted that the manga is released a bit infrequently in Japan. Volume 3 is on sale now.
Next up was Hiro Mashima's Fairy Tail manga. Yoo noted he had fun meeting Mashima at New York Comic Con last year, and how Mashima complained about how good Americans are at video games and how they always beat him so easily. Yoo asked fans to be patient as Kodansha Comics tries to bring out Fairy Tail as fast as possible, mentioning that he hopes to eventually get caught up with the Japanese releases. Yoo noted though that Kodansha Comics works closely with Mashima on the series, so that adds to the time it takes to release the series in North America, but also makes it more accurate.
Kodansha Comics will be releasing the Miles Edgeworth: Ace Attorney manga, which is similar in its presentation and writing style to the Phoenix Wright: Ace Attorney manga.
Yoo then mentioned that Kodansha Comics is releasing omnibus editions of Genshiken, Love Hina, Negima, and Kitchen Princess.
Yoo then announced that Kodansha Comics is releasing an iPhone app. The app will be released on Monday. All volume 1's on the app will be available for two weeks for a discounted price of US$2.99. The app will launch with the following series: Arisa, Cage of Eden, Fairy Tail, Mardock Scramble, Until the Full Moon, Sayonara, Zetsubou-sensei, and Ninja Girls.
Then Yoo launched into a Q&A. He mentioned that Kodansha Comics is looking into Natsumi Ando's (Kitchen Princess) other food manga. Also, the company is still looking into releasing an Android app.
Yoo offered Genshiken, Attack on Titan, and Sailor Moon posters to audience members to end the panel.
---
discuss this in the forum (7 posts)
|
back to Otakon 2012
Convention homepage / archives