Anime Boston 2013

Funimation

by Crystalyn Hodgkins,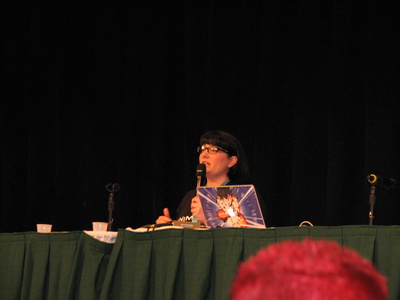 Funimation's convention manager Sully hosted the the company's panel at Anime Boston on Saturday. She started off the panel by talking about the shows currently airing on Toonami: One Piece, Soul Eater, and Fullmetal Alchemist Brotherhood. Justin Rojas then took the stage, took some photos of the audience, and then talked about how Funimation is on Facebook, Twitter, YouTube, Tumblr, Pintrest, and Google+. Rojas noted that once Funimation reaches one million likes on Facebook, the company will make a special announcement.
Sully then noted that Funimation's shows are available for download on iTunes, and content is available on Netflix, Hulu, the PlayStation Network, and Xbox Live. Sully then talked about the Funimation Channel, which will show the network premiere of Freezing later this month. Funimation's shows are also available for streaming on Funimation.com, and right now the following shows are being simulcast: Hetalia, One Piece, Toriko, A Certain Scientific Railgun S, Karneval, The Devil is a Part-Timer, Date A Live, Attack on Titan, and Red Data Girl. Funimation announced last week that it will release Attack on Titan on home video with an English dub.
Next Adam Sheehan talked more about Funimation.com and the Elite Video subscription. Subscribers have access to more videos in general and more videos in HD, as well as the ability to watch shows with an English dub before they are released on DVD and Blu-ray Disc. Funimation also has apps on iOS and Android devices, Kindle Fire, and on Roku.
Sully then mentioned that Appleseed XIII the complete series, Phantom ~Requiem for the Phantom~ S.A.V.E Edition, Birdy the Mighty Decode S.A.V.E. Edition, and Sengoku Basara: Samurai Kings complete collection are available now at Funimation's booth at Anime Boston, but they will all be released officially in June. Additionally, Chrome Shelled Regios S.A.V.E. Edition, Heaven's Lost Property season 2, and Hetalia the Complete Series Classics Edition are coming out in June and July.
Sully then showed trailers for the following series: Tenchi Muyo! War on Geminar (parts one and two are available now), Appleseed XIII (available in June 4), Black Lagoon Roberta's Blood Trail (available on August 6), Lupin III The Woman Called Fujiko Mine (available August 13), and Guilty Crown (available August 27).
Sully then showed a trailer for Future Diary (available August 13) and High School DxD, and announced the dub casts for each of those series. Funimation also showed the previously-announced dub cast list for Eureka Seven AO and Michiko and Hatchin.
Sully then talked about the FUnimation Show, a YouTube web show hosted by Rojas. Rojas then showed a clip from a previous Funimation Show episode where Todd Haberkorn got a Fairy Tail tattoo. Sheehan then revealed that Funimation.com will get a full revamp this summer that will have videos loading faster, will allow users to create playlists, will feature interactive profiles and more, and Funimation will be launching the beta soon. Those interested in participating in the beta should send an e-mail to [email protected]
Funimation then launched into a Q&A, with a caveat image of a whole slew of ground rules about the Q&A, such as: don't ask about if a series is licensed or if a series would get a sequel, don't ask if Funimation will license additional episodes of Case Closed, don't ask about how to become a voice actor, Funimation is currently not looking to hire anyone athough the company is hiring interns, and finally, no, Funimation cannot rent out J Michael Tatum to be your private butler.
Of note, Binbogami ga! will ship this fall, and Funimation is looking at a September release date for the series. Also, the new Funimation.com will run on HTML 5. The reason the new opening for One Piece isn't included in the newest simulcast episodes is because music rights take longer to get, so Funimation had to use an older opening as a placeholder until it could secure the music rights.
---
discuss this in the forum (6 posts)
|
this article has been modified since it was originally posted; see change history
back to Anime Boston 2013
Convention homepage / archives