New York Comic Con 2013

Yen Press Panel

by Crystalyn Hodgkins,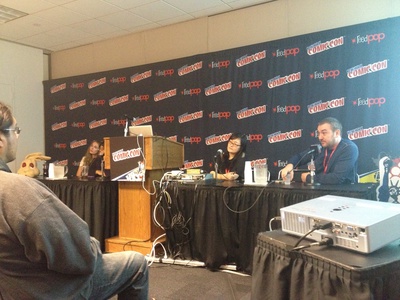 Kurt Hassler (Publishing Director), JuYoun Lee (Senior Editor), Stephanie Lee (Editorial Assistant), Tania Biswas (Assistant Editor), and Abby Blackman (Production Editor) hosted the Yen Press panel on Saturday morning to a standing-room only crowd.
Yen Press started the panel with new manga and manhwa announcements. JuYoun announced the first title: writer JiEun Ha and artist HeeEun Kim's Void's Enigmatic Mansion manhwa. Yen Press is releasing the title digitally simultaneously with its Korean release. The first chapter will be available digitally next week, and new chapters will be available every month. Yen describes the title as follows: "The tenants of Void's enigmatic mansion should be careful what they wish for, because their greatest desires may not always be what is best…" The title will be in full color.
Hassler introduced the next title by asking the audience, "Who likes gender-bending comedy? Who likes inappropriate behavior between brothers and sisters? Well have you come to the right panel!" Hassler said that the next few announcements would mark the first time Yen Press is releasing Kodansha titles. Yen Press will be releasing Haruko Kurumatani's Ani-Imo manga. Yen Press's tagline for the title reads "When sweet and docile Hikaru swaps bodies with her beloved twin brother Youta, her personality does a complete 180, and she starts taking brotherly affection to a whole new level! Will Youta ever get his body back in this cracking forbidden love comedy?!"
JuYoun then announced that Yen Press will release He's My Only Vampire by Aya Shouoto. Yen Press describes the manga as follows: "In this seductive paranormal romance, love has a way of coming back and biting Kana in the…neck!?" The manga revolves around a girl who is really good at sports. But then, she gets into an accident when chasing after a boy she thought was her childhood friend. The boy comes back and saves her, but when she opens her eyes, it turns out he's a true-blood vampire, and he's just made her his slave. Then he only drinks blood from her.
Biswas then announced the next title: Kaori Yuki's Demon from a Foreign Land. Yen Press describes the title as follows: "The Pen of Kaori Yuki, master of Gothic suspense, brings you a dark new period fantasy steeped in black magic!" Yen Press will release the title in hardcover.
Yen Press will also release QuinRose's Alice in the Country of Diamonds ~Wonderful Wonder World~ Official Visual Fanbook. The book will include full-color illustrations, settings from the game, character profiles, creator interviews, event stills and dialogue from all the events in the game. The book will also include a detailed guide to every route in the PSP game. This is the first time Yen Press is releasing something like this. Yen Press is also looking into releasing more artbooks in the future.
Lastly, Hassler announced that Yen Press is releasing writer Ichiei Ishibumi and artist Hiroji Mishima's High School DxD manga. Hassler said that at one panel a fan had said "I want more violence and boobs!" and it stuck with them, and Yen Press likes to let that kind of feedback shape what the company releases.
All the manga titles will debut in 2014.
Hassler then launched into a Q&A.
One attendee asked if Yen Press was looking into digital releases of Square Enix's manga since Square Enix's digital website shut down. Hassler said that Yen Press definitely is looking into it, and those titles will not just get a U.S. release, but a worldwide digital release in English. Yen Press will announce more details soon.
Another attendee asked if Void's Enigmatic Mansion was also getting a print release, and Hassler said yes. One attendee mentioned that Shoulder-a-Coffin Kuro volume four had been released in Japan, and if Yen Press plans to continue the release. Hassler said that they do have plans to continue releasing the series.
Hassler also noted that the Spice & Wolf novels are released three times a year - in December, April, and September, so the 10th volume will ership in December. Hassler also went into detail about light novels in general later on in the Q&A. He said that Yen Press has been supportive of light novels for years, starting with Kieli. Hassler remarked, "I am hugely enthusiastic about the light novel business. They have been very successful for us." Hassler said that he knows it seems to be a common trope in the manga publishing industry that light novels don't do well, but Yen Press has not had that experience. Hassler said there's a huge amount of interest in the market in the United States. He admitted that it can be more challenging to get the books out there, but it is a challenge that Yen Press is eager to undertake. Hassler also mentioned that Yen Press doesn't shy away from long-running series either.
When asked why Yen Press is now working with Kodansha, Hassler said that Yen Press has always had a good relationship with Kodansha. Hassler said, "We wanted to find the right opportunity to work together … it finally just hit that right spot where it all came together in this universal alignment where we work together … we hang out with them every time we're in Japan, and this was the right moment to finally start working together. We're absolutely thrilled about it."
Hassler also mentioned during the Q&A that digital is doing fine for Yen Press, and it is still growing. The company is still in discussion for digital rights with publishers in Japan, and some creators don't want to see their works digitally.
When asked about putting the Yen Press magazine on the iPad app, Hassler said that because the agreements are very specific, do not expect the magazine to come to the iPad anytime soon.
Hassler also mentioned that the Sword Art Online and Accel World light novel series will have new volumes shipping three times per year.
JuYoun then mentioned the October releases for Yen Press: the Kingdom Hearts artbook, Watamote, Inu x Boku SS, Another (4-in-1 omnibus), Maximum Ride, and Miss Peregrine's Home for Peculiar Children.
Lastly, Yen Press gave out advanced copies of the first volume of Watamote, the latest volume of Black Butler, and Inu x Boku SS coasters to the audience to end the panel.
---
back to New York Comic Con 2013
Convention homepage / archives