News

ReLIFE, Shuriken and Pleats, Children of the Whales Manga Win France's Mangawa Award

posted on by Jennifer Sherman
The official website for France's "Mangawa" award announced at the beginning of the month that Yayoiso's Relife, Matsuri Hino's Shuriken and Pleats, and Abi Umeda's Children of the Whales (Kujira no Kora wa Sajō ni Utau or Les enfants de la baleine) won the 2017 awards for the shōnen, shōjo, and seinen categories, respectively.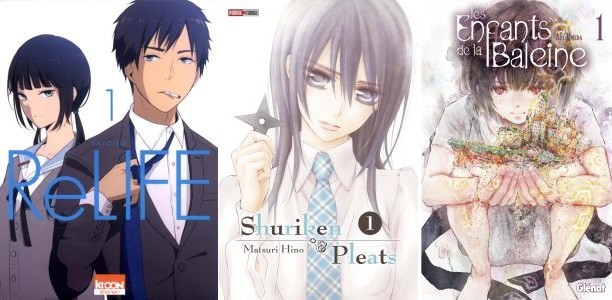 French bookstore L'ange Bleu began holding the awards in 2005 in order to introduce students to high-quality manga titles from the previous year. About 11,000 middle school and high school students voted on the results this year via their schools or local libraries.
Other nominees in the shonen category included Kachō Hashimoto's Arbos Anima, Kawada's Hinomaru Zumo, Naoshi Arakawa's Sayonara Football, and Hiroko Nagakura's Yami ni Koishita Hitsuji-chan (Sorcière et ténèbres). In the shōjo category, the other nominees were Kyousuke Motomi's QQ Sweeper, Rei Arai's Yotabanashi (Desparate Housecat), Natsumi Aida's Kengai Princess (Ugly Princess), and Kanoko Sakurakoji's Last Notes. The other seinen nominees were Takashi Morita's Aventurier - Shinyaku Arsène Lupin, Kenichi Kiriki's Tokyo Shutter Girl (La photographe), Mi Tagawa's Chichiko Gusa (Père & fils), and Qiang Guo and Ze Zhao Fei's Le sixième Dalaï-Lama.
Last year's winners were Yoshitoki Oima's A Silent Voice (shōnen), Ichigo Takano's Orange (shōjo), and Hozumi's Les deux Van Gogh (seinen).
Source: Anime! Anime! (Katsunori Takahashi)
---