New media, new horizons, and a new video player
by Justin Sevakis,

Ten years ago this month, I registered a domain called animenewsnetwork.com.

That's a long time. Suffice it to say, it's been quite a decade. Anime News Network is now the #1 dedicated anime content website in the world. In any language. And we have you to thank.

Now, as the first part of our 10th Anniversary celebration, we're proud to present...
Anime News Network Video Player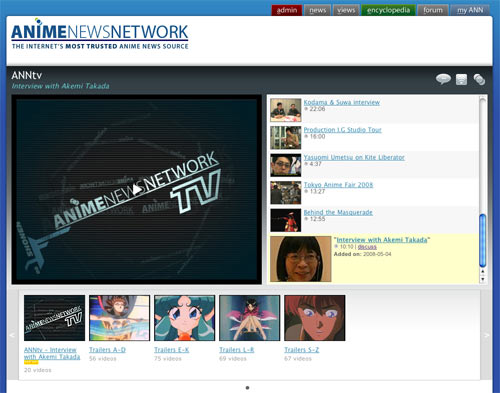 The ANN Video Player is also one central place to see all the anime trailers, all the issues of ANNtv, and in the very near future, actual anime series. We're using h.264 video for top quality, and distributed server networks to ensure seamless performance. It's all free and advertising supported. (Please note that you may need to update your Flash player.)
The entire venture is supported by video ads. For trailers and ANNtv, every ad you watch will help offset our costs. We hope a few seconds of your time isn't too much to ask. Within the anime series will be ads in the same places as in Japanese TV broadcast (albeit fewer of them). Every anime with ads you watch helps pay the producers, which helps everybody, so we hope you'll spend a lot of time watching.
Subscribers won't be able to avoid the ads, but will get access to a higher quality -- about DVD quality -- video stream.

If you see a trailer or promo for a show you want to see more of, the built-in price comparison guide will help you make a decision, offering prices from up to six of the top online e-retailers. We'll automatically select the cheapest one for you.
We hope you'll catch up on all the trailers series you don't know, and revisit some of the ones you remember from years past. (We launch with over 260!) Tell your friends! The traffic we get will help us bring you more video content in the coming months.
You can access the player at any time from any page on the site using the new VIDEO tab at the top of each page. We'll soon add video highlights to the front page, and have dedicated index pages as well.
This is but a small start to many exciting new video features we have planned. We have much, much more in store, both for the player and in general. It's an exciting time, and we're happy to have you with us.
Here's to at least another ten!
Justin Sevakis
Director of New Media
Anime News Network
---
discuss this in the forum (60 posts)
|
this article has been modified since it was originally posted; see change history