Tokyo Anime Fair 2013 Blowout: Complete Coverage
by Simona Stanzani,

This year's Tokyo International Anime Fair (TAF) started in a very subdued tone on Thursday 21st, the first of the two business days. Of course it is always emptier on business days compared to public days, but this year it felt even emptier than usual. Since the schism caused by the controversy between ex-Governor Shintaro Ishihara and the major manga publishers, and the subsequent birth of rival Anime Contents Expo (ACE)–held on the next weekend (this year on Sat. 30th and Sun. 31st of March)–TAF has lost most of its glitz and appeal, especially for the general public. Even from the business point of view it has seen livelier days, but let's see what each company has got in store this year.
---
ShoPro
Ishihara's departure from office has probably had some effect on the publishers' boycott (though the current elected Governor is actually his right-hand man) because the manga adaptation anime scene looks much more robust than last year. ShoPro, short for Shogakukan-Shueisha Productions Co. Ltd, is promoting the Pokémon franchise with big cut-outs of the current TV series Best Wishes and Pokémon the Movie: ExtremeSpeed Genesect : Mewtwo's Awakening that will be in theaters on July 13th in Japan. Also present were posters for a Zoids Blu-ray box that goes on sale on August 2nd, and a TV anime series based on the manga Chibi-Debi (from Hiromu Shinozuka's shōjo manga), Duel Masters Victory (Shigenobu Matsumoto), Danchi Tomoo (Tobira Oda) and Mushibugyo (Hiro Fukuda) all scheduled to go on air in April. They are also giving away a very nice Mushibugyo booklet with color illustrations and a manga excerpt.
---
Toho
Exhibiting next to Sho-Pro, under a towering inflatable Detective Conan and Pikachu, Toho goes all out to promote Conan's new animated movie Private Eye in the Distant Sea, hitting the theaters on April 20th–with a huge ship-shaped booth and real-size cut-outs of the main cast. They even sell  presale movie tickets on the spot. Even on business days, TAF has started to look more like a shopping mall than a trade fair.
---
Tezuka Productions
This year Tezuka Productions celebrates the Astro Boy TV anime's 50th Anniversary with a small but priceless exhibit of Tezuka's original manga drawings and color illustrations, anime cels and character sketches, all guarded by a giant inflatable Atom flying high in the sky–well, actually hanging from the ceiling. Opening sequences from the 1963, 1980 and 2003 series are shown on TV screens, but aside from a poster stating that the animated movie Tezuka Osamu's Buddha 2 is in the works, no new anime in sight.
---
Production I.G
Just like the previous year, animation studio Production I.G has a very small presence, and only on business days; the booth has posters and leaflets–in English only–about new and old works, from the film Cyborg 009 3D (2012) to Ghost in the Shell 2: Innocence (2004) passing by Musashi (2009) written by Oshii and a big TV screen showing the production reel. This year they also handed out a leaflet about Anime Mirai's four projects: Juju, Shiranpuri (Pretending Not to See), Wasurenagumo (Li'l Spider Girl) and Buta.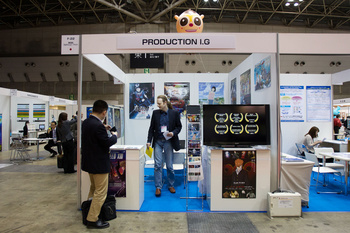 ---
Toei Animation
Shōnen Jump's great heroes are staging a big comeback escorted by an impressive flying dragon to promote Dragonball Z's upcoming animated feature Battle of the Gods. Aside from Luffy, Goku and Toriko's life-size figures, on the right hand side of the booth we find One Piece's Trafalgar Law and Saint Seiya Omega's Kōga as well. Toei is also promoting Pretty Cure All Stars 2: Kokoro no Tomodachi, the movie that just hit theaters, Seiji Mizushima's upcoming movie Rakuen Tsuihō (Expelled from Paradise) and Buddha 2 with posters plus Tanken Driland, Ashura, Kyousogiga and Saint Seiya Omega with posters and videos. But that's not all! In the back we'll find Pretty Cure All Stars' amusement park (well, ring toss game corner) where you can test your ability at throwing rope rings.
---
Leiji Matsumoto Exhibition
This TAF is a flurry of anniversaries; Leiji Matsumoto celebrates his 60th anniversary as an illustrator with a wonderful art show of his color works. Unfortunately it is not possible to take photos of the exhibits.
---
World Cosplay Summit has a booth too, promoting the event with big beautiful pictures signed by specialized magazine Cosmode and a brochure highlighting the history and the growth of WCS and the rising popularity of cosplay in the world. Incidentally, this year during the two public days TAF will have a Cosplay area for the first time–in the past it was forbidden to cosplay for visitors, the only costumes you could see were on models and promotional staff working for the booths.
---
One thing that caught my eye was the presence of Princess Mononoke's theatrical play's Japanese flyer on a solitary rack in a quiet area of the show. It's by the English company Whole Hog Theatre that will perform in Tokyo from April 29th to May 6th. It's probably the first time that a foreign company has performed a play based on an anime film in Japan, and it is actually the first time that Hayao Miyazaki gives permission for a play based on one of his works.

---
Food Court
This year the two food courts are really special; there is traditional Japanese food (which comes in a ceramic pot! It's quite heavy to carry home) and the usual fast food, but also a big surprise: Gundam Café debuts at TAF complete with Gundam Seed cosplayer on the side! The menu is limited, but for a quick bite, it's more than enough.
---
Photo Credit: Christopher Jue/Nippon News
---
discuss this in the forum (28 posts)
|
this article has been modified since it was originally posted; see change history