×
remind me tomorrow
remind me next week
never remind me
Subscribe to the ANN Newsletter • Wake up every Sunday to a curated list of ANN's most interesting posts of the week.
read more
Tokyo Anime Fair 2013 Blowout: Part II
by Simona Stanzani,

Bandai / Bandai Visual / Sunrise
This year Bandai and Sunrise are very busy promoting Tiger & Bunny and Gintama's new movie, which will be in the theaters on July 6th. Among the stars of the show, Gundam Unicorn's 6th installment, currently enjoying an exhibition at the Gundam Front museum space until April 1st. A big video screen in front of the booth is showing trailers of their production, spanning from new to old, and inside the booth big posters advertise the latest works.

Gundam UC and Code Geass: Akito the Exiled 2 (expected in the theaters this Summer) and Oz The Reflection (Code Geass : Sōbō no Oz) also boast trailers on big screens. The Gundam franchise takes up a big corner (very aptly named "Legend of Gundam") with mecha figures and a gashapon machine on display plus a dedicate show reel. Tired of big robots and all the fighting? No problem, Aikatsu! (short for Idol Katsudō, literally "Idol Activity") is coming to the rescue with its cute idol girls anime based on the popular trading card game.

Yamato 2199 has got its corner with mecha models too.

Overman gets its little art show, exhibiting the original illustrations by Kenichi Yoshida, Akira Yasuda, Kinu Nishimura and Eiji Nakata drawn exclusively for the Blu-ray box. Adding to this year's TAF anniversaries galore, Sunrise's classic masterpieces celebrate their 30th birthday as well: Dunbine, Vifam, Votoms and Crusher Joe's corner brings back nice memories. Among the new stuff, Valvrave the Liberator and Karneval are highlighted with big plush dolls and oversized action figure, trailers and a gashapon machine. Phi Brain has a prime seat next to Gintama's movie while Battle Spirits and School Idol Project share a corner too. Finally, Katsuhiro Ōtomo, Shuhei Morita,  Hiroaki Ando and Hajime Katoki's near-secret short animation joint project Short Peace's poster announces it will be in theaters on July 20th.


---
Tiger & Bunny
Just when you thought you had your Sunrise/Bandai fix for the whole year… think again! Tiger & Bunny have got their own booth, promoting "wildly" their new movie The Rising, slated for this Autumn! A real-life size replica of their bike and cut-outs of the heroes welcome you to the show. Inside you get to see everything a T&B fan would ever dream of: action figures, a videogame corner where you can have a go at Hero's Day–the new game that just went on sale on the 20th of March–glasses, watches, backpacks, even cosplay costumes courtesy of Bandai Fashion Net. Sunrise seems very keen to promote the series abroad as well.
---
Like Sho-Pro and Toei, Pierrot is enjoying the apparent end of the publishers' anti-Ishihara embargo and Naruto comes back to grace the booth together with Kingdom on one side, escorted by cute character Pikku, a red raccoon dog who's getting his own anime this year, while Shirokuma Café beckons us in the other. Inside the booth there is a mini Creamy Mami exhibition, celebrating her 30th anniversary, with posters and merchandise on display.
---
Guess what? TMS celebrates Cat's Eye's 30th Anniversary this year, with a memorial DVD box and historical cast autographs on display. Lupin and Fujiko are still omnipresent, and Kamisama Hajimemashita gets a big space to exhibit some anime drawings and merchandise. Bakumatsu Gijinden Roman, Fuse and kids movie Hanakappa are well promoted too. On the opposite side of the booth, we find Panda! Go, Panda! (who–guess what?–is celebrating its 40th anniversary!)'s merchandise and Cardfight!! Vanguard's corner.
Inside the booth there is also a big panel about Suraj, "India's New Kyojin no Hoshi"–probably the first anime about cricket ever produced!
---
TBS is the MVMP (most valuable moe provider) of the show with their usual impressive lineup: ToLOVEru Darkness, Chūnibyō demo Koi ga Shitai!, Photo Kano, My Teen Romantic Comedy SNAFU, Rozen Maiden and Tamako Market are well represented by trailers, tapestries, a B4 poster set and graphig.
---
King Records has got a small booth but great works on show, upcoming Flowers of Evil (Aku no Hana) TV series based on Shūzō Oshimi's fantastic manga, then 2012 titles K, Say "I love you" (Suki-tte Iina Yo), Kokoro Connect, Joshiraku, Mysterious Girlfriend X, providing a show reel and English leaflets about their whole anime and musicians catalogs.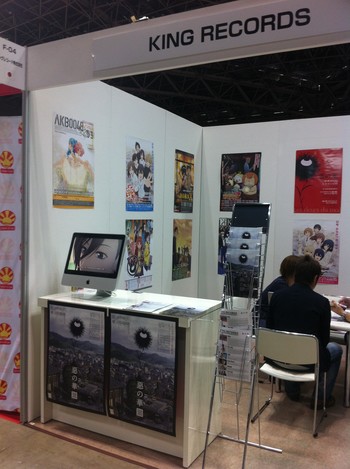 ---
Nippon Animation's booth is a bit empty, with no new anime to show but a lot of lovely Rascal merchandise new for 2013: plushies, pens, bags, together with other cute characters like Chibi Maruko-chan and English leaflets of their works Anne of Green Gables, Rascal, From the Apennines to the Andes, Perrine Story, The Adventures of Tom Sawyer, Dog of Flanders and Little Princess, now all digitally remastered in HD.
---
Photo Credit: Christopher Jue/Nippon News
---
discuss this in the forum (28 posts)
|
this article has been modified since it was originally posted; see change history
back to Tokyo Anime Fair 2013 Blowout: Complete Coverage
Feature homepage / archives