×
remind me tomorrow
remind me next week
never remind me
Subscribe to the ANN Newsletter • Wake up every Sunday to a curated list of ANN's most interesting posts of the week.
read more
What's A Light Novel?
by Kim Morrissy,

Light novels are some of the most common sources of anime adaptations today. While light novels have served as a basis for anime for many years (think of titles like Slayers and The Record of Lodoss War), they have become institutionalized over the last decade or so. The rise of light novel adaptations reflects a broader trend in the anime world to cross-promote franchises across multiple media platforms. This is known as the "media mix" strategy, and it is essential for understanding the business side of anime.

This article is by no means an exhaustive overview of the Japanese light novel industry, but it should give you a general overview of where light novels come from, who writes and publishes them, and how anime fits into their overall marketing strategy.




What's the Difference Between Light Novels and Regular Novels?
It's essential to address any possible misconceptions about light novels from the outset. The definition of light novels is fraught with complications; even Japanese readers get confused by this question.
The typical distinguishing traits of light novels are that they are short (usually around 300 pages per volume) and contain manga-style illustrations. However, many regular novels have manga-style illustrations, while some light novels don't have illustrations at all. In addition, some light novels are absolute doorstoppers in size and density (e.g.
Horizon in the Middle of Nowhere
). When it comes to light novels, you'll find exceptions to every rule.


Not-so-light novels (
Photo source
)
So how do you know when a light novel is a light novel? A primary indicator is the book's "label," which is the imprint owned by a larger publishing house.
Kadokawa
and
Kodansha
publish books of all descriptions, but they also own a number of light novel labels that target different tastes and demographics. For example,
MF Bunko J
has a reputation for harem romcoms, while Kadokawa Beans Bunko titles are aimed at girls—both labels are owned by Kadokawa.
In other words, light novels are defined less by a distinct literary style or genre and more by their branding and marketing. This becomes clear when you look at the medium's history. The term "light novel" was apparently coined by Keita Kamikita around 1990. Kamikita was the system operator of an online sci-fi and fantasy forum; he observed that the sci-fi and fantasy novels that had emerged from the major publishing houses since the 1980s were also attracting anime and manga fans because they featured illustrations by famous manga artists. He consciously avoided using established terms such as "young adult" because these novels did not appeal to one particular demographic. To him, light novels were not pure genre fiction; they were the product of a media mix strategy.

The Media Mix Strategy

Light novels don't exist in a vacuum. It is impossible to ignore all the manga, anime, games, and other media products that are tied up with them. No single company has been more successful in marketing light novels in this fashion than
Kadokawa Shoten
. While it would be wrong to say that they invented the modern light novel media mix strategy (as some histories have claimed), they were certainly trendsetters right from the early days.
Kadokawa was first established in 1945 by Genyoshi Kadokawa. Under his direction, the publishing house developed a reputation for high-brow paperback literature. Things changed, however, when Genyoshi died in 1975 and his son Haruki took the helm. Haruki refashioned the company's paperback novels to resemble the style of American paperbacks—in other words, disposable entertainment-based literature. At first, he achieved this by publishing translations of American novels, capitalizing on the publicity generated by the film versions, although the company quickly branched out into in-house film adaptations of their own novel lineup. The aim was to use the films themselves as advertisements for the novels, and the novels as advertisements for the films.
Your average light novel anime adaptation today follows the same principle. A light novel series typically experiences a spike in sales after an anime airs, which gives publishers an incentive to invest in costly anime adaptations even if the show itself fails to recoup its production costs. For example, the
Is It Wrong to Try to Pick Up Girls in a Dungeon?
series (which is published by
SB Creative
, the publishing branch of
SoftBank
) sold over one million print copies in 2015, easily justifying the anime investment. In an industry where print and disk sales are contracting across the board, the media mix strategy functions as life support.


Thanks for investing in the anime industry, SoftBank!

Who Writes These Light Novels?
Light novels have a (not entirely undeserved) reputation for being mass-produced and disposable. The authors are like faceless entities, churning out one book after another in order to feed the machine. Some authors take this to superhuman levels.
Kazuma Kamachi
, the author of
A Certain Magical Index
, has published
a novel a month for 24 months
. That takes some serious dedication, to say the least.
Given how stressful the publishing schedule must be, it's not a surprise that the careers of light novel authors tend to be short-lived. Some authors may get lucky and produce consistent hits, but the majority of them do not make a sustainable living through writing light novels.
Because the author turnover rate is so high, the light novel industry actively encourages submissions from new authors in the form of light novel contests. The Dengeki Novel Prize, established in 1994, is easily the most famous of these contests. The contest is held by
ASCII Media Works
, which is owned by—you guessed it—Kadokawa. It receives thousands of submissions every year and has propelled the career of many popular authors, including
Reki Kawahara
of
Sword Art Online
fame.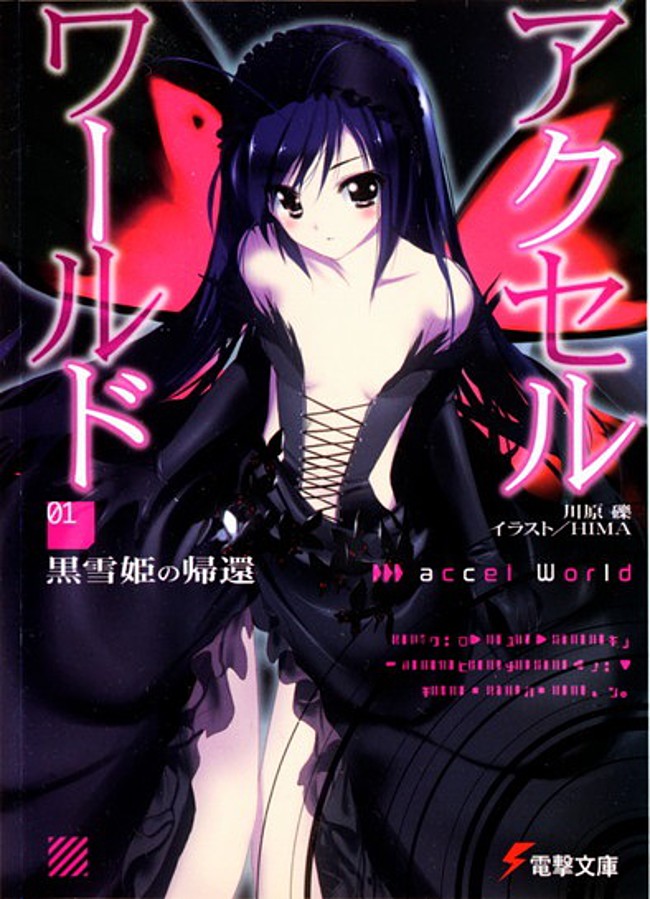 Accel World
by Reki Kawahara won the 2008 Dengeki Novel Grand Prize
It is also becoming steadily more popular these days for light novel labels to publish web novels in print form. Web novels are amateur works posted online, and while they may have an unfortunate reputation for being self-indulgent and poorly written, they do benefit from having an existing readership and a wealth of text to draw regular print releases from. The light novel version is often heavily edited and may even feature an altered storyline, which encourages web novel readers to buy the light novel as well. It's a win-win situation. Some examples of popular web-novels-turned-light-novels-turned-anime include
The irregular at magic high school, Log Horizon,
and
Re:Zero.
In sum, grassroots support from readers is another key component of the media mix strategy. While the established authors pull in the most sales, the constant infusion of new blood into the industry is what keeps the dense publishing schedules sustainable. Even after becoming so commercialized, one could say that light novels and their anime adaptations are created by the fans, for the fans.

Challenging the Kadokawa Monopoly
Kadokawa continues to be the indisputable leader of the light novel industry today. In 2011,
Kadokawa owned 48% of the light novel market
. After Kadokawa acquired
Media Factory
as a brand company in 2013, their share of the male-oriented light novel segment rose even higher. Chances are that Kadokawa or one of its brand companies was involved in the production committee of almost every light novel anime adaptation you can name.

Yet Kadokawa is not the only company that has found success in the light novel world. For example, some of the
top-selling light titles from last year
were published by
Shueisha
's JUMP j-books label. They publish tie-in novels to popular
Shonen Jump
manga, such as
Naruto, Haikyuu!!,
and
Kuroko's Basketball.
Other popular non-Kadokawa labels include
GA Bunko
(SoftBank), Kodansha Ranobe Bunko (Kodansha), GAGAGA Bunko (
Shogakukan
), and Daria Bunko (
Frontier Works
, Inc.).
Some anime companies are also starting to get involved in light novel publishing. For example, the KA Esuma Bunko label publishes the top submissions to
Kyoto Animation
's annual light novel contest. Launching its own light novel label has allowed Kyoto Animation to have greater control over its own finances. While most anime studios are not in a position to replicate Kyoto Animation's model,
Sunrise
has also launched its own
Yatate Bunko label
recently. It's worth keeping an eye on the label to see if any of its titles receive anime adaptations in the future.
Nobody can predict the future, but one thing is for certain: light novels are not going away anytime soon. In today's media environment, light novels and anime need each other in other to thrive. It will be interesting to see how these media forms evolve as the industries become ever more intertwined. Stay tuned!
---
discuss this in the forum (46 posts)
|