×
remind me tomorrow
remind me next week
never remind me
Subscribe to the ANN Newsletter • Wake up every Sunday to a curated list of ANN's most interesting posts of the week.
read more
How Mari Okada Went From Shut-In to Anime Director
by Kim Morrissy,

Mari Okada recently became a topic of discussion when it was announced that she was directing an original anime film at P.A. Works. For many, this news came as a surprise, because unlike most anime directors, Okada has no background in drawing or directing. As a scriptwriter and series composition writer, she's had limited interaction with the audiovisual side of anime production.

Her decision to take the director's helm does make sense, however, when you consider how "authorship" works in anime-original projects. Scriptwriting is largely a collaborative process. Scriptwriters sit at a roundtable with the director, series composer, producers, and other individuals invested in the development of the project, and after everyone exchanges ideas, the scriptwriters commit them to paper. The director ultimately has the last say and must personally approve the script before the storyboarding process can begin.
In 2012, the president of P.A. Works told Okada that he wanted to see a "100% Okada anime." Okada has written original stories for anime before (e.g. anohana and The Anthem of the Heart), but even these were not "100% Okada anime." It was only through becoming a director that she could attain creative control over every aspect of the production.
Still, this doesn't answer the question of why Okada was given this opportunity or how she became a writer in the first place. Fortunately, there's more documentation about Okada's career than ever. In April, Okada published her autobiography, provocatively titled: "How I Went from Not Going to School to Writing anohana and The Anthem of the Heart." The book candidly describes her personal life and how it influenced her writing and career.

Okada's Refusal to Attend School
Okada's biography is a tough read. Her childhood was clearly painful for her, and anyone with severe social anxiety will probably see a bit of themselves in her. Her prose is every bit as piercing as the scripts she writes.
The parallels between Okada's life and her stories are immediately obvious from the opening pages of her book. Okada grew up in Chichibu, the mountainous rural town shown in both anohana and The Anthem of the Heart. Like Jintan of anohana, she refused to come out of her house, unable to deal with the pressures of the outside world. And like Naruse from The Anthem of the Heart, she was brought up by a single mother (her father cheated on her mother and ran away). Okada's refusal to attend school, to play the role of a "normal" child, was always a deep source of shame for her mother.
Okada describes one chilling moment when her mother brandished a kitchen knife and said, "I can't bear having a child like you. I'll kill you." Her mother attacked her, but even as a middle school student, Okada was taller and stronger. She easily restrained her mother, leaving the frail woman in tears. It was the first time Okada has seen her mother cry her heart out, and in that moment she seemed "less like a human and more like a tiny, writhing cow."
After this incident, Okada reflected, rather coolly and dispassionately, that she was the one who drove her mother to that point.
Growing up, Okada was a particularly sensitive child. She was bullied mercilessly in elementary school. Even in those days, she would skip school, although not often enough to be considered a problem child. Even so, she was afflicted with anxiety at the thought that others looked down on her and saw her as a truant. She tried to change her image in middle school, but one day her friends told her: "Stop trying so hard to be someone you're not." She felt outed, as if her entire identity had crumbled, and from then on she stopped attending school.

Okada would spend most of her time confined in her room, reading books and playing video games. "I was a girl in oversized sweatpants who avoided having showers, and my fingers covered in bandages as I slurped on noodles," Okada wrote. "From the side, I must have looked like a hideous monster."
It was Okada's writing skill that managed to get her through school. Even as a middle school student, she had a remarkable way with words. Her teacher once submitted an essay she wrote to a competition, which won her a prize. And despite the long period of her truancy, she managed to pass the high school entrance exams.
Okada failed to overcome her social anxiety even after entering high school. Yet she knew as well as anyone else did that she couldn't stay in her room forever. Nobody had high hopes for her, however. As she was nearing graduation, she was constantly told that she "wouldn't survive in the real world." This only served to deepen her anxiety, but above all she was desperate to leave everything behind. She hated Chichibu, perceiving the entirety of the town as a cage. If she was going to leave her house, she reasoned, she would have to leave Chichibu altogether. Nothing else would do.
And so, she did it. After graduation, she moved to Tokyo and joined the Amusement Media School to study games scenario writing. Somehow, despite her shut-in lifestyle for all those years, she managed to make the move to Tokyo and live by herself. Being in a new environment was a liberating experience for a girl who constantly felt judged by those who knew her, and her life and outlook changed drastically because of it.

Becoming an Anime Writer
Through her game scenario studies, Okada developed a hunger for screenwriting. At first, however, she struggled to find screenwriting jobs. A common way to become a writer in the anime industry is by making personal connections with directors and producers as a production assistant or journalist, but Okada still had her social anxieties. For her, networking was an insurmountable obstacle, not something that could be easily done.
Eventually, she found her start by applying as a writer for a direct-to-video film company specializing in pornography. Her desperation to find a writing job - any kind of writing job - led to her accepting all kinds of unglamorous work. As a freelancer, she was submitted to exploitative working conditions and little pay, and so to make ends meet, she took up a job transcribing interviews for a magazine.
It was through this job that she participated in her first anime script meeting. Her role at the script meeting was simply to type up the series composition writer's handwritten manuscripts, but the director of the anime asked her to contribute some of her ideas for the plot. Okada ended up writing the script for five episodes in total.

The anime in question was DT Eightron, a little-known sci-fi title. But it was through this experience that she came to fall in love with anime writing. And it was the connection she made with the director Tetsuro Amino that kickstarted her career.
Early in her career, when she was only twenty-two, she emailed Amino and pitched an idea for an original anime. She wanted to pour some of her life into an anime. It was the first time she had ever set out to do this as a professional writer, and the resulting pitch was almost completely autobiographical. Called "The World Outside," it told the story of a shut-in girl and her difficult relationship with her mother. The plot was based off a real-life incident when her mother's boyfriend at the time threatened and harassed her.
This was the first time Okada had ever admitted to the darkness of her past, and perhaps it's fitting that she chose to do so through a fictional story. In the end, however, the story never developed into an anime. Amino asked her to understand more of the mother's feelings, and Okada was never able to do this at the time.
"The World Outside" was never released to the public, but it was still an important milestone in Okada's career. By letting an anime director handle a story so close to her heart, Okada became more comfortable with the idea of "coming out" as a truant through her writing. Without that experience, she may never have been able to write her most famous works.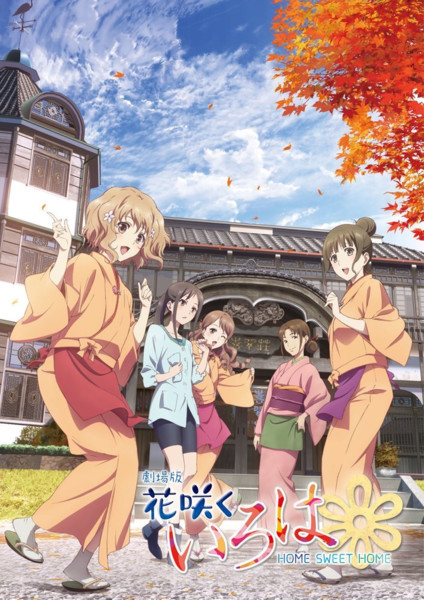 It took many years for Okada to build up the industry reputation to be entrusted with original scriptwriting opportunities. In the early days, the bulk of her work was children's anime and adaptations where she had limited creative control. Even when she was given the chance to write original scenarios, she usually had to answer to producers and the director first. This is typical even for veteran screenwriters.
Eventually, Okada was given an opportunity to freely write scripts for a late-night anime after the original writer dropped out. She also worked alongside director Junji Nishimura to write anime-original scenarios for Simoun and True Tears. The latter would be regarded as a career breakthrough for Okada, and from there she was given more opportunities to express her individuality as a writer.
For Okada personally, one of the most important series she handled was Hana-Saku Iroha, where she was assigned a high degree of creative freedom. As she tried to think of ideas, she reread "The World Outside" for the first time in years. By then, Okada was in her thirties, and at last she felt that she could understand her mother's feelings.
So she decided to write her mother into Hana-Saku Iroha.

In the anime, Ohana's mother is a selfish and irresponsible woman. But Okada was sympathetic toward her, understanding that her own mother wished she could have been a free spirit yet felt constrained by her responsibilities.
The success of Hana-Saku Iroha propelled Okada into fame almost seemingly overnight. But it didn't mend her relationship with her mother, who was always indifferent about Okada's work. When her mother watched Hana-Saku Iroha, she never saw herself in Ohana's mother at all. The only thing she said about the character to Okada was, "That mother is a mess." She had missed the point entirely.
For Okada, writing stories helped her come to terms with her past and begin speaking openly about her truancy as a student. But they couldn't fix her problems. Okada understood that, and kept writing anyway.
anohana and The Anthem of the Heart

At the same time Hana-Saku Iroha was in production, Okada was working on a proposal for anohana, her most personal story of all.
This time, Okada decided to directly confront the theme of truancy with the character of Jintan. After the death of his childhood friend Menma, Jintan shuts himself in his room. This setup was rooted in Okada's own experiences, but she decided against making his situation too much like her own. Jintan couldn't be like her, because if she wrote herself into an anime, that character wouldn't be likable at all.
"The beauty of anime," wrote Okada, "is that it's only a slice of reality." By writing characters with just a bit of harshness and realism, she hoped to make them easy for fans to love and sympathize with.
Some aspects of the production, however, were a bit too confronting for comfort, especially when the production team decided to base the background art on Okada's hometown and even use her house as reference. Okada's objections only caused arguments and delays in the production, and so she eventually gave in and allowed anohana to be set in Chichibu.

In the end, anohana was one of the few projects where Okada had almost complete creative control over the entire story. Even Tatsuyuki Nagai, the director, said that anohana had Okada's fingerprints all over it.
When the series became a huge success, the amount of support Okada received from fans in Chichibu was overwhelming. By the time she and Nagai decided to work together on another anime set in Chichibu, Okada had no more misgivings. Putting so much of her own life into the anime had turned out for the best.

Nevertheless, she decided not to do that again. anohana had been a cathartic experience to write at the time, but this time she didn't want to approach writing so selfishly. She wanted to write a story in collaboration with Nagai, to make it more of a team effort than anohana had been.

Unfortunately, The Anthem of the Heart turned out to be a much more troublesome story to write. Okada and Nagai couldn't agree on anything, and Okada would constantly backtrack on her ideas. As it turned out, the production flowed more smoothly when she focused on writing the scenario in her own style.
Okada thought that she had written the story with some emotional distance, but after seeing the film animated, she began to cry. Her situation was completely different from the heroine's, but she saw her own emotions represented in the musical scene, when the characters finally allow their true feelings to be heard. She had tried to suppress her own writer's voice in order to allow room for the director, but she had wanted to let her heart shout all along. After watching the film, she realized that.
"I had agonized so much over that project, but in the end it saved me."

A "100% Okada Anime"
Okada is a rare exception among anime screenwriters. Through her various original projects, she has been able to express many deep and personal emotions, something that not many scriptwriters have the freedom to do.
This does not mean that she's had creative control over all the works she's participated in lately. For example, with Mobile Suit Gundam: Iron-Blooded Orphans, director Nagai came up with most of the core ideas, and Okada only became involved with the project a few years after planning for the anime began. (She notes herself that this is the opposite of what her role was like on anohana and The Anthem of the Heart.) Within the industry, she's valued not just for her original stories but for her ability to polish the ideas of her colleagues.
Still, it's through her original works that her unique voice as a writer shines. We can see various common themes in the stories she's written: Family, lost love, an inability to express one's true feelings. Okada's skill is weaving her personal experiences into broadly relatable stories. This is probably one of the reasons why she was given the opportunity to direct an anime for herself. I'm looking forward to seeing what a "100% Okada anime" looks like.

---
discuss this in the forum (59 posts)
|
this article has been modified since it was originally posted; see change history