×
remind me tomorrow
remind me next week
never remind me
Subscribe to the ANN Newsletter • Wake up every Sunday to a curated list of ANN's most interesting posts of the week.
read more
The Indestructible Studio Gainax: Part IV
by Callum May,

Welcome to Part IV of our continuing history of Studio Gainax! If you missed the first three installments, you can find Part One here, Part Two here, and Part Three right here.

GAINAX's former-president Takeshi Sawamura was arrested for the concealment of 1.5 billion yen (approximately 13.5 million USD) in profits by over-exaggerating production costs on Neon Genesis Evangelion. By undervaluing their profits, GAINAX was able to avoid paying 560 million yen (approximately 5 million USD) in corporate taxes. The tax scheme lasted for two years, but even after the studio got caught out, they were still on the rise.
1998 - A Post-Evangelion GAINAX
Despite one of their studio presidents now being in jail, Studio GAINAX had finally become a company that was able to consistently produce new anime. The four year anime gap between Nadia - The Secret of Blue Water and Neon Genesis Evangelion never happened again (watch this space). Instead of focusing on just one series, GAINAX were suddenly able to pitch multiple series, expect one or two to be accepted, only for their sponsors and investors to approve all of them. A post-Evangelion GAINAX was an unprecedentedly busy one.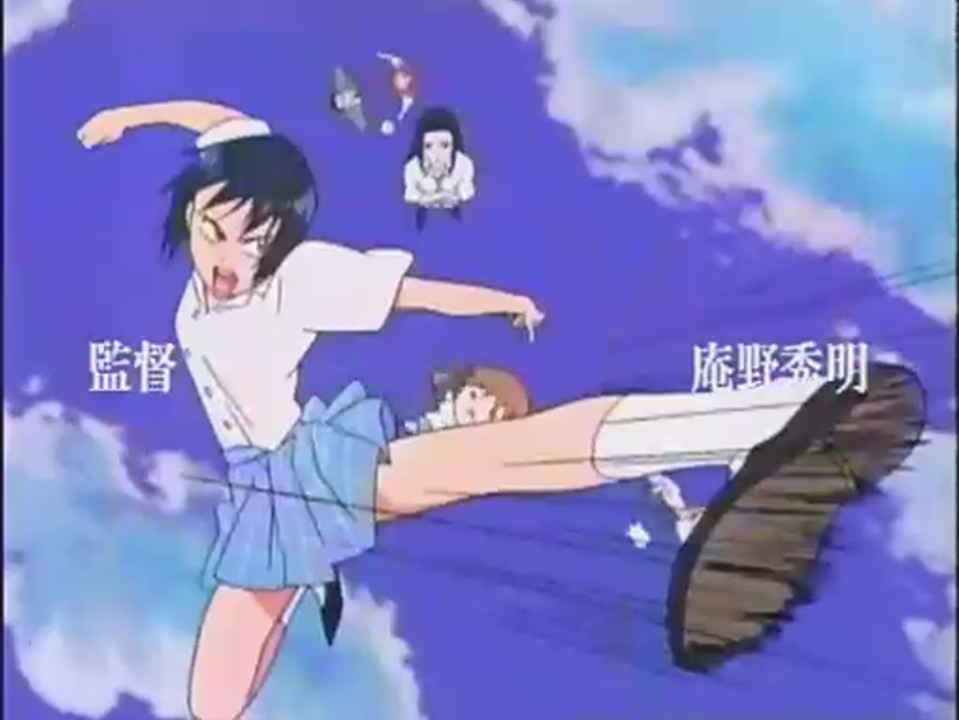 Hideaki Anno
was credited as director for the first 16 episodes of
His and Her Circumstances
(1998)
In 1998, Hideaki Anno was offered the chance to direct the adaptation to the His and Her Circumstances manga. Anno was so used to creating his own original projects and being able to expand on his own interpretations and ideas that the original author believed he'd gone too far and had the wrong emphasis on the material.
During the early years of GAINAX, Kazuya Tsurumaki was regarded as the protégé or understudy to Hideaki Anno. Having originally worked as an animator on several episodes of Nadia - The Secret of Blue Water, he went on to direct several episodes of Neon Genesis Evangelion, including the final two. However, even though he was brought on to co-direct the first half of the alternative film, The End of Evangelion, he maintained that the original TV ending was fine and that the film was unnecessary.

FLCL (2000)
It wasn't until 2000 that Tsurumaki would finally make his solo directorial debut with the six-part OVA series, FLCL (Fooly Cooly). Even with the issues surrounding His and Her Circumstances, Anno's friend at King Records was eager to accept new pitches from the studio. After completing work on Evangelion, it was Anno that asked Tsurumaki to come up with a new idea for an anime series that they could pitch. This became a lot of pressure for a new director and it took him a year before he'd finally decided on a concept. Anno's advice was to not worry about whether everyone would like it or not and just focus on making something that he wanted to create.
The result was a high paced series that worked as a love letter to many different subcultures or otaku. It was a series that even Tsurumaki himself advocated watching several times and recognises that it wasn't easy to understand. Like many other GAINAX productions, it was one that broke from tradition and was later recognised as one of the crazy shows that was only greenlit because of a post-Evangelion Gainax.
2004 - GAINAX Aims For The Top!... again
In 1999, studio president Hiroyuki Yamaga claimed to be writing a novelisation of Uru in Blue that would be turned into an anime that would be released in 2003. The novelisation would be in seven parts and the eighth part would be adapted into an anime film. However, he became too busy to finish after only writing three of the short stories. During 2002, he was responsible for writing the two GAINAX shows, Mahoromatic and Magical Shopping Arcade Abenobashi after pitching them to enthusiastic investors excited about working with the studio behind Evangelion.

Gunbuster 2: Diebuster
(2004)
Bandai Visual had approached GAINAX about a sequel to one of their classic series for the studio's 20th anniversary, but it wasn't Yamaga's Uru in Blue. Instead, they were looking at producing Gunbuster 2: Diebuster, a sequel to Hideaki Anno's 1988 Gunbuster OAVs. The problem was that there was nobody at GAINAX who could direct it after having pitched so many new series. Anno himself was busy directing a live action Cutie Honey film at the time and so it was up to Anno's understudy, Kazuya Tsurumaki to direct yet another hot-blooded original OVA series. There were discussions about making it into a TV series, but they settled with producing six OVA episodes just like the original Gunbuster.
By making it into a series of OVAs rather than a TV series, it could be made into a kind of two year event with episodes being released periodically. It also meant that Hideaki Anno could participate later when he had free time. To conclude the series in 2006, Gainax produced a theatrical version of both Gunbuster and Diebuster by condensing each of the OVAs. Meanwhile, whilst fans clamoured to the cinema, Hideaki Anno and Kazuya Tsurumaki were looking ahead towards their next challenge.
2006 - Farewell, Studio Khara. Hello Gurren Lagann.
At first, it was theorised that Studio Khara was created as a sub-studio for Studio GAINAX where they would create a sequel or alternate ending to Neon Genesis Evangelion . It surprised nobody to hear that Hideaki Anno was working on Evangelion again since the series had become such a major part of his image as a director, but the real shock came when it was realised that Anno was leaving GAINAX to make it. It was his belief that to produce a new vision of Evangelion, it was important that he moved on to a new company. GAINAX would still co-operate on the films but Khara would lead the production.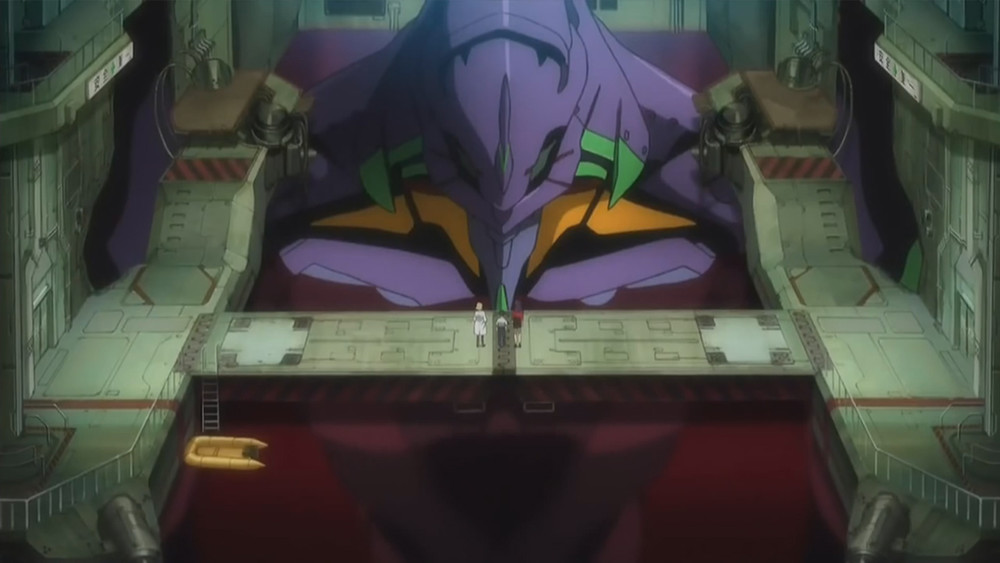 Evangelion 1.0
: You Are (Not) Alone (2007)
At Gainax, this was to become a cycle. The old guard create something popular, leave and then give the new generation a chance to create their own productions. The problem was that with creators comes funding. The King Records connection that Gainax used to greenlight Neon Genesis Evangelion and FLCL was a connection with Hideaki Anno specifically and not GAINAX. The studio would have struggled to find sponsors for new projects if their attempts to elevate the next generation were unsuccessful.
When Aniplex producer Yosuke Toba entered the anime industry, he had three goals that he wished to accomplish. He wanted to work with Hayao Miyazaki, Jun Maeda and with GAINAX. At this point, he'd already worked as the assistant director on Miyazaki's Howl's Moving Castle and so his next step was to work with GAINAX. Much like how the younger staff at the studio had joined because they were inspired by GAINAX productions when they were growing up, it now became the case where even the sponsors had reverence for the studio. So when Aniplex received a rough proposal from the director of Dead Leaves for a GAINAX mecha anime titled Tengen Toppa Gurren Lagann, he jumped on board to help.
Gurren Lagann The Movie: Childhood's End (2008)
Hiroyuki Imaishi took a similar approach to Kazuya Tsurumaki in that he immediately set out to create something hot-blooded and unconventional. Imaishi had been working at GAINAX for over ten years at that point and had picked up inspirations along the way. Of course, much of the rest of the core staff were GAINAX staff as well who have spent years learning from Evangelion and FLCL. What resulted was a cultural phenomena that even today is regarded as one of Aniplex's biggest properties and is a series that Imaishi spent years trying to recreate the appeal of.
2011 - Farewell, Studio Trigger. Hello… is there anybody there?
In 2011, a large portion of the GAINAX staff to have worked on Tengen Toppa Gurren Lagann left with Hiroyuki Imaishi and producer Masahiko Otsuka to create Studio Trigger. The studio would be supported by a partnership with studios SANZIGEN, LIDEN FILMS and Ordet, and Yosuke Toba had told them in advance that Aniplex would support Studio Trigger productions. Meanwhile, character designer Atsushi Nishigori had been offered the chance to work at A-1 Pictures on an adaptation of The Idolmaster, taking a different team of talented GAINAX animators with him.

The Mystic Archives of Dantalian
(2011)
The cycle continued and the first director they chose to represent the next generation of GAINAX was Yutaka Uemura, a CG artist and episode director at the studio. His project was the 2011 series, The Mystic Archives of Dantalian, an adaptation of a fantasy light novel produced by Kadokawa. Without the support of Aniplex or King Records to create original series, they were no longer able to pitch crazy ideas like they used to and have them all greenlit. Having made his debut as a director, Yutaka Uemura left GAINAX after completing work on Dantalian. He later directed Punch Line with MAPPA and Zero Escape creator Kōtarō Uchikoshi.
With the departure of Khara, Trigger and talented individual creators, GAINAX no longer had the sort of creative staff that could get a show greenlit by name alone. In 2012, the studio produced Medaka Box with Gainax veteran animator Saeki Shouji. Unlike previous directors, Shouji doesn't have a reputation for breaking down boundaries, instead being a lot more conventional compared to his predecessors. He was most recently brought on to direct their 2015 collaboration with car company Subaru, Wish Upon the Pleiades.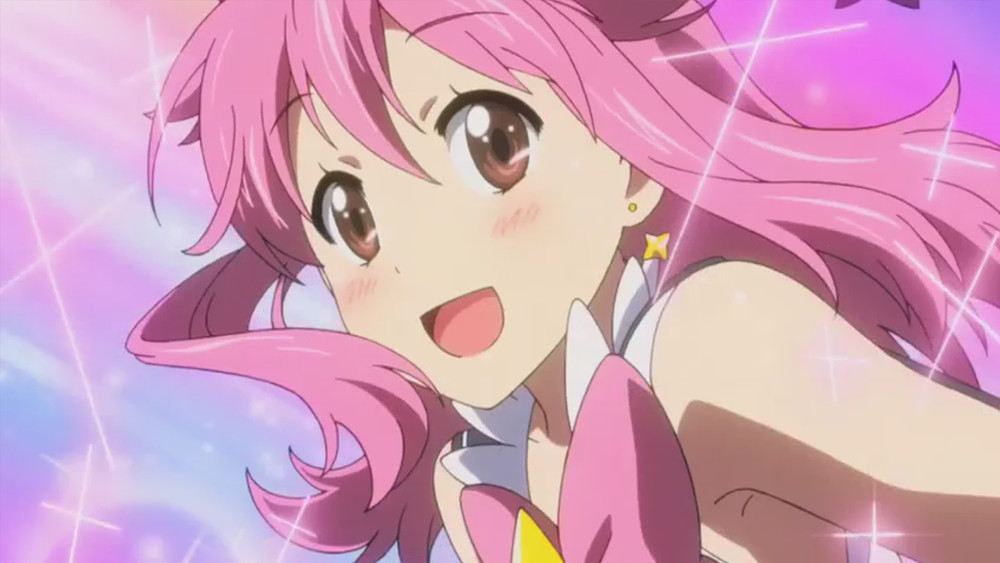 Wish Upon the Pleiades (2015)
In response to a lack of funding and support, GAINAX's output slowed dramatically to one series a year, many of which being adaptations. With a lot more time on his hands, Yamaga started planning Uru in Blue again. In the 1990s, it was going to be directed by Hideaki Anno, but after Anno made it clear that he was no longer interested, the film would now be directed by Hiroyuki Yamaga himself. In 2014, he announced that the film would be released in 2018 with a short six minute film being released the next year in 2015 titled Uru in Blue: Overture (this did not happen). As of 2017, Hiroyuki Yamaga had just started on the script.
2017 - Khara Hits A NERV
It wasn't uncommon of GAINAX to be unable to pay other anime companies. GAINAX didn't pay co-producers Group TAC for Nadia - The Secret of Blue Water until they'd received the massive profits from Evangelion years later. Similarly, they were consistently late in paying General Products USA vice president Lea Hernandez back in 1989. Additionally, the studio president told their entire staff in 1992 that they would no longer be able to pay them, forcing the large majority to quit on the spot. Therefore, it was probably very clear to Hideaki Anno that GAINAX had no intentions on paying back a loan from Studio Khara anytime soon.

Khara celebrates its 10th year in business
When Hideaki Anno left GAINAX, he did so with the agreement that his Studio Khara would receive royalties on sales of any GAINAX projects that Anno had been involved in. Khara had also lent the studio roughly 100,000 million yen (approximately 1.1 million USD) in 2014. Since then, GAINAX fell behind on payments, incurring a lawsuit from Khara. This is GAINAX's second public lawsuit, with the first being related to the rights surrounding a live action Evangelion film. It was confirmed in 2017 that GAINAX had lost the lawsuit and was ordered to pay Studio Khara the full amount.
2018 - We're Down, But We're Not Out
Today, Studio GAINAX is a splintered company. In 2014, Takami Akai left Tokyo to set up a new studio in Yonago, now referred to as Yonago Gainax. In 2016, Yasuhiro Takeda left to set up GAINAX West in Kobe. That company is now planned to close and incorporate into a new studio in Kyoto known as GAINAX Kyoto. Additionally, there's another team in Fukushima known as Fukushima Gainax. In 2016, Fukushima Gainax announced the anime project "Flying Babies" to drive tourism to the area. Currently, the main GAINAX studio are working on Gunbuster 3, Uru in Blue and a trilogy of films based on the stories of Leiji Matsumoto known as The Zero Century Trilogy.

Zero Century trilogy announced at Japan Expo in Paris
Studio GAINAX is a different entity to many different people. To some, they're the has-beens that keep promising to make a movie about fighter pilots who are also knights. To others, they're the terrible businessmen that made their lives hell. And to the many, they are the legendary creators that shaped modern anime.
Yamaga has referred to Studio GAINAX as a school where people come and go. They learn whilst working at the studio and leave when they can stand on their own feet. It's in this way that even if GAINAX as business was to fold, the ideas and enthusiasm of a group of college kids who loved sci-fi in 1981 will always be a part of anime.
---
discuss this in the forum (26 posts)
|
this article has been modified since it was originally posted; see change history