A Brief History of One Piece Video Games, Part 2
by Todd Ciolek,

The year was 2004, and One Piece was coming to North America. VIZ had begun releasing the manga the previous year, and 4kids premiered an edited version on Fox with an all-new opening theme that must be heard by everyone. Debate continues to this day as to whether the 4kids treatment damaged One Piece's chances in the U.S. or whether the series simply wasn't in sync with the same audiences who ate up Dragon Ball Z, Sailor Moon, and Naruto. Whatever the cause, the One Piece anime had a rougher reception than one might expect for the best-selling manga series in the world. Yet that wouldn't stop a procession of video games.

Bandai picked One Piece: Grand Battle! to lead the charge. Known as Grand Battle! Rush in Japan, it's technically the fourth game in the Ganbarion-developed line. The arena-based battles opt for characters more compact and big-headed than the lean buccaneers of Oda's manga, but they show off the exaggerated abilities of Luffy and his shipmates. It's a much better game than it had to be to sate America's One Piece fans, who by this point were glad for something they didn't have to order off the internet or buy from a greasy anime-convention vendor who wanted eighty bucks for a heavily scratched Grand Battle! 2 disc.

How much faith did Bandai put in the American rollout for One Piece? Consider this: they commissioned a game just for these shores. Simply known as One Piece, it's a Game Boy Advance encapsulation of the initial East Blue Saga that kids were catching on Fox and Toonami around this time. The game's colorful animation and side-scrolling levels recall Dragon Ball : Advanced Adventure most of all—no surprise, as developer Dimps was behind both games. It's a modestly entertaining sidescroller with some fierce spikes of difficulty, and it remains odd that it wasn't funneled back to Japan. Perhaps Bandai figured that One Piece fans there wouldn't care about a story arc half a decade behind the times.

Or perhaps Bandai didn't want to cannibalize sales for One Piece: Dragon Dream, the pirate saga's other Game Boy Advance outing for 2005. It's a follow-up to Ocean's Dream, and once again it's a board game in overall flow—though the battles involve oddly doll-like versions of the characters roaming diagonal playfields and barraging each other with special attacks. Considering that half of the cast wasn't yet seen in the One Piece airing in America, it's not surprising that Bandai left this in Japan.
The same fate awaited Fighting for One Piece, a PlayStation 2 outing that tried out the characters in a tighter-focused game closer to Street Fighter or Tekken than the free-for-all Smash Bros style of Grand Battle games. America and Europe didn't miss too much there.
Luffy put in an unofficial appearance on American shelves with Jump Super Stars, a DS crossover fighter that tossed in Shonen Jump mainstays from Dr. Slump to Buso Renkin. Luffy, Nami, Sanji, and Zoro…er, Zolo appear as playable characters, and the game's multi-tiered stages let four characters mix it up. Never licensed for an American release, it nonetheless showed up at Best Buy and other retailers who imported it during the height of the Naruto craze. Shonen Jump crossovers were popular ground for video games before this, and One Piece would be part of the line that extends through its sequel, Ultimate Jump Stars, to more modern fare like J-Stars Victory VS and the recently announced Jump Force. Luffy even stood with Goku and Naruto for the spin-off Battle Stadium D.O.N., a Game Cube and PS2 brawler featuriing the holy trinity of Shonen Jump cash cows.

Bandai set its sights on more marketable outings with One Piece: Pirates' Carnival on the GameCube and PlayStation 2. It's technically a board game, but one in which the varied minigames and brawling resemble more an arena fighter by way of Mario Party. Bandai went so far as to trim down the American release so that players couldn't see any storyline past the Skypeia arc, presumably not to spoil any of the anime here.
Pirates' Carnival arrived in North America in 2006, less than a month before the season's standout One Piece release: Grand Adventure. Developed by Ganbarion for Western audience, the game drew on Grand Battle cartoon violence with a steadily unlockable lineup of characters and battlefields. The leveling-up system adds a little to the single-player mode, though the game's squat characters still seemed mired in older aesthetics.

If fans wanted a One Piece game of broader scope, they got one with One Piece: Unlimited Adventure for the Wii in 2007. It mimics the original design with detailed 3-D models, and if Luffy looks like a wide-eyed lunatic, it's only faithful to his manga look. The game's environments are more spacious and detailed than prior One Piece outings, and the voice cast used the same actors heard in FUNimation's much-preferred redub of the anime. Unlimited Adventure didn't shame the best 3-D action games of its day, but it earned a solid rep among One Piece fans who sought it out. They just had to look a little harder, as the game didn't have the same rollout in North America as its GameCube and PlayStation 2 predecessors.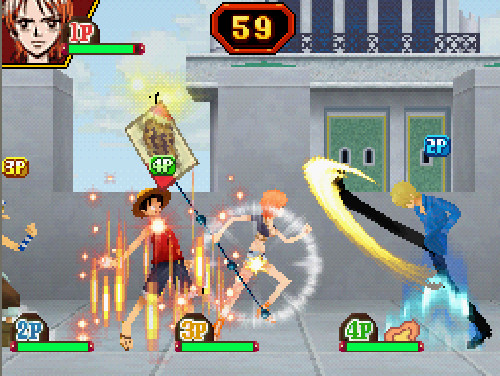 They needn't have searched domestic store shelves for the other One Piece game of 2007, a DS fighter called Gear Spirit. It cast the Straw Hat Pirates and other One Piece regulars in primitive 3-D form, setting them loose in multi-level stages as One Piece games tend to do. One might expect better from Matrix Software, who gave the DS Avalon Code and at least two good Final Fantasy remakes. Gear Spirit is notable mostly for what it didn't do: while it's an approachable fighting game, no one bothered translating it for North America.
Indeed, 2008 brought a dark age for any American fans who wanted video games to go along with their One Piece manga and DVDs. The games kept coming in Japan and often went to Europe (and sometimes Australia), but North America wouldn't see another One Piece game for four years. It turned out all right, though. What's a Shonen Jump saga without a few setbacks for the hero?

One Piece's fortunes in America had little effect on the output of games for other regions. Japan and Europe both received Ganbarion's two-part One Piece: Unlimited Cruise for the Wii. A 3-D action game similar to Unlimited Adventure, it debuted its first episode, The Treasure Beneath the Waves, in 2008 in Japan, with the follow-up, Awakening of a Hero, coming the following year. Europe had both games by the end of 2009, albeit with no dubbed voices, and both games ended up on the 3DS as One Piece: Unlimited Cruise SP in 2011. Yes, the Unlimited Cruise lasted only two episodes, but if you point that out you're as big an oaf as the people who still joke about "Final" Fantasy.
With the console One Piece games opting for 3-D adventures, handhelds had to continue the series' inevitable fondness for multi-tiered fighting games in the Smash Bros. tradition. One Piece: Gigant Battle stepped up as a DS brawler, with a few dozen playable characters drawn from the Saobody and Marineford arcs. It came to Europe, but the same can't be said for its 2011 sequel, Gigant Battle 2: New World and its distillation of the Post-War and Fishman arcs into a whole lotta punchin' and kickin'.

One lucrative side to making games based on endless and popular manga series: you can always go back and adapt the original story arc, bringing in newcomers as well as hardcore fans. That's the purpose of One Piece: Romance Dawn, an RPG that landed on the PSP in 2012 and the 3DS in 2013. Whether it succeeded is up for debate: the game looks the part of a One Piece adventure, but its tedious pace impressed few in the mainstream. It was, however, important in one way: Bandai brought the 3DS version to North America, complete with a big special edition.

Another important arrival came in 2012 with One Piece: Pirate Warriors. For those who've never tried them, the Dynasty Warriors series is all about sating a historically accurate fantasy of beating up literally hundreds of enemies in one battle, and the formula turned its eyes on anime licenses long ago. One Piece joined Gundam and Fist of the North Star with its Pirate Warriors outing, putting a little over a dozen One Piece regulars into the long-tested concept of belting around throngs of enemies until a boss finally appears. The game is ideal fan-bait in its crisp renditions of characters and their powers, and a 2013 sequel brought more characters, less repetitive gameplay, and a Vita edition. One Piece: Pirate Warriors 3 went just about everywhere in 2015, and it most recently arrived on the Nintendo Switch.

For those who preferred the larger stages and manifold distractions of Ganbarion's Unlimited games, the series arguably reached its peak with Unlimited World Red. Originally a 3DS game in 2013, it beefed up its looks for PlayStation 3, Wii U, and Vita editions the following year (and Switch, PS4, and Windows versions beyond). It's a sprawling adventure game with an original story focused on a legendary pirate named Redfield and a tanuki-like pen named Pato, though Luffy's still the star.

Sensing that too many years had passed since the last One Piece fighting game on actual consoles, Bandai turned to Spike Chunsoft for 2016's One Piece: Burning Blood. It's a 3-D arena brawler heavy on the cinematic special moves, so it's for the best that the game looks remarkable in its recreations of characters. Granted middling reviews by most critics, it's at least a pretty game.
And what of those One Piece fans who prefer their fighting games suspiciously reminiscent of Smash Bros.?Ganbarion had them covered with One Piece Super Grand Battle! X in 2014. Its roster numbers over 80 characters, the 3-D models look pretty good for a 3DS, and it talks to amiibo figures just in case you'd like to see Tony Tony Chopper dressed as Kirby.

For a truly 2-D fighter, the 3DS also offered One Piece: Great Pirate Colosseum in 2016. Its 23-character lineup may not impress at a glance, but the support characters rival the Super Grand Battle! X lineup in quantity and the game has a solid hand-drawn look to its characters. If that sounds a lot like Dragon Ball Z: Extreme Butoden, it should; both games are the handicraft of Arc System Works, makers of Guilty Gear and Blazblue (and Battle Fantasia!), and it's possible for the two games to share multiplayer sessions in a DragOne Piece Ball crossover.
One Piece would be no sort of hit anime if it didn't have some arcade presence. One Py Berry Match! arrived in Japanese arcades in 2013, and like many anime-to-arcade attractions, it's a fighting game where battles are waged via collectible cards in Bandai's easily mispronounced Data Carddass line. Two sequels, One Py Berry Match IC and One Py Treasure World, followed, and there's a mobile version for those who no longer believe in arcades.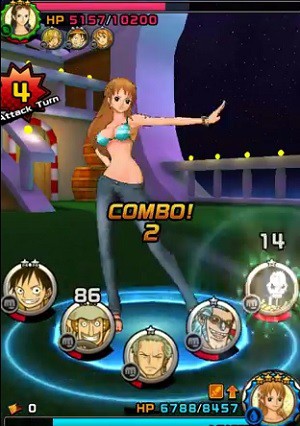 One can't discount mobile games in One Piece's canon. One Piece Dance Battle, released for iOS and Android devices in 2014, is a straightforward rhythm competition where One Piece characters, with a suspicious emphasis on Nami and Robin, gyrate around as the player taps the screen. It's technically not available outside of Japan (as if this stopped dedicated fans in the West), and neither is 2013's One Piece Adventure Log. Other mobile titles saw worldwide release, and that includes 2015's Treasure Cruise, an RPG with the typical pay-for-the-good-stuff model as most successful mobile offerings. 2016's Thousand Storm turns out an action game with a wealth of playable characters, and this year's Bounty Rush emphasizes four-on-four combat.
Part One of this feature theorized that Tony Tony Chopper is the second most popular One Piece character, and for further evidence we submit two mobile games: One Piece Running Chopper and the Island of Bonds and its sequel, One Piece: Run, Chopper, Run. They're both endless-running games that feature Chopper racing through levels, morphing into his alternate forms, and wearing cute little outfits. If Nintendo can't resist the genre, One Piece games certainly won't.
This year saw One Piece hit the PlayStation VR with Grand Cruise, simulating One Piece staples from sea battles to monstrous encounters to awkward moments with Nami. It's less a game and more a brief demo seemingly filched from an arcade attraction, though it shows Bandai's willingness to take One Piece to new platforms.

The next big outing for One Piece will be World Seeker, an ambitious open-world adventure with Ganbarion at the helm. Bandai hypes it as the greatest One Piece game—though cynics might term it the first genuinely great one. It certainly won't be the last One Piece game, though. If Oda has only dropped vague hints about One Piece ending at some distant point, the games won't slow down either.
But one question remains: where's our new One Piece baseball game?
---
discuss this in the forum (4 posts)
|