Interest

Ace Attorney Courtroom Video Games Get New Stage Play

posted on by Sarah Nelkin
---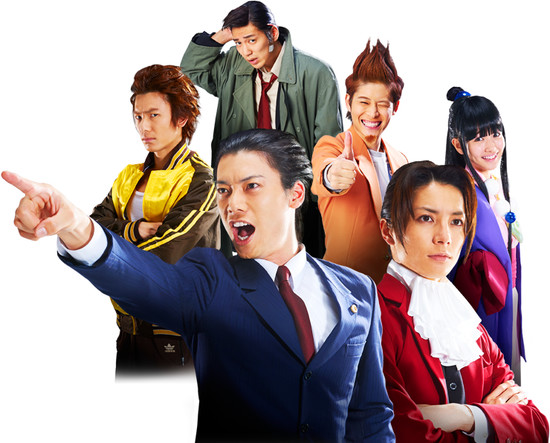 An official website for a new stage play adaptation of Capcom's Ace Attorney (Gyakuten Saiban) video game series opened on Friday. The play, titled Gyakuten no Spotlight (Turnabout Spotlight), will run at the Rikkoukai Hall in Kitashinagawa, Tokyo from July 31 to August 4.
Here are the stars:
Kentarō Kanesaki as Ryūichi Naruhodo (Phoenix Wright)

Takuma Wada as Reiji Mitsurugi (Miles Edgeworth)


Karin Ogino as Mayoi Ayasato (Maya Fey)


Akihiro Hayashi as Masashi Yahari (Larry Butz)


Ryūko Isogai as Daisuke Itonokogiri (Dick Gumshoe)


Isamu Sugihara as Saburō Niboshi (Will Powers)


In addition, Eisaku Saito will be writing the scripts for the play, while Makoto Ōzeki handled casting.
The story of the play takes place at a theater where the popular superhero Tonosaman (known as The Steel Samurai in North America) is performing. In the audience is passionate lawyer Ryūichi Naruhodo and his assistant Mayoi Ayasato. For some reason, the lawyer's childhood friend Masashi Yahari, rival Reiji Mitsurugi, and detective Daisuke Itonokogiri are also in attendance. During Tonsaman's fighting scene, suddenly, a large lantern falls down, and the stage bursts into flames. Saburō Niboshi has been labeled a suspect, but for some reason, he refuses to hire a lawyer and does not speak. The eyewitnesses are all of the audience members.
Tickets for the play will be available for purchase for the price of 5,800 yen (about US$57).
The Phoenix Wright: Ace Attorney series was previously adapted into a live-action movie in 2012. Ace Attorney 5 will be released in Japan for the Nintendo 3DS on July 25.
Source: moca2
Images © Capcom/ADK Arts
---